7 Reasons Why Collecting Product Feedback Is Super Important
So your product is helping users worldwide. The service you provide your customers is unbeatable. Your customers are completely satisfied and you may now focus entirely on moving ahead in the competition.
If that's what you think, it's time to pop the bubble of your own company. In your effort to gain a competitive edge, you might have ignored the most crucial part of your business.
Your customers.
A customer base is what makes or breaks a business. Low churn rate and high user retention is the key to a successful product.
66% of customers claim that they need to see at least 40 customer reviews before trusting a product's star rating. Additionally, 58% of users quit using a product after a single negative experience.
This is indicative of how important it is for business owners to go above and beyond in providing a positive user experience. Without customer feedback, there is no way of knowing whether or not users found your product useful and satisfactory.
In this article, we will talk about 7 reasons why collecting product feedback is super important for your product's future.
7 Reasons Why Collecting Product Feedback Is Super Important
Measure customer satisfaction
Measuring customer satisfaction is probably the most obvious reason to collect product feedback.
So, what is product feedback? Product feedback is the information regarding whether or not a product or service has satisfied customers. This also applies to users' previous interactions with the business.
When a person buys your product, they may gleam with content. However, without a feedback system, you may have no way of knowing their experience with it after they leave the store.
Only one out of 26 customers will bother to complain if they face any issue with your product or service. Additionally, 96% of unsatisfied customers will never report a complaint. On top of that, 91% of those will never purchase your product again.
Collecting feedback about your product helps you understand how satisfied users are with it. It helps you get an insight into what they like or dislike about your product. Detailed analysis of such feedback helps you streamline your service to better accommodate their needs.
Improve your product
We understand that you built your company after years of planning and consider it flawless. However, there is ALWAYS a scope of improvement.
It is tough to spot defects in products or services when you're deeply invested in your company. Your products are always around you and your staff, making you less objective. Hence, it is important to get a third-party opinion to understand where you lack.
What's better than customer feedback?
A person who has experienced your product gives you unbiased feedback about where it lacks. The only way to provide the finest customer experience is to learn what your customers think. You can utilize this data to improve your business practices and better meet your clients' demands.
Surveys point out that the car quality in the US has been declining over the past few years. This has led companies like Ford to emphasize the word 'quality' in advertisements. Such attempts to change user perception about a brand may help initially. However, in the long run, these attempts will backfire and further tarnish the company's image.
Why?
The product quality must primarily be customer-oriented and not competition-driven or technology-driven. If the 'buttered' advertisement is not in tune with what customers experience, you're in for a fall.
Retain your customers
Negative customer feedback may sound repelling, but that is the most important step to growing your business. Your product's most unsatisfied user can prove to be your most valued customer as they tend to give the most valuable criticism.
Asking for feedback and taking that 'extra' initiative to enhance the user experience adds a personal touch.
Sometimes, you may not even have to perfect your product. In fact, you can reduce nearly 11% of the churn rate by simply reaching out after a poor experience.
For example, people tend to visit restaurants where their preferences and tastes are prioritized. Even if the chef cannot perfectly cater to their taste, they will realize that they are valued.
In contrast, people are unlikely to visit a place again where the staff doesn't bat an eye about how they like their food.
Don't rely on annual feedback to analyze the 'happiness rate' of your customers. Take an effort to ensure every user's satisfaction every single day.
Sounds expensive? Maybe. However, it is still cheaper than the amount of money you spend in gaining a new customer.
Make users feel valued
Customers decide where they want to spend their money. If they chose to spend it on you, it is critical that you make them feel valued. People want appreciation for their decision to use your product over a competitor's.
64% of users find the price of a product less relevant as compared to customer experience. Moreover, 66% of customers feel that they are more likely to buy again from a company that values their time.
Instead of seeing your customers as closed sales, think of them as teammates who can assist you make smarter business decisions. You can customize your products to meet their expectations by obtaining and evaluating their opinion.
They believe that your main aim as a business is to resolve their issues and meet their demands, not to make money. It places the user at the center of your organization, which is the proper approach to managing a firm.
Generate new business
Social media is the boss of marketing today. Customers don't trust commercials as much as they trust feedback on social media.
When you are looking for a place to stay in a city you are visiting or a wonderful new eatery to dine with companions, you check the reviews first. Even when buying a new pair of shoes or a dress, you ask for advice on Instagram or Facebook.
Word-of-mouth advertising helps you build your business and it doesn't cost you anything.
Giving a recommendation, on the other hand, requires a high level of trust from your clients, who must be certain that you will not harm their reputation by providing poor service after they suggest you.
As a result, collecting and (more crucially) acting on feedback ensures that everyone is completely satisfied and will suggest you if given the opportunity.
Build a strong reputation
As mentioned earlier, customer-to-customer feedback helps grow your business. Users are satisfied with your product, spend more, and refer you to their friends.
However, the benefits of customer feedback are a lot more than just expansion of business. Unexpected developments occur when your product has a large number of supporters. When a large number of people are familiar with you and have a positive impression of your brand, unexpected business possibilities begin to arise more frequently.
As a result, your workforce begins to feel more positive about their workplace.
Improve business strategy
Customer feedback about your products is rarely sugar-coated. People tend to be brutally truthful if they have a negative experience with your product.
In 2013, a frustrated customer of British Airways, Hassan Syed, took to social media to voice his complaint. He went as far as promoting the tweet by giving $1000 to broadcast it to 50,000 Twitter users.
A harsh remark is hurtful. However, if you look at the brighter side, it helps you rectify your mistakes. It also makes you aware that you are always being watched. You cannot make mistakes.
It may sound tough. Yet, it is what will help you change your business strategy towards improving user experience.
Wrapping Up 7 Reasons Why Collecting Product Feedback is Super Important
Collecting feedback is of no use unless you act on the reviews. Remember, you might think that your customers are more than happy with your product while this might be far from true.
Customer feedback is used to measure the success of new company initiatives. It's critical to consult existing users and solicit feedback from new consumers before implementing any problem patches or physical modifications.
Every company should, in principle, employ a customer feedback loop to enhance efficiency and boost customer happiness.
Collect feedback, assess your findings, make changes, and repeat. You will likely have happier and satisfied customers. You will also generate more revenue if you keep a constant eye on user experience.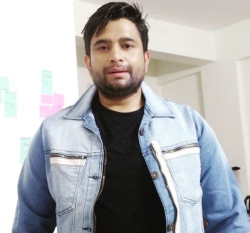 Latest posts by Rajesh Kumar
(see all)