The website owner or website administrator must make SEO-improving plans to run a successful site in the marketplace. For this purpose, the owner would have to give a lot of precious time to get the targeted results. All efforts, struggles, and resources they try to use in the best way to lift the rank of their website to the top of search result pages. The right use of keywords is more important than all of the above. Each page of your website must contain the repetition of less competitive but high volume keywords.
So, let's talk about the required online tools that can assist a user as much as. The free keyword rank checker will come to the rescue in these situations. There are a lot of website keyword checkers available on the internet, either some of them are free to use, or some of them are paid. All of them can help to find the location of your website rank in front of search engines. Even you will also be able to get that frequent change in your website rank.
Suggested the best Keyword Rank checker:
SearchEngineReports.net:
It is providing the best facilities to its users to check keyword ranks. The user will just enter the name of a keyword for which he/she wants to check keyword positions in Google and Bing. The user will be able to search for five keywords at a time. It will allow you to choose the higher ranking keywords that the people are used to search for. You can reach this keyword rank checker with ease.
The user can also enter a particular domain. There is a place given by this tool to paste the competitor's website also. The user will have to wait for a maximum of 5 seconds to get keyword positions in hands. The user will not be given faulty keywords.
Ahrefs:
It will be an accurate keyword rank checker. The user will be in form with the right locations. It will ask you to pay $99 per month if you prefer to use its lite version. The standard version will ask you to pay $179 per month. The advanced version will let you pay $399 per month in which you are allowed to create 25 projects, and 5000 keywords can be searched. The user will be provided with updates every 3 days.
SEOprofiler:
This search engine ranking tool will charge you $69.95 per month to use its standard version. In which you will search 500 keywords on a daily basis. To search 1000 keywords daily, you are given a smart version with a $99.95 pay package per month. 2500 keywords daily can be checked by using a professional version, and you have to pay $249.95 per month.
Top characteristics of keyword rank checker:
It will be better to know about the properties or characteristics of the search engine ranking tools before using them. Sometimes, the user misses utilizing the best feature of it just because he/she does not know the tool entirely. So let's list up some of the main features that are necessary to discuss:
Free limitation usage:
This feature will enable you to find out that the search engine ranking tool will ask you how much to use free of cost. You will reach the free limitations.
Paid packages:
This property of a good rank checker will enable you to get known about all its paid packages or plans as some of the keyword rank checkers offer per month plan, per year plan, or week plans. You will choose up to your pay capacity.
Rank checking over time:
The keyword rank checker will tell you what changes have occurred during the specific time period. It will even let you know the historical ups and downs in your website rank.
Analysis of the competitor's website:
The best feature of a free keyword rank is that it will allow its customers to check the website rank of their competitors too. All the hassle a user has to do is just to put the relevant URL of the competitor's site and just sit back to get the instant results.
Device tracking:
The user can measure the tracking level of any website using any of the available devices.
Location tracking:
This feature will tell you the location where your website's ranking is in an upward manner or where it is in a downward manner.
Easy/hard to use:
This property is no doubt, much important. The user must know sure about its available interface because all the tools will not provide an easy or user-friendly interface. The user will have to face a big loss as he has paid a heavy amount for the paid version of the best website keyword checker, but still, the interface is not handleable or usable by him/her.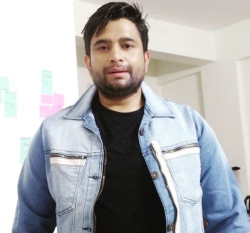 Latest posts by Rajesh Kumar
(see all)