Along with the description of human voices, its use is a great recipe to connect online learners with more interest and emotionally in e-learning curriculum. In which there is considerable abundance of professionalism on voice and voice out there. But the cost goes up and for this if you decide to hire a professional. Text to speech software tools have the ability to eliminate the need to pay a professional to deal with a wide variety of online learner cases.


TTS MP3.com
It is an online software. Which is very easy to use. TTS MP3 Which converts your text to the English language. In this software, languages ​​related to different countries have been given to you, in which you can change the audio from text by choosing the language according to you. Audio works in the language of the girl in this software. The biggest feature is that both Hindi and English languages ​​are supported in it. The software is very easy to use. You can use it easily by visiting TTS MP3.com site and it is free.
Main Feature:-
easily convert text to audio
Most important in this lesson is that it is a speech device with a huge number of languages to choose from.
PROS- It supports both Hindi and English languages.
CONS- This TXT, DOC, DOCX, FB2, PDF, HTML, RTF does not support.
Balabolka
Software converts text to audios. It supports only the English language. You will find this software easily on Google. MP3, WAV, MPEG4 I can change as per my wish. It's free.
Main Feature:-
All computer voices are available for Balabolka depending on your system.
It has the facility to change the parameters of a voice including rate and pitch.
PROS – You can change audio as per your wish. I can also select the point you want to study.
CONS – The voice available in the software is quite robotic and reads with no expression.
Selection Reader Software ( Text to Speech )
It is capable of reading software text natively. To use it, you must have Google Chrome on your computer or laptop. Because this software supports Google Chrome. . But Mozilla does not sport Firefox. Its specialty is that you can read any text and listen to its language in English. This software does not have a record facility. But if you want to record the voice, then you can record the reader's voice with the help of a recorder.
Main Feature:-
supporting for Google chrome
Can read any text and listen to its language in English.
PROS- It is absolutely free to work.
CONS- This software does not support Mozilla Firefox.
Text to speech software male/female voice in offline
This software is 48.5 mb. You can download it and use it as per your need. Keep in mind that while installing this software, you have to keep your computer or laptop internet locked. After being fully installed, you can use it only after entering serial number and password in it. After installing, you can read your pdf and text file and convert it to audio.
Main Feature:-
Male & female voice supporting
Convenience of converting it to audio with reading PDF and text file.
PROS- For a free product, voice options are quite good with many premium options. CONS- Whatever article is selected or readable in your web browser is limited to reading.
Translate to Google.com
If you do not understand any software, then you can record speech to audio in a simple way. For this, you have to go to any browser and type Translate to Google.com and a page of Google Translate will open in front of you. During this time you will get a lot of options here. With which you will be able to do your work easily. Also during this time you have to remember that this software does not do recording. Therefore, you can record it with the help of a recorder at the time of Translate.
Main Feature:-
Its function which is capable of translating written words or text in a foreign language.
It is helpful to translate the spoken language into the chosen foreign language immediately.
PROS- It is absolutely free to work.
CONS- It does not have recording facilities.
This is Free text to speech software with web browser. Natural Reader is a free text to speech tool and can be used in some ways. The first option is to load the documents in your library and read them aloud from there. It has a good way of managing multiple files as well as the number of supported file types is also impressive. This software also includes eBook formats. The second option is in the form of a floating toolbar. By this you can highlight text in any application as well as use toolbar controls to initiate and customize the text to speech. Natural Reader also includes OCR for scanned text.
Main Feature:-
Free voice and unlimited use.
Miniboard facility for reading text in other applications.
Facilities to work with PDF, Doc, TXT.
PROS- OCR facility for text as well as scanned text.
CONS- Free apps on the Internet are needed to access voices when used on mobile devices.
Panoprator Basic, like its name, is a free text to speech conversion without any frills. It accepts rich text files, web pages and Microsoft Word documents as input and also exports the resulting sound in web and screenshot format. It has default settings for quick tasks that work well, But Panoprator spends a little time searching for Basic's settings menu and will also have options for changing the language, destination of saved audio files, and setting custom interface colours. A nice touch that you won't find in any other free text-to-speech software.
Main Feature:-
Converts text to wav and mp3 audio file as well as reads text aloud with natural sounds.
Able to support a wide variety of languages and voices.
Users are also allowed to adjust the volume with the speed of voice.
PROS- It sports a variety of text document formats, and it exports in both WAV and MP3 formats.
CONS- Initially, Panopreter adds its created sound to the clip of each audio file.
Developed by the University of Edinburgh, Word Tech is an impressive toolbar add-on for Word. Inside which is customizable text for speech in Microsoft Word. It has the ability to work with all versions of Word and is also accessible through the toolbar or ribbon. Also depends on which version you are using. It has several keyboard shortcuts that also allow quick and easy access to frequently used options.
Main Feature:-
It also speaks the entire document, paragraph or word.
Facility to change voice and speed.
Convert text to speech mp3 & wav.
PROS- It is also useful for reading proof and learning another language.
CONS- The toolbar is certainly not the most attractive. It is designed by a child and neither does all the function of the button look very clear.
The Zabaware Text-to-Speech Reader is more than what you might have thought of before, despite its original look. You can also open several file formats directly in your program, as well as just copy and paste text into it. Primarily, as long as you have the program running and the contextual option is enabled. Zabaware is able to read aloud any text you have copied to the Text-to-Speech Reader. Unfortunately, the selection of voices is limited, and there are only those settings that you can customize. You can increase the volume and speed until you can understand it with pronunciation in settings.
Main Feature:-
Zabaware Text-to-Speech Reader can also convert text files to WAV format.
It can also use the advanced CereVoice by CereProc to get real sounds and sounds in character.
Is the best free audio editing software to edit your speech files.
PROS- Helps to validate the work you do. It is easy to understand the mistakes by listening to the documents you have spoken.
CONS- It is only available on Windows. It supports very limited formats.
Speech synthesis applications are also very popular in the education world, where they can be used to increase understanding, among other things. Capti Voice is one such effort, in which you want to listen to anything you want to read. Here you can personalize learning and teaching, and also overcome language barriers. Used as an offline and online reading support solution by schools, colleges, businesses and professionals around the world. It has the facility to support more than 20 languages.
Main Feature:-
Ability to support more than 20 languages.
Online and online reading support facilities.
PROS- You can use it on any Internet enabled device.
CONS- It is said to be free, then takes you to the iTunes page to pay.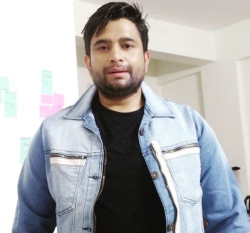 Latest posts by Rajesh Kumar
(see all)