Lumyer – Augmented Reality
This is a photography app. It has been chosen as the best apps. Select your favourite effect and start recording your video. During this time you can find options for animated effects to add to your lips with moving lips, flowing hair, fireworks, falling comfort, and even curious cats. Animated photos can be saved in GIF formats. You can share them on social media.
Main features of Lumyer – Augmented Reality
Facility to create videos with attractive and innovative technology
Great Tools Facility – you can animated photo in GIF Formats.
You can easily share them on social media.
New effects can be added very often, and are of a good variety.
Review – nice app and great animation.
Photoshop Express
Simple and with interfaces, Adobe Photoshop Express is for Android photo editor for easy and best editing with fast approach on devices. It is loaded with important essential facilities. It features one-touch filters, a variety of effects, colours, auto fixes, frames and some advanced tools such as image rendering to handle a large image. This application is free to download. It also gives you the opportunity to share the photo on Facebook, Twitter and other social networking sites. Explore colour temperature, vibrancy and other colour effects as per your own with easy adjustment slider.
Main features of Photoshop Express
More than 80 filters photo editing facilities.
Instant sharing of edited photos on social media websites.
Blending the background with radial blur.
For eye-catching creations, cut your photos, straighten, rotate and flip as per your liking.
Review – Best app for editing JPEG and PNG.
PicsArt Photo studio
One of the favourite photo editing app. It has a wide variety of stand-outs, which is a feature to customize your photos. The camera comes with a social network for feature sharing and photo sharing. It includes collages, draws, frames, stickers and more. This includes using custom stickers to add them to your pictures as well as remixing images of others to use to save them to your collection and share via message. The application is available for free.
Main features of PicsArt Photo studio
Brush mode lets you selectively apply effects to specific parts of a photo.
Operate with fast-paced effects.
Double exposure facilities.
Apart from this, the PicsArt camera gives you the opportunity to snap pictures with live effects and this is the new go-to sticker maker for you.
Review – Best app for editing JPEG and PNG.
Photo Lab
Gives a unique touch in editing your photos. It has a collection of over 900 different influences. It features photomontage, stylish photo filters, beautiful frames, creative artistic effects, collages for many photos and more. A part from this, you can easily save your edited photo in the gallery. It also has a free version available that displays advertisements. Without the help of a professional editor you can get your image creative in a few seconds and set it as a contact icon, and share it on any social network.
Main features of Photo Lab
For touch editing with over 50 preset styles.
Feature of beautiful frame selectively taking the last touch to your favourite picture.
You don't need a pro photo editor to add some style to your images with various photo filters like – black and white, neon glow, oil painting.
Swap face very easily and turn yourself or your friend into a pirate, an astronaut or a terrible monster.
Review – Editing photos in this app is good and easy.
Pixlr
It has all the tools a user may need to edit. You can create photo collages with different layout, background and spacing options. It has excellent ability to style photos with doodles, pencil drawings and ink sketches. You can share your edited images directly on various networking sites. With this you are free to download along with the app purchase and it includes advertisements.
Main features of Pixlr
Great choice to mark the most frequently used effects or overlays.
Auto-fix colour to image.
Collage facility with 25 photos and various layouts.
Easily add text to your photos with a variety of fonts.
Review – The image editing tool is fully used in Pixlr.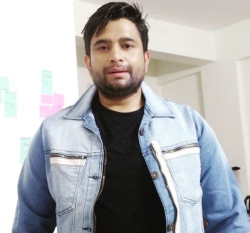 Latest posts by Rajesh Kumar
(see all)