Adobe photoshop :-
With the advent of Adobe photoshop in the computer sector, all the work related to graphics started easily. Photoshop was mainly used in many areas related to the subject, including web design, medicine, film, advertising, engineering and architecture. It soon became an important integral part of various industries. The demand for Photoshop in the field of graphics led to improvements in the computer sector and digital photography technology was greatly advanced. Due to which the possibilities in employment sector increased. In view of the specialty of photoshop, many software companies related to the editing sector also came into the market and are trying to make an identity. Today, Adobe Photoshop is moving ahead with many new technologies.
Main Feature:-
Popular software for photographers, graphic designers, video game artists, advertising and meme designers.
Excellent ability to select multiple shapes and vector masks at the same time.
Creative Cloud includes free services to help you stay inspired.
Despite being a paid software, it is used by thousands of budding and professional web designers worldwide.
PROS- For the graphics designer, this product is excellent for design work. The designer's field provides a platform that is suited for any user.
CONS- There may be a need to improve on some features. As such, the import command facility is not so intuitive. It does not offer a short cut in importing PDF pages in bulk.
NCH PhotoPad (recommended)
Photopad falls under the category of a popular NCH software and is one of the best, simplest photo editors. It has a lot of features that you can easily edit all your photos well. Because the tool in it supports all popular image formats. Its great option which will give you the chance to retouch the photo like a real pro, plus you will be able to merge multiple exposures so that you can create amazing pictures as you wish. It can serve as a good program for beginners to learn and grow.
Main Feature:-
The favourite photos can be easily edited with the help of NCH PhotoPad Photo Editor.
Helps beginners know how to easily edit selected photos.
Your photos can be adjusted automatically with the click of the button of the auto edit option in the program.
You can use colour management tools and adjust the highlights and shadows of your images to create a cool effect.
PROS- A great option for those who work with photo editing with little experience.
CONS- The software lacks some professional editing tools and organizing capabilities.
Skylum Luminar (recommended)
Skylum Luminar is known as one of the new Windows image editors. Before Windows, it was the exclusive Apple Mac editor. But McFun has released a new version of Luminar for Windows in the year 2018. With the combination of power and simplicity in it, Luminar and Aurora give HDR users a new and great way to express themselves through striking images that they can create in minutes.
Main Feature:-
It is a non-destructive RAW editor and provides excellent rating for developing selected images.
Its RAW conversion engine provides a good starting point for improving images.
All features are full of features that require you to take an image from beginning to end.
PROS- Nice automatic photo fix and lots of filters with pleasing interface.
CONS- In this, the capabilities of the organization are less than the competition.
Corel PaintShop Pro (suggested)
One of the best alternative image editors in the field of photo editing. Is one of the friendly image editors that boasts a plethora of creative filters, advanced editing options and graphic design tools. Creative filters It contains around 86 with which you can add images to your heart's content.
Main Feature:-
Professionals or beginners can use this software to create high quality photos.
You can use the highlight and shadow adjustment tool to change the images.
Supporting more than 40 file formats, selected programs can import most images.
Software for use on the web has tools that help you customize your photos.
PROS- Selects basic and professional equipment for both novice and expert photographers.
CONS- This software only works on the Windows operating system.
Capture One Pro 10
Is one of the best designed photo-editing software for photographers. This software has the best RAW processing engine. It supports shooting for some camera models inside it. It can be a bit daunting for some photographers initially, but it is a great option for those who need to process a lot of images and capture snapshots. The software supports multiple image formats and provides extensive control for raw processing. The software also includes a great image-catalog option for use with a large photo library.
Main Feature:-
It was first created for image capture, quickly becoming ready for a full-blown image processing program.
It also offers a few different programs, including both free and paid.
There is a side panel with different tool options with different options in which you can toggle by clicking on the button at the top.
You can make targeted adjustments to your photos while using layers in Capture One Pro.
PROS- It has an option to make local adjustments on multiple layers. CONS- It lacks the face recognition feature.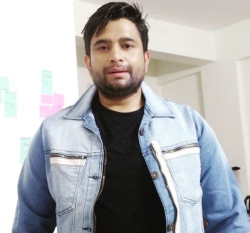 Latest posts by Rajesh Kumar
(see all)