1. Blender
Blender is a 3D software and it is free. You can make an animation film inside Blender. Also, 3D export of any other animation software can be done inside this software. The biggest feature is that you can create a game by writing script inside Blender. This is very powerful software. The blender is divided into five parts. Info Editor, 3d view work, outliner, Timeline. Keep in mind that it is necessary to have a 3 button mouse to work in Blender. So that you can do 3D animation work well.
Main features.
• Video Editing tools
• Masking tools
• Game Creation tools
• Camera and Object Motion Tracking tools
Pros: Very useful for users with all the features.
Cons: The sheer array of features makes the learning curve a little shorter. The resources to assist you with the editor are very limited.
2. Synfig studio
Synfig studio is the best software for 2D animation and is free. Remember, you should download synfig studio table version while downloading. This is timeline based software. Its animation looks almost like Microsoft power point. This may take some time to work.
Main features.
• Filtering features tools
• Layering features tools
• Vector tweening and advanced capabilities for editors
PROS – All the convenience and easy installation of completely free package.
CONS – Despite the important tutorials, there is still a steep learning curve to explore the ins and outs of animation.
3. Pencil 2D
Pencil 2D is perfect for beginner animators and is free. It has an easy to use interface. You only need to focus on the art we are creating. This software is easy to easily switch from any simple bitmap images to high end vector images.
Main features.
• Available Functional for popular OS
• Easy user interface tools
• Switch between vector and raster files transfer easily
PROS – The interface is easy to learn and navigate, as well as guidance to bring animation to life.
CONS – The program only allows exported images instead of exported videos, plus you have to resort to another software to convert those images into animation.
4. K-3D
K-3D is a free animation and 3D modelling platform. It is also able to provide Design a digital platform with a comprehensive set of tools with plugins. From this platform you can create various combinations. If you want to animated the logo, then it can be the perfect and free software for you.
Main features.
• Node-based visualization pipeline for flexibility tools.
• simple Intuitive user interface
• strong with procedural and parametric workflows
PROS- Along with the 3D modelling platform it is also capable of providing digital platforms.
5. Open Toonz
Open Toonz is software based entirely on 2D animation. This software is open-source and free, which can be used by anyone for commercial or personal use. This software can be used by both experts and novices for their projects.
Main features.
• Change picture styles easily tools
• Create wavy tools distortions
• Affected incident lighting available here
PROS – Highly customizable with many features, you can use it to your advantage and customize keyboard shortcuts.
CONS – Despite many features, it gets complicated. Not many help guides. can cause the program to shut down.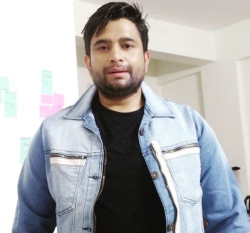 Latest posts by Rajesh Kumar
(see all)