What is Internet of things:- The Internet of Things (IoT) describes the network of physical objects "things" that are implanted with sensors, software, and other technologies for the purpose of connecting and exchanging data with other devices and systems over the internet. The term IoT is mainly used for devices that wouldn't usually be generally expected to have an internet connection, and that can communicate with the network independently of human action. The future of IOT is so big and to give you an idea ,Tech analyst company predicts that in total there will be 41.6 billion connected IoT devices by 2025, or "things which is even more than the number of humans in the world.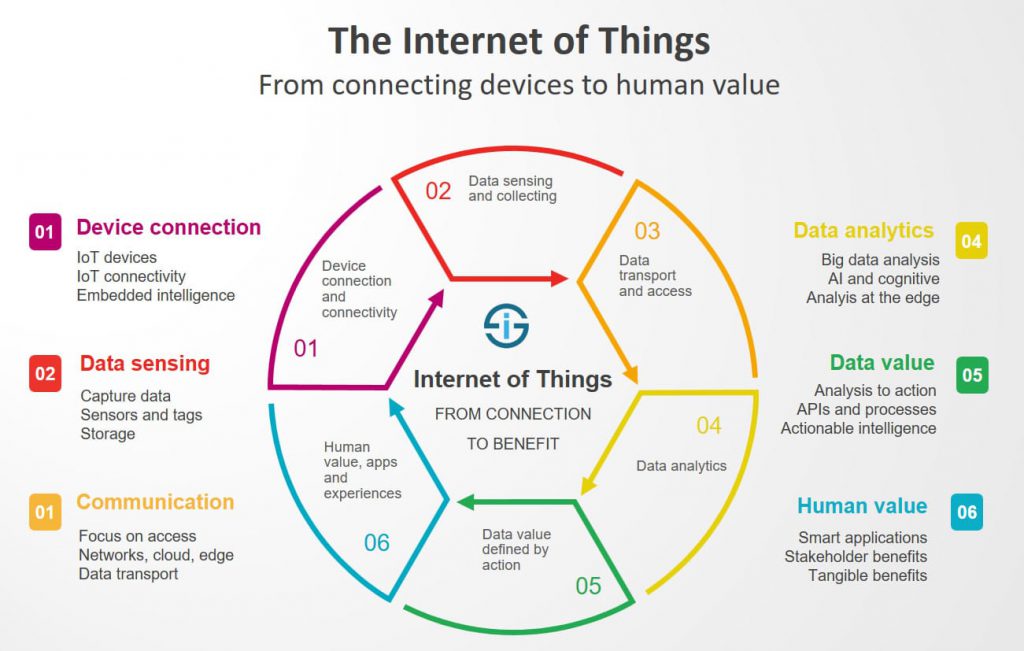 Advantages & Disadvantages of IOT:- Internet of things facilitates the several advantages in day-to-day life in the business sector. The time is not that far when you will be out of home and your computers at home contact you through your smartphones to let you know that your vegetables are finished or you need to get some more milk as its going to be over. Belive me its not just a fantasy but soon to be a reality due to the amazing possibilities of the Internet of Things (IoT). Here are some advantages mentioned below :-
Access to information:- We can access data and information without even sitting at that exact location, in real time. And it is possible because of the network of devices ( Things), a person can access any information sitting from any part of the world. This makes it very convenient for people to go about their work, without being present physically.
Minimize human efforts:- As the devices of IoT interact and communicate with each other and do lot of task for us, then they minimize the human effort.
Cost saving:- Communication between electronic devices is made easier because of IoT. This helps people in daily tasks. Transferring data packets over a connected network which save time and money and reduce the cost. The same data that would take a long time to transfer can now be done much faster, because of IoT. The financial aspect is the best advantage. This technology could replace humans who are in charge of monitoring and maintaining supplies.
Save time:- As it reduces the human effort then it definitely saves out time. Time is the primary factor which can save through IoT platform.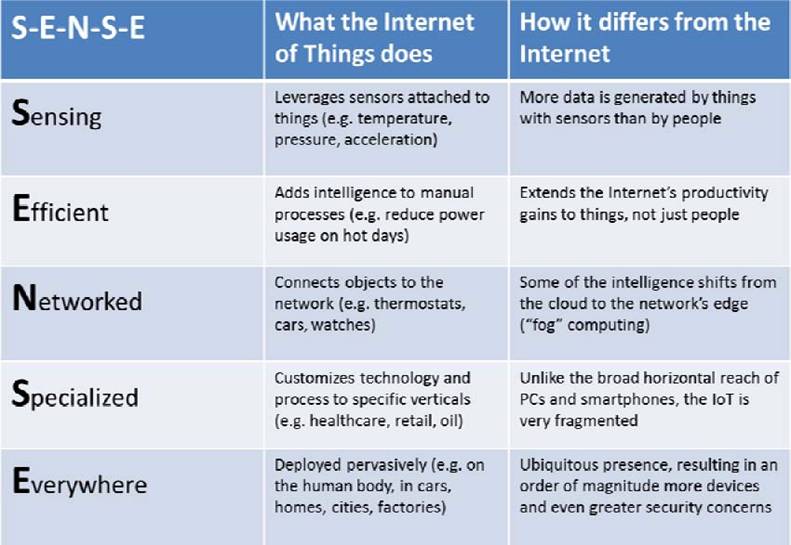 As the Internet of things facilitates a set of benefits, it also creates a significant set of challenges. Having easy access to data is wonderful. Unfortunately, our own private data is more exposed than ever too. According to the statistics which show some worrying figures. 12.7 million Americans were victims of identity theft. A credit card number is the type of information that was most compromised, followed by a debit card number. Here are some disadvantages of IOT mentioned below:-
Data Breach:- Data breaches are extremely stressful. Companies also fear from them and can lose the trust of their clients for good if the cyber attack came via their website pages.
Privacy:- Privacy is a big issue with IoT. All the data must be encrypted so that data about your bank account or how food or drinks you consume isn't common knowledge at the work place or with your friends. Even without the active participation on the user, the IoT system provides substantial personal data in maximum detail.
Unemployment :- With every task being automated, the need for human labor will reduce drastically. This will have a direct impact on employability. As we head into the future of IoT, there will be a visible decline in the hiring process of professionals.
Dependability :- The Paramount affect of IOT in every day life is making us more and more dependent on IOT.There is no doubt that technology is dominating our lifestyle, reflecting a human's dependability on technology. In case of a bug in the system, there are high chances of every related device getting corrupted. Not only in business, but in our private lives as well. If we cant download the desired information quickly, we are prone to becoming agitated and upset, even about the most common content.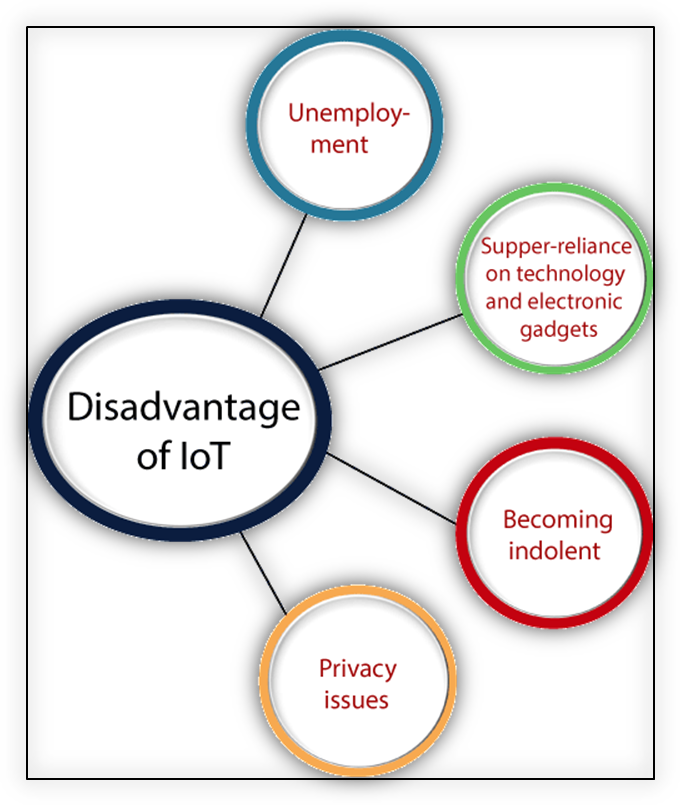 Top 9 most popular tools of IOT:- Not only in business, but in our private lives. If we don't download the desired information quickly, we are prone to becoming agitated and upset, even about the most trivial content. Here are some very popular tools mentioned below:-
Particle :- The Particle can help you to create IOT applications. It can also enhance the IOT product and also compatible with both device and cloud.
Tessel :- This is a hardware provider that can be used to build basic IoT solutions and prototypes. Tessel 2 lends a helping hand through its numerous sensors and modules. This is a board which can hold up to a dozen modules including the RFID, camera, GPS and the accelerometer.
Eclipse :- If you as an IoT developer are ordained to build IoT devices, Cloud platforms and Gateways, then Eclipse IoT can be your top bet. Recognized as a collaboration of various companies and individuals who are striving towards the development and establishment of IoT open technologies, Eclipse IoT can make all your IoT dreams come true. Allowing you to develop, promote and adopt open source IoT technologies, Eclipse IoT is an instrument that can help you gain technical expertise. Simply look into the vast assembly of services and projects delivered by the Eclipse team and you are all covered.
Raspbian :-It was built for the Raspberry Pi board offered by IoT tech specialists. With more than 35,000 packages and various examples of rapid installation that come with the use of pre-compiled software make it an important IoT development tool. Raspbian's best quality is that it's under constant development and has widened reach for computing so users receive maximum benefits.
DeviceHub :- is an integrated solution that offers a combination of business intelligence and cloud integration for delivering hardware and web technologies. Usually, the kit is offered as a Platform as a Service (PaaS) that allows software developers to use its power for the cause of IoT app development. It's especially beneficial for enterprise bodies who want to rebrand and install software for the need of deploying enterprise apps using Virtual Private Cloud. DeviceHub has achieved success in the fast going building of fleet management systems, smart vending machines, and wearable software.
Flutter :- Flutter understands your needs and decreases unnecessary and repetitive electronic tasks. It refers to a programmable processor center that is dependent on Arduino. It is a remote transmitter with the proper inclination for achieving over a half-mile. Shudder sheets have the right to provide permission for coordinating with the correspondence with one another and apply where there is no need for any switch.
Arduino :- If you are looking to build a computer that can sense and exercise a better control over the physical world when compared to your normal stand-alone computer, then Arduino can be your intelligent choice. Offering a perfect blend of IoT hardware and software, Arduino is an open-source prototyping and simple-to-use IoT platform. Arduino operates through a set of hardware specifications that can be applied to interactive electronics. The software of Arduino comes in the form of the Arduino programming language and Integrated Development Environment
Kinomo :- It is a device that can connect two devices without extensive knowledge of JavaScript. Kinoma Create consists of everything which is required for developing small IoT applications like connecting light, temperature or movement sensors for a specific purpose with mobile notifications in case of any alterations. You can also find numerous tutorials on its practical applications at Kinoma's website. It has been widely used for developing a synthesizer, a camera trap which takes a photo if an animal or any other objects disturbs the laser beam and an automatic alarm bell for alerting individuals in case of any situations.
OpenSCADA :- This tool is a part of the SCADA project by Eclipse IoT industry groups. It is independent to any platform and is known for its security and flexibility along with a modern design. OpenSCADA also supports editing and debugging and comes with front-end applications, back-end applications, libraries, configuration tools and interface applications.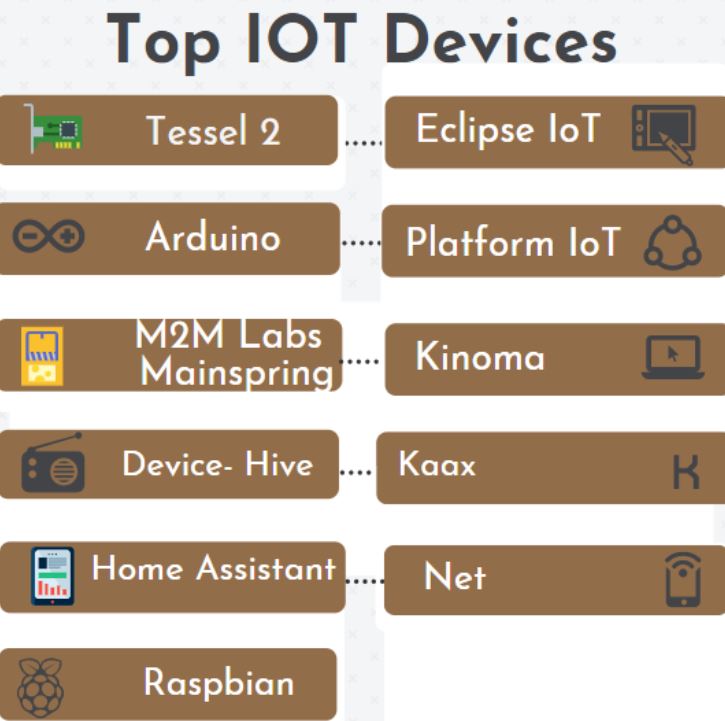 Conclusion :- Although IoT has quite a few disadvantages, its advantages of saving the consumer time and money can't be ignored. IoT is the new upcoming technology with numerous advantages and certain assumed disadvantages but those advantages can be transformed in to advantages by little bit of more research and advancement into the system as it is going to be the most effective part of are lives in the near future. So the time isn't far when the IOT will be so common in our daily life.
Useful Reference:-
Reference – Best Artificial Intelligence Curses https://bit.ly/3kAFXWp , https://bit.ly/3prd1DC
Reference – Best Machine Learning Courses – https://bit.ly/3exXs8a , https://bit.ly/36feGmT
Reference – Best Big Data Courses Curses – https://bit.ly/38jS1Zt , https://bit.ly/2GAGjhy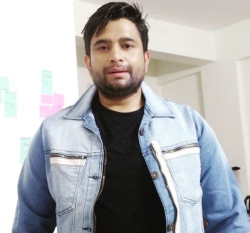 Latest posts by Rajesh Kumar
(see all)