What is On-Page SEO?
On-page SEO means optimizing a web page to rank on Google's first page, to earn higher traffics on the web page.
On-page is also known as "on-site SEO".
On-page refers to the content as well as the HTML source code of a page that can be optimized.
It's one of the types of SEO that focuses on optimizing elements on your website.
Why do On-Page SEO?
On-page SEO is done to optimize the webpage to rank the page so we can get the traffic or to make the page more usable and visibility to users in search engine results on Google.
There are several factors of On-Page that helps to optimize the web-page like –
URL
Title Tag
Meta description
Heading tags
Alt tags
Keywords
Content
Speed
Internal linking
Images
Mobile-friendliness
URL – URL of the web page plays an important role in On-Page SEO. The page topic should be included in the URL and it should be shortened so Google can recognize it easily.
Including the keywords into the URL could also help as well as could make the people directly navigate to our page and give the users idea about our page.
Title Tag – Title tag is more important as it will represent your page in Google's search engine results as a headline. So the primary keyword should be mentioned in the Title tag and try to keep that keyword at the starting point of the title (, ). It also helps Google crawlers to understand your page. The title should be between 50 to 60 letters.
Meta Description – The Meta description should be between 155 to 160 characters. So, it can get fit into the space of Google's search engine results, which means It helps users to read the whole description as well as it helps them to understand well your page. Large description hides some part of your description which means the users can't see the whole description.
The Meta description is shown under the title tag on Google's page.
If the description and title tag are well optimized, it increases CTR (Click-Through-Rate) which means traffic.
The targeted keywords should be mentioned in the description.
Heading Tags – Headers tags are very important for your page as it attracts Google crawlers towards your page. The headers should be of H1, H2, and H3.
Using headings helps users understand what you have written as well as keeps the interest of users to read your content.
Reading experience always matters a lot. That's why heading plays an important role. If you get things to step by step and clear to read and understand then for sure your interest would be in your page.
Alt Tags – All tags are an alternative option for an image to make the Google crawlers understand the image. For Example – The image is about the features of your targeted keyword like digital marketing. So the alt text will be Features f digital marketing. That means the alt text should be like that describes your image, which means what this image is for.
Google crawlers can't read an image. So for that reason, we use alt text to make them understand, and also this is very helpful in optimizing the content.
Keywords – The main keyword means the word which indicates the content of your page is the keyword (Targeted keyword). It helps Google crawlers to understand your content so it can place your content for the relevant queries in Google. Also, it helps users to understand your page what is about. Directly-indirectly it also increases the traffic on your page. How? When your page will be ranked, whenever the users will search for that particular keyword they will get your page as result.
Basically, the keyword is the word that is about your page.
To get an idea of which keyword people search most you can use a keywordFX and Keywordtool.io
There are two kinds of keywords 1st long-tail keyword and 2nd short-tail keyword.
Long-tail means, suppose you have to buy a pad so you will search like a pad for babies or a girl. But in Short-tail you will search like an only pad. It can be for both babies and girls. That means your company is providing pads for both of them. So you are targeting only pad.
Long-tail keywords often have lower search volumes than short-tail. But still few companies like to go with long-tail
Content – Content is the information that you mention on your web page to show Google crawlers as well as users to give the information about your page.
The content should be comprehensive so both Google and users can understand properly and easily.
Brief and clear content has always been attractive to users to spend their time on your page.
If your page is not clear or it is difficult to read or non-attractive, the user will abandon your page immediately.
That's why the content should comprehensive and attractive.
Speed – The web page opening time should be very fast as it retains users on your page.
If your page takes time to open, the user feels uncomfortable or gets irritated. So the web Page should work fast. That's why you should keep examining your page all the time in order to perform better.
People often get confused by page speed and site speed. Page speed is nothing but the opening speed of the content of the page and it is a sample of site speed.
You can evaluate your page speed with "Google's PageSpeed Insights".
Internal linking – Internal linkings are essential to on-page SEO as they help Google understand the relationship between pages on your site.
They're also great user experience.
Internal links are links that led you move from one page on a domain to a different page on the same domain. They are used as a main navigation. These type of links are useful for reasons as they allow users to navigate a website. This helps in establish information hierarchy for the given website.
Internal links help people discover more of your content.
A strong internal linking strategy is also a great way to reduce your bounce rate and improvise other Google Analytics metrics such as conversion rate and average session duration.
The anchor text of these links should be a keyword or key phrase that you want the linked page to rank for.
There are four types of internal links you need to know of: contextual links, navigational links, footer links, and image links.
Images optimization – Image optimization is the process of creating and delivering high-quality images in the ideal format, size, and resolution to increase user engagement.
Optimizing the file size helps in page loading quickly.
If your site is filled with images that are over 400kb, your page load time will be negatively impacted, and this hurts your ability to rank in Google page.
Add text to the image alt tags, with the right keyword occasionally included in the text. The alt text helps search engines understand the image as Google unable to read image (they can't see images).
Mobile-friendliness – Generally, the meaning of mobile friendly is that your website performs well on a mobile device like a phone or tablet. However, you may also hear different terminology floating around like mobile-friendly, mobile-first, responsive design, adaptive design, separate mobile website (or m dot site), and mobile apps.
In other words, A mobile-friendly website is one that is designed to work the exact same way across devices.
A mobile-friendly website is like when your regular website shrinks down to be able to display on a mobile device. It looks like a small version of your website. It can be a less-than-ideal user experience, but at least your site is viewable to mobile users.
"7 Tips for Creating Mobile-Friendly Content"
Test Your Site Using Google's Mobile-Friendly Tool.
Use a Responsive WordPress Theme.
Choose a Reliable Web Host.
Improve Your Site's Loading Times.
Redesign Your Pop-Ups for Mobile Devices.
Enable Accelerated Mobile Pages (AMP)
Create a Mobile App.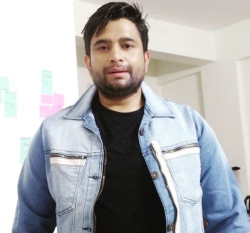 Latest posts by Rajesh Kumar
(see all)