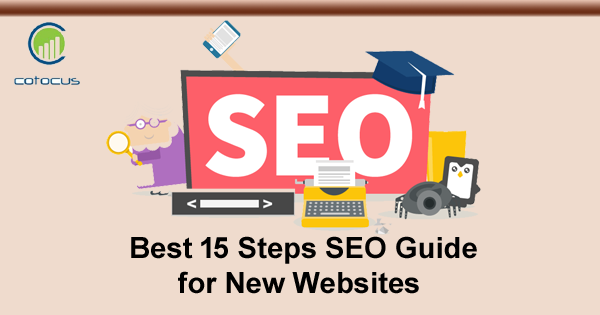 If you plan to create new website then read our blog, which will help you to SEO guide for new website.
1. Domain Name – Domain names are one of the main ranking factors search engines look at to figure out what a page is about. Then please choose your Domain Name Carefully.
2. Web Hosting – Google has been upfront about site speed being a ranking factor for SEO. Visitors are intent and expect web-pages to load within seconds (or less), so Google tries to only deliver results that will satisfy that requirement. So, Select a Reputable Web Hosting Provider.
3. Keyword Research – Keyword research is one of the main part of SEO. In order to do a lot of the other things on this list effectively, you need to first have a clear idea of the main terms and subject areas you want to focus your SEO efforts on.
4. Website Architecture – If you're planning with a simple site that just a few pages, this may not seem all that important right now. But it's still smart to plan out your site architecture in advance so you have a structure in place as you go.
5. Always use Mobile-Friendly Design – Many of the SEO algorithm updates Google has announced in recent years have been all about mobile. In this reason always use Mobile-Friendly Design.
6. Always use Target Primary Keywords for Each Page – Your initial keyword research can help you gain an overall picture of the language to use when building your website, but it's also good practice to choose a target keyword (or a couple) for each individual web page on your site.
7. Always Optimize Page URLs – Always customize the URL of every page on your website. To the best of your ability, you want each URL to be easy to remember, communicate what's on the page and, where possible, use your target keyword for the page.
8. Always Optimize Title Tags – The title tag is the main part of the website that Google sees to know what the page is, which makes it another good place to use your targeted keywords.
9. Always Optimize Images – Every image you use on the web page provides some additional opportunity to optimize your page for your main keyword.
10. Always Optimize Headings – While writing for the web, the heading is a good tool to better organize your copy so that it is easy to read and scan-able for your visits.
11. Always Optimize text on the page – You have to be cautious here because the search engines notice the keyword stuffing and your website can be penalized for it. But unless you only use your targeted keywords (and relevant synonyms) in context, where they understand, then adding them to the text on the page is a good practice.
12. Always Write Unique Meta Descriptions – While meta descriptions do not directly affect the ranking, they play a role in your click-through rates from search results.
13. Always Link to Other Pages on Your Website – Internal linking gives you a way to indicate to Google what your page is about the anchor text you use. If you are not familiar with the term, then the anchor text refers to those words which are hyperlinks.
14. Always Submit Your Sitemap to Google – Generally Google's crawlers will make their place on your website over time, even if you do not do anything, but you can speed things up by submitting your sitemap through Google Search Console.
15. Always Create an SEO Plan for the Future – In order to show in the search engines when people search for information or products you provide, you have to do some real work to provide constant value on your website and to make authorization around the web.
Latest posts by Bittu Kumar
(see all)