What is AIOps?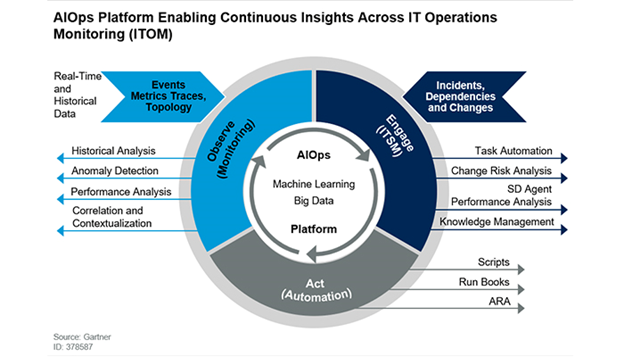 The term AIOps was initially authored by Gartner in 2017. Traditional IT management techniques were were seen as unfit to adapt to advanced business change. artner anticipated that there would be massive changes in ITOps methods and a rebuilding of how we deal our IT ecosystems. After that AIOps came in existence.
Artificial Intelligence for IT Operations (AIOps) is the application of AI, and related technologies like, machine learning and natural language processing (NLP) to conventional ITOps exercises and undertakings.
AIOps consolidates big data and machine learning to automate IT operations processes, incorporating occasion correlation, anomaly recognition and causality assurance.
Components of AIOps
Mass and diverse IT data
Aggregated big data platform
Machine learning
Observe
Engage
Act
Why AIOPs is important
AIOps offers so many benefits to busines, some of them are –
Enhance collaboration
Increased ROI
Successful digital transformation
What is the use of AIOps?
Predictive alerting – According to a report, organizations get over 1 million incident alerts in a day. AIOps gathers these alerts, examine them to track relationships between the data, and gathers them into a smaller number of notifications, guranteeing only issues with high business value are alerted.
AIOps also utilize AI to alert experts of subject incidents for a quick resolution.
Root cause examine – Despite of just solving it at first, it is significant to figure out what is the prime cause of an issue initially.
The complexity in modern systems makes it difficult and time-consuming to examine large volumes of data and alerts to figure out the root cause of irregularities.
As well as recognizing irregularities, AIOps has the ability to gather and correlate events then use machine learning inference models in isolating related events to detect the root cause of issues.
This top to bottom determination of the essential cause of issues helps IT teams answer and resolve issues rapidly and effectively.
Automated incident management – By utilizing machine learning algorithms, enterprises not only set automatic alerts for events but also trigger automatic system reactions to remediate the issues. By automating and resolving events in real-time, enterprises can deliver a smooth user experience.
Predictive outages – Predictive AIOps enables operations teams to see slow-forming inconsistencies before they become blackouts(outages) and fix the issue before users are affected.
Put simply, predictive AIOps make it conceivable to stop blackouts before they start.
Service desk ticketing – AIOps automates several functions, comprising ticket and log updates, audits, password resets, change risk analysis, etc. Utilizing chatbots boosts self-service and enables users to solve daily issues on their own.
Compare AIOps Vs MlOps certification
MLOps
AIOps
Standardizes ML system development process
Automates IT operations and systems
Enlarges efficiency and productivity of the team
Automates root cause examines and resolution
simplify coordination between different teams
Process and manage a huge amount of data effectively and efficiently
It is a important part of deploying AI and Data Science at scale and in a repeatable manner
It leverages revolutionary AI technologies to break IT challenges
– Multi-source data consumption
– Source Code Control
– Deployment and Test Services-Tracking ML model using metadata
– Automate ML experiments
– Mitigate risks and bias in model validation
– Application Monitoring-Automating manual or repetitive processes
– Anomaly identification
– Predictive maintenance
– Incident management
List of AIOps Certification
AIOps Certified Professional (AIOCP)
AIOps Certification Path
There is no official certification for AIOps but still you can get AIOps Certified Professional (AIOCP) and have required knowledge and skillsets to stand out of others from DevOpsSchool.
AIOps Certification Cost
Best salary for AIOps Certified Professional
The average salary of AIOps professional is 21 Lakh.
Best AIOps Certification Tutorials
https://www.aternity.com/wp-content/uploads/2020/01/What-is-AIOps-WP-Final.pdf
https://tekwurx.com/wp-content/uploads/2019/05/Gartner-Market-Guide-for-AIOps-Platforms-Nov-18.pdf
Best AIOps Certification Video Tutorials
Best AIOps certification Ebooks
https://info.moogsoft.com/ebook-observability-aiops-for-dummies.htmldevasted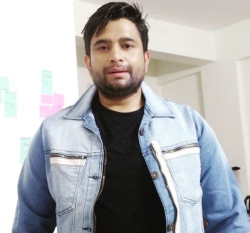 Latest posts by Rajesh Kumar
(see all)