Link Building is a fundamental search engine optimization (SEO) strategy that involves obtaining hyperlinks from other websites to your own. These hyperlinks, also known as backlinks, serve as references or endorsements from other websites to yours. Link building is important because search engines like Google consider the number and quality of backlinks as a signal of a website's authority, credibility, and relevance. A well-executed link building strategy can help improve your website's search engine rankings, increase organic traffic, and enhance its online visibility.
How to Do Link Building:
Create High-Quality Content: Producing valuable and relevant content that others want to link to is the foundation of successful link building.
Guest Posting: Write guest posts for other blogs or websites within your niche. Include a backlink to your website in your author bio.
Broken Link Building: Find broken links on other websites and offer your content as a replacement. This helps website owners maintain the quality of their links.
Resource Pages: Identify resource pages within your niche and reach out to website owners, suggesting your content as a valuable addition.
Influencer Outreach: Connect with influencers or industry experts and request backlinks to your relevant content.
Social Media Promotion: Share your content on social media platforms to increase its visibility and encourage others to link to it.
Directories and Listings: Submit your website to relevant online directories and listings.
Collaborative Content: Collaborate with others to create valuable content such as infographics, eBooks, or research studies that naturally attract backlinks.
Build Relationships: Cultivate relationships with other website owners, bloggers, and influencers in your industry. Networking can lead to natural link opportunities.
Benefits of Link Building:
Improved Search Engine Rankings: High-quality backlinks are a strong ranking factor for search engines. A website with authoritative backlinks is likely to rank higher in search results.
Increased Organic Traffic: Quality backlinks from reputable websites can drive targeted traffic to your website, leading to higher engagement and conversions.
Enhanced Website Authority: Backlinks from authoritative sources establish your website as a credible and reliable source of information.
Brand Exposure: When your website is linked from other websites, it gains visibility to a wider audience, potentially leading to increased brand recognition.
Referral Traffic: Backlinks generate referral traffic from other websites, introducing new visitors to your content and offerings.
Indexing and Crawling: Backlinks can help search engine bots discover and crawl your website more effectively, leading to faster indexing of your pages.
Long-Term Value: Quality backlinks continue to provide value over time, potentially leading to sustained traffic and improved rankings.
Niche Authority: Link building within your niche helps you become recognized as an expert in your industry, contributing to thought leadership.
Top 38 Websites for Free Link Building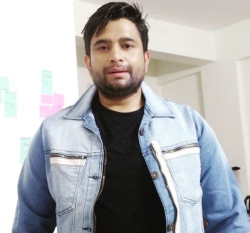 Latest posts by Rajesh Kumar
(see all)