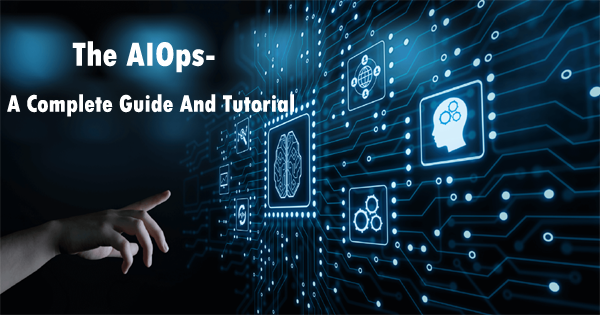 Origin & Evolution of AIOps:-
The Artificial Intelligence for IT Operations (AIOps) is a term coined by Gartner in 2016 as an industry category for machine learning analytics technology that enhances IT operations analytics. AIOps is the acronym of "Algorithmic IT Operations". Such operation tasks include automation, performance monitoring and event correlations among others.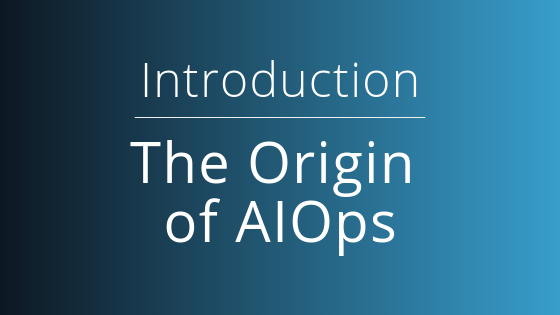 There are two main aspects of an AIOps platform: machine learning and big data. In order to collect observational data and engagement data that can be found inside a big data platform and requires a shift away from sectionally segregated IT data, a holistic machine learning and analytics strategy is implemented against the combined IT data.
The goal is to enable IT transformation, receive continuous insights which provide continuous fixes and improvements via automation. This is why AIOps can be viewed as CI/CD for core IT functions.
Given the inherent nature of IT operations being closely tied to cloud deployment and the management of distributed applications, AIOps has increasingly led to the coalescence of machine learning and cloud research.
What is AIOps?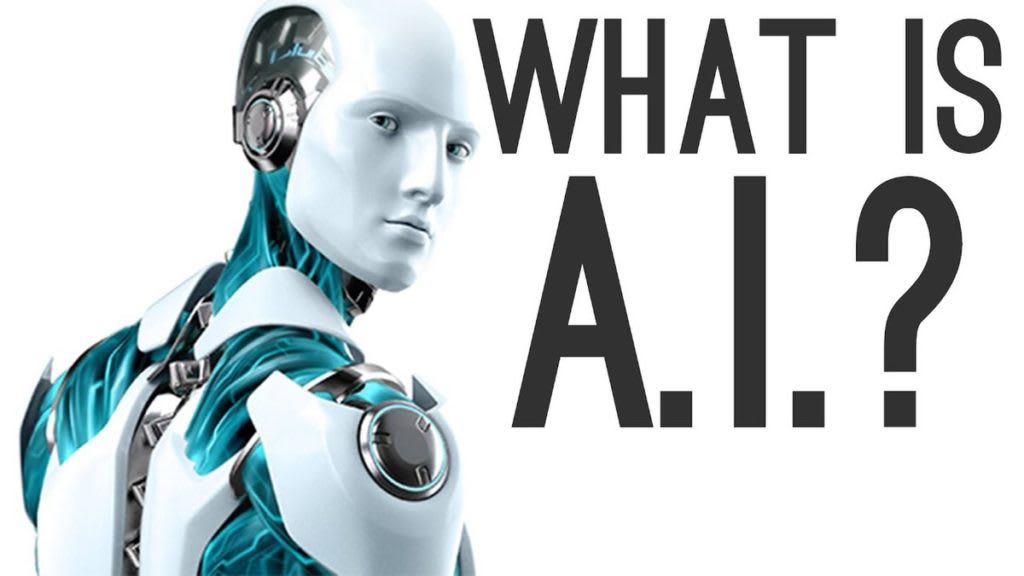 The AIOps platforms utilize big data, modern machine learning and other advanced analytics technologies to directly and indirectly enhance IT operations (monitoring, automation and service desk) functions with proactive, personal and dynamic insight. AIOps platforms enable the concurrent use of multiple data sources, data collection methods, analytical (real-time and deep) technologies, and presentation technologies.
What Problem is solved by AIOps?
It breaks down data silos
AIOps enables organizations to break down data silos and overcome the existing challenges with full visibility across IT environments. AIOps includes multiple AI capabilities, especially with the amount of data available for analysis and monitoring. The AIOps combines big data and machine learning to automate IT operations processes, including event correlation, anomaly detection and causality determination.
Why do we need AIOps?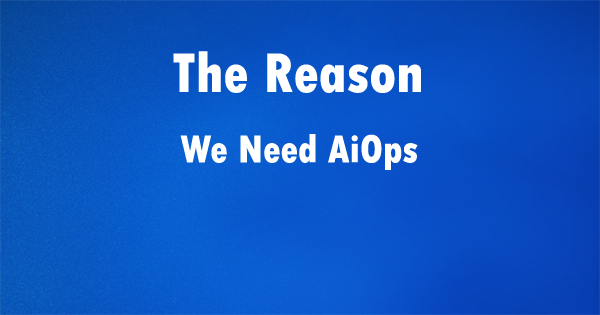 The AIOps makes complex automated decisions by collecting and analyzing data. By leveraging this data, it can predict probable future events that may impact availability and performance and even proactively remediate those before they become an issue.
How to implement AIOps?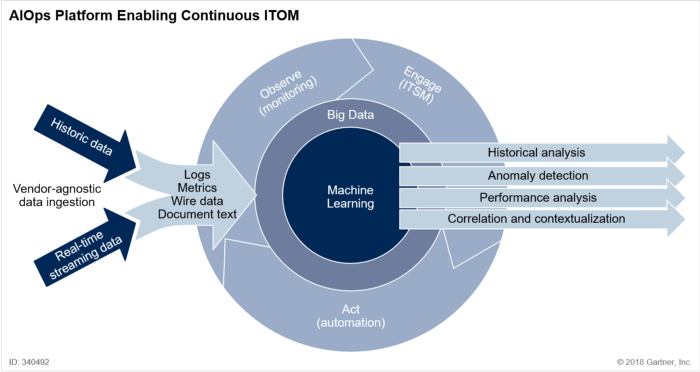 The best way for an organization to embark on its AIOps journey is to start with a focused approach, and then scale as needed. Organizations should take a look at their IT incidents and identify issues that regularly occur to determine where an initial AIOps deployment would deliver the biggest ROI.
Data is gold.
Data quality still matters.
Differentiate real-time and non-real-time analytics.
Feature engineering is as important as model training.
Human experience still matters, but needs to be codified.
How AIOps Works and Architecture?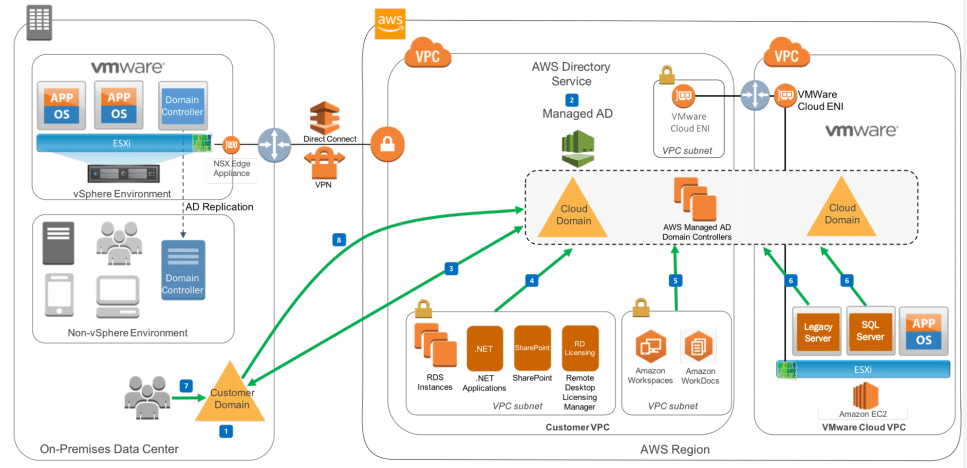 AIOps relies on the algorithmic analysis of IT data to help DevOps and IT operations teams to work faster and smarter. AIOps helps these teams detect and react to digital issues early enough to prevent an impact on customers and business operations. Modern IT environments generate complex and large quantities of data.
AIOps is the Nucleus of Digital Operations
In a real world setting, the AIOps platform ingests heterogeneous data from many different sources about all components of the IT environment — networks, applications, infrastructure, cloud instances, storage and more.
What are the top tools of AIOps?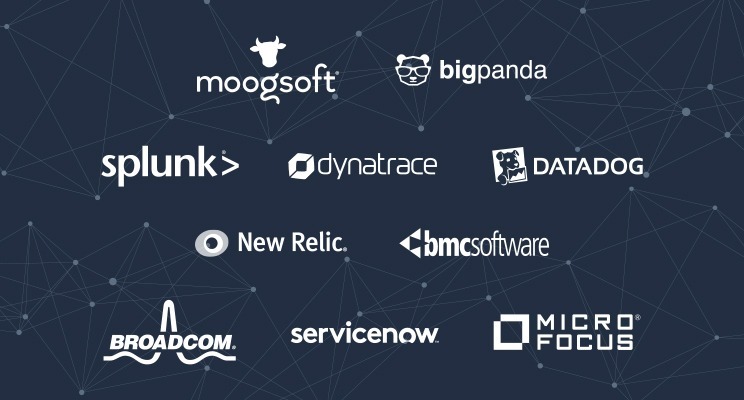 AIOps tools utilize machine learning to automate the management of applications. Businesses use these tools to reduce the workload on developers and increase response time to issues like anomaly detection and dependency management that can be completely automated by AIOps.
Popular AIOps Tools. Here Are the Top 15 AIOps Platforms
Splunk.
Moogsoft.
Datadog.
Instana.
Dynatrace.
AppDynamics.
BigPanda.
PagerDuty.
Advantage & Disadvantage of AIOps:-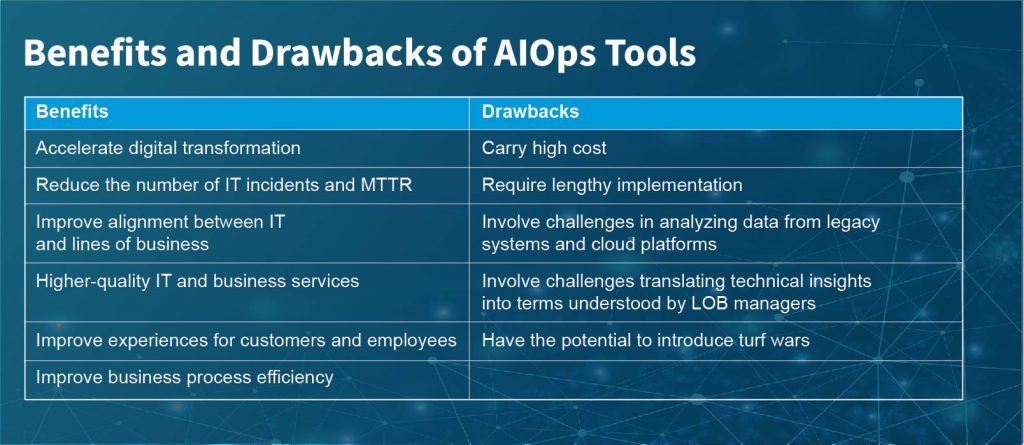 Advantages
1. Reduce downtime. Application and system downtime can be costly in terms of lost revenue, lower productivity and damage to your organization's reputation.
2. Improve operational confidence.
3. Continually manage vulnerability risks.
4. Optimize skills and resources.
5. Focus on innovation.
                        Disadvantages
1. It's impossible to automate something that you don't understand.
2. AIOps tools augment existing IT workflows, but they aren't designed.
3. Not Measuring the Business Outcomes You Wish to Achieve with AIOps.
4. Not Marrying Human Insights with Machine Data Intelligence.
What are the roles and Responsibilities of AIOps?
Roles:-
AIOps professionals must harmoniously integrate data ingestion monitoring tools with data analysis tools, which often means connecting open source tools to closed source tools. These duties aren't limited to one technological element.
Responsibilities:-
The AIOps has two main components: big data and ML. It requires a move away from siloed IT data in order to aggregate observational data (such as that found in monitoring systems and job logs) alongside engagement data (usually found in ticket, incident, and event recording) inside a big data platform.
Future of AIOps in Software Engineering?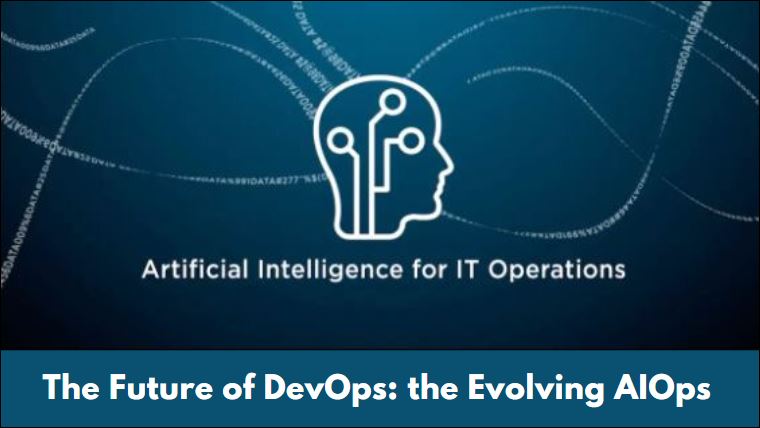 Gartner predicts that large enterprises exclusive usage of AIOps and digital experience monitoring technologies to monitor applications and infrastructure will increase from 5 %in 2018 to 30 % in 2023. AIOps eliminates data silos in IT by bringing all types of data under one roof. The collected ocean of data is then used to execute a Machine Learning method to develop insights that allow responsive enhancements and corrections.
What is the Career Scope in AIOps?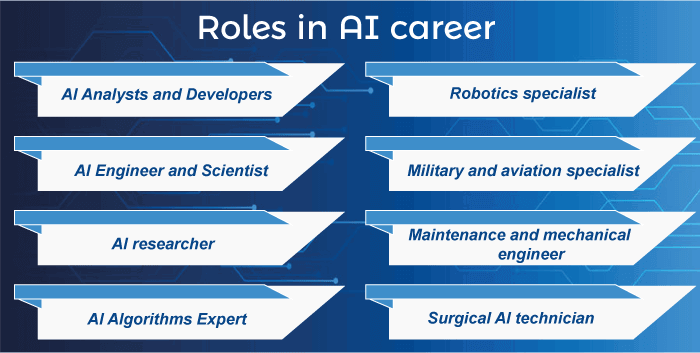 The field of artificial intelligence has a tremendous career outlook, with the Bureau of Labor Statistics predicting a 31.4 percent, by 2030, increase in jobs for data scientists and mathematical science professionals, which are crucial to AI. The AI job market has been growing at a phenomenal rate for some time now. The entry-level annual average AI engineer salary in India is around 8 lakhs, which is significantly higher than the average salary of any other engineering graduate. At high-level positions, the AI engineer salary can be as high as 50 lakhs.
Which institute provides the best AIOps Certification and Training?
There are many institutes offering AI and AIOps. Around the globe, if you want learn the AIOps with quality and at cheap price then you should visit DevOpsSchool. The DevOpsSchool provides training that will give you confidence to perform your work. Here you will get job support, tech support, LMS access which consist of videos, notes, slides and pdf. 90% of the training will be on hands-on. The trainers and teachers are highly skilled and qualified and have a 16+ years of experience in the IT domain.
Which is the best AIOps training and courses?
Again for the same, DevOpsSchool. The "Master in Artificial Intelligence" course which is offered by DevOpsSchool, contains all the things that you want. This course contains three levels i.e. basic, intermediate and advance. For fresher's or intermediates, the DevOpsSchool's trainers will teach you from the scratch to the advance level with Quality. You will get Doubt clearing classes with hands-on. You will get a demo class as well, and if in case there is no demo class available you can demand for pre-recorded videos that they will provide you.
Video Reference of AIOps:-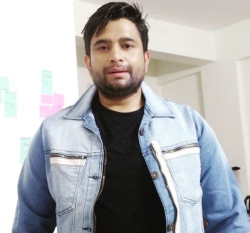 Latest posts by Rajesh Kumar
(see all)