Here is a list of 20 popular data analytics platforms:
Tableau
Microsoft Power BI
Google Analytics
IBM Watson Analytics
Alteryx
Qlik Sense
Domo
Looker
MicroStrategy
RapidMiner
1. Tableau
Tableau is a data visualization tool that can be used by data analysts, scientists, statisticians, etc. to visualize the data and get a clear opinion based on the data analysis. Tableau is very famous as it can take in data and produce the required data visualization output in a very short time. And it can do this while providing the highest level of security with a guarantee to handle security issues as soon as they arise or are found by users.
Tableau also allows its users to prepare, clean, and format their data and then create data visualizations to obtain actionable insights that can be shared with other users. Tableau is available for individual data analysts or at scale for business teams and organizations. It provides a 14-day free trial followed by the paid version.
Top Features
Ask Data: A tool that can answer basic questions about your data
Explain Data: An AI tool that explains why your dataset has outliers (outliers are data points that are abnormally different from other data points)
Tableau Prep: A self-service data preparation tool that can create visualizations according to your instructions
2. Microsoft Power BI
Microsoft Power BI is a Data Visualization platform focused on creating a data-driven business intelligence culture in all companies today. To fulfill this, it offers self-service analytics tools that can be used to analyze, aggregate, and share data in a meaningful fashion.
Microsoft Power BI offers hundreds of data visualizations to its customers along with built-in Artificial Intelligence capabilities and Excel integration facilities. And all this is very pocket friendly at a $9.99 monthly price per user for the Microsoft Power BI Pro. It also provides you with multiple support systems such as FAQs, forums, and also live chat support with the staff.
Top Features
Microsoft AI: An artificial intelligence (AI) program that can prepare and analyze data automatically
Fully customizable dashboards
Real-time visualizations
3. Google Analytics
Google Analytics is a tried-and-true BI tool that's perfect for small, medium, and large businesses looking to analyze their website activity. Google Analytics can track critical figures like bounce rate, average session duration, and pages per session.
Top Features
Integrations: Works with Google Ads, Google Search Console, and WordPress
Real-time report: Shows you your website's current activity
Interactive dashboard
4. IBM Watson Analytics
IBM offers an expansive range of BI and analytic capabilities under two distinct product lines. The Cognos Analytics platform is an integrated self-service solution that allows users to access data to create dashboards and reports. IBM Watson Analytics offers a machine learning-enabled user experience that includes automated pattern detection, support for natural language query and generation, and embedded advanced analytics capabilities. IBM's BI software can be deployed both on-prem or as a hosted solution via the IBM Cloud.
5. Alteryx
Alteryx is a self-service data analytics software company that specializes in data preparation and data blending. Alteryx Analytics allows users to organize, clean, and analyze data in a repeatable workflow. Business analysts find this tool particularly useful for connecting to and cleansing data from data warehouses, cloud applications, spreadsheets and other sources. The platform features tools to run a variety of analytic jobs (predictive, statistical, spatial) inside a single interface.
6. Qlik Sense
Qlik offers a broad spectrum of BI and analytics tools, which is headlined by the company's flagship offering, Qlik Sense. The solution enables organizations to combine all their data sources into a single view. The Qlik Analytics Platform allows users to develop, extend and embed visual analytics in existing applications and portals. Embedded functionality is done within a common governance and security framework. Users can build and embed Qlik as simple mashups or integrate within applications, information services or IoT platforms.
7. Domo
Domo provides more than 1,000 built-in integrations — called connectors — that allow users to transfer data to and from on-premises and cloud external systems. Domo also supports building custom apps that integrate with the platform, which allows developers to extend the system with immediate access to the connectors and visualization tools. Domo comes as a single platform that includes a data warehouse and ETL software, so businesses that already have their own data warehouse and data pipeline set up may want to look elsewhere.
8. Looker
Cloud-based Looker provides an intuitive drag-and-drop interface that's easy to use. It offers data analytics and management, business intelligence, and advanced visualization capabilities. The tool's multi-cloud strategy supports the use of various data sources and deployment methods. Looker also easily connects with an array of databases, including Snowflake and Amazon Redshift. It has a built-in code editor that allows data analysts to modify generated models.
9. MicroStrategy
MicroStrategy merges self-service data preparation and visual data discovery in an enterprise BI and analytics platform. MicroStrategy provides out-of-the-box gateways and native drivers that connect to any enterprise resource, including databases, mobile device management (MDM) systems, enterprise directories, cloud applications and physical access control systems. Its embedded analytics tool allows MicroStrategy to be embedded in other web pages and applications such as portals, CRM tools, chatbots and even voice assistants like Alexa.
10. RapidMiner
RapidMiner provides all the technology users need to integrate, clean, and transform data before they run predictive analytics and statistical models. Users can perform nearly all of this through a simple graphical interface. RapidMiner can also be extended using R and Python scripts, and numerous third-party plugins are available through the company's marketplace. However, the product is heavily optimized for its graphical interface so that analysts can prepare data and run models on their own.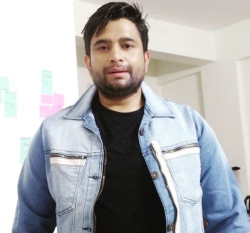 Latest posts by Rajesh Kumar
(see all)