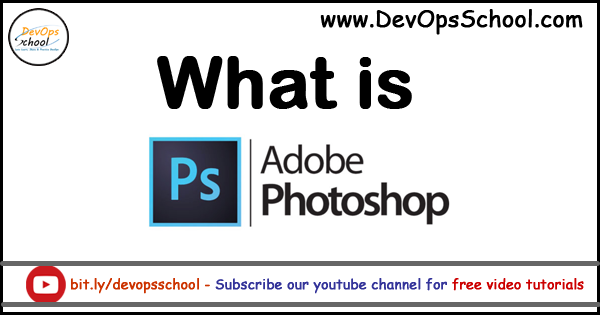 What is adobe Photoshop?
Photoshop is software that was created by Adobe Systems users in the year 1990.Since then it has been used in web designing, graphic designing and animation.Actually Photoshop is raster based software. This software Depends upon Pixels.
This software is limitless, which means there is a lot of things to do in this software. It depends on you how creatively you work. This is a software application. Which is used to edit digital image.
This is paid software.
Who to use it?
In the last few years, Photoshop has been used as a full package. In which we can edit and modify photos. It is mostly used by people associated with photographers, print media, graphic designers and web designers. Photoshop is useful and powerful software.
Photoshop way to tech image and process by computer and menu plated then various ways
Why we should learn Adobe Photoshop?
Adobe Photoshop has many high quality graphic design options. Example- Photo Restoration, Product Retouch, Watermark add and Remove, Photo Masking, Clipping Path, Photo Editing, Logo Design, Enhancing, Photo Composition, Color Correction, Banner Design, UI Design, iPhone Apps Design, Box Design and 3d Views, Flyer Design, Website Header Design, Website Mock up, Business Card Design, Image Background Removal, eBook cover Page Design.
These are some of the skills and practice. Which you can do through Photoshop. There is a lot of editing software available at the present time but it is different and better.
How many version of Photoshop?
In 1990, the first version of Photoshop, Photoshop 1.0 was created. Many versions like 1.0, 2.0, 3.0, 4.0, 5.0, 5.5, 6.0, 7.0 were created after that.
After this, a new version of Photoshop has also come Example – Photoshop CS, CS3, CS4, CS6, CC, CC2017, CC2018, CC2019 etc…
Advantage of Adobe Photoshop.
There are many tools available in it, which can be used as well as many things, using editing.
It supports a lot of photo formats so that the photos can be easily edited with editing.
Disadvantage of Adobe Photoshop.
The biggest disadvantage is that due to its popularity, it costs a lot more than the rest of the software.
The full function is used only by the pro users and in such cases, the beginners do not get much benefit from buying it.