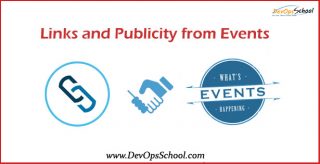 Nowadays many local events platforms available where you can submit your events, program and get Do-follow links and increase participants and generate traffic. You can get a lot of social sharing and reposting and mentions on social media and a lot of activity happening around your events just from people promoting. Event sharing is very essential to promote your business, course, product, service and etc even before the events start. You can do it regularly and with every event you get link opportunities you get more flexibility. In how you promote on which other sites you post your events.
First of all, you create FB, page or account, twitter, and LinkedIn use for promoting events. It is the best way to use followers for promotion. Facebook is the best platform which provides all the resources. Even though we are not spending any money on promotion.

Benefits of Events Platform for increase Traffic
Get News Mentions and Brand Exposure.
Increase Traffic and sales.
Reach a Targeted Audience.
Interact with customers and market demands.
Make brand value and valuable connections with customers.
Get more valuable webpage links.
Social Medial Benefits.
Get positives reviews.
When you submit your event on local search events then you can put a link every posting of the event back to your sites. And even if they have a second link opportunity for posting the venue you can put a link through something else some other page on your sites. So you see this is a great way to get link really easy actually.
Latest posts by Amit Kumar
(see all)