created the topic: Hiring for Application Repackaging in Bangalore for Wipro Technology
FROM: gayatri.n@anlageHRO.com
Greetings for the day!
We are a Recruitment organization with specialization in IT recruitments and all our clients are the Top IT Giants.
One of our clients is a TOP MNC Giant .It is a World's No.1 Product based Company.
We are Looking for Professional working on Application Packaging for Wipro Technology in Hyderabad.
Skills & Experience Required
:
Skills: Windows Installer – L1 , Packaging tools – L3 ,
Experience Required(Description) : In Wipro Technologies we are looking for Windows Installer – L1 – Create Windows installer Installation packages Knowledge of Components, Features Application advertisement Create custom actions and customise applications for Installation on demand. Knowledge of commandline options Administrative Installation Per-machine Installations Per-user Installations
Roles & Responsiblities
:
In Wipro Technologies you would be responsible for Application Packaging Engineer – Works on applications that is extremely complex in nature where a high degree of independent judgment, initiative and technical knowledge are required to resolve problems. Works independently and has ability to handle most unique situations. Ownes thechnical assessment, troubleshooting, and coordinating with customer teams for any technical dicussions. Participates and provides inputs towards implementation of various hardware and software policies and procedures. Be able to learn new technologies and then train and lead resources on the technical procedures required for deployment . Acts as a team lead/mentor for new joinees, participates in training sessions as a faculty for freshers.
corrected.** Exhibit strong communication skills.
** Articulate in both written and verbal communication.
** Display propensity for detail and comprehensiveness of content.
** Good Technical handling Skills.
In case your profile matches the requirement then request you to mail your resume to strictly to gayatri.n@anlageHRO.com . along with down mention details:
WE WILL MAKE SURE YOUR PROFILE IS KEPT HIGHLY CONFIDENTIAL AND ONLY AFTER YOUR CONFIRMATION WE ARE GO! ING TO PROCESS YOUR PAPER FOR ANY OPPURTUNITIES
Will call you as soon as we receive your profile to further update you on the requirement
Can we also request you also to refer us to some of your friends / colleagues who will be interested to apply for this position
PLZ TREAT THIS MAIL AS VERY URGENT.
Best regards,
Gayatri Nagrani
Resource Executive
gayatri.n@anlageHRO.com
www.anlageHRO.com
T/F +91 22 40011334
Anlage HRO Services
Mumbai ~ Bangalore ~ Noida
Anlage Infotech (India) P. Ltd.
175 B SDF VI SEEPZ Andheri (E)
Mumbai 400 096 INDIA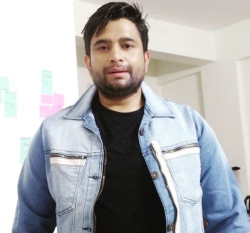 Latest posts by Rajesh Kumar
(see all)