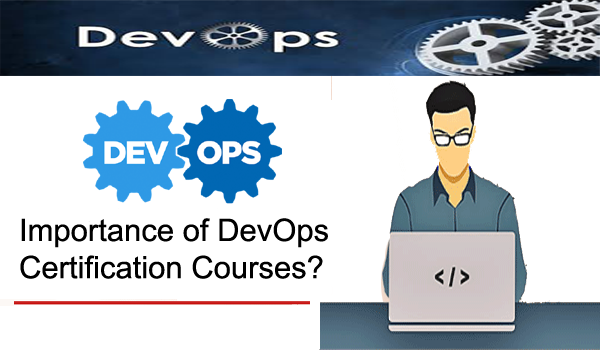 Importance of DevOps Certification Courses?
The change in the IT sector is happening day by day. If we do not develop our skills, then we will be backward in technology. Whereby, we may have to face difficulties in our work area and we can also lose the job. Therefore, we must keep ourselves updated in technology. Today I'm going to tell about some such courses. Which has become the demand of the IT sector.
First of all, I am going to explain the DevOps. It is the culture, practices, and tools of software engineering that increases an organization's ability to deliver applications and services quickly. Now I am going to tell you about DevOps course? DevOps course is intended to be taken the existing IT professionals if they come from software development or operations and appreciate the challenges of those companies who are looking to embrace scalable software deployment as well as embrace the architecture.
Here I am going to tell you, why to use DevOps? DevOps explains a culture and set of processes that bring development and operations teams together to complete software development. It allows the company and organizations to build and improve products at a quicker than they can with traditional software development approach.
Now, what is the role of DevOps engineer? The role of DevOps engineer, we should work collaboratively with software engineering to deploy and operate our system. Help automate and organize your operations and processes. Build and maintain tools for deployment, monitoring, and operation. And should troubleshoot and solving our Dev, test and production environment.
Benifits of DevOps Certification Courses?
DevOps is a demanding course of IT industries and the skilled DevOps engineers demand is high at all times and more and more companies are going to adopt DevOps to promote organizational performance and meet industry demands. Therefore, a rewarding career is waiting for DevOps professionals who can help organizations develop and release software faster and more efficiently.
Guarantee much better Job Opportunities – IT professionals can take benefit of this huge deficit in qualified and experienced professionals by taking up a certification in DevOps for validation of DevOps skillsets. This will secure and guarantee much better Job Opportunities.
Stability and Quality of Software – The marvelous feature of the DevOps is that there is a high level of accountability for building and running applications that are supposed to work as planned.
Highest Paid Salary – The rapid entry of DevOps best practices in the IT industries and their implementation among notable organizations is seeing a huge increase in the Salary of DevOps professionals and the highest paid in the IT industry.
Improved Skills & Knowledge – After completion of the DevOps course, your skill and knowledge develop.
The advantage of Organisation – The advantage of your Organisation through Visibility to Build, Run and Secure Modern Applications.
To help you take advantage of the available career opportunities, scmGalaxy provide certification courses in DevOps and DevOps tools like Dockers, Jenkins, Git, Maven, Gradle, Nuget, Docker, Jira, puppet and various other tools.
Latest posts by Bittu Kumar
(see all)