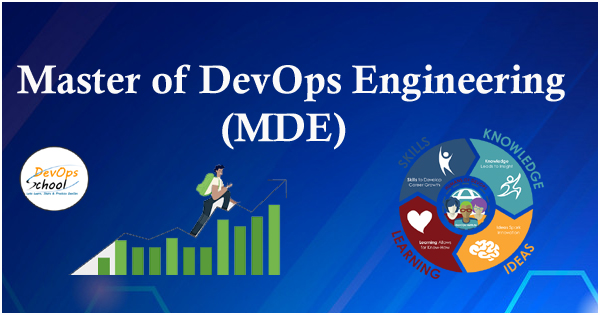 About Master of DevOps Engineering
DevOpsCertification.co curriculum is based on IT industry research and the most up-to-date resources to enable a role-based development approach that focuses on modern competencies required by organizations adopting Master of DevOps (MDE) patterns and practices. The company delivers eight DevOps competency-based certifications and three non-certifications and includes more than 160 hours of learning materials – the most available in the market today.
Why to Adopt Master of DevOps Engineering?
Master of DevOps Engineering master's program will prepare you for career in IT Technology, MDE is the fastest-Growing and IT Trending course of traditional IT and software development. If you are a Software engineer, Software developer, Programmers and want to improve your programming skills and want to learn how to manage large-scale systems, this role/course is for you. Deepening your knowledge in both areas will give you a competitive edge and more flexibility for the future.
DevOps engineers don't write a code. They must also be able to implement automation tools and technologies throughout the software development life cycle, and Master of DevOps Engineering (MDE) responsible for automating business process to improve operations, in part by responding more quickly to request for changes from clients.
Master of DevOps Engineering Increasing for DevOps Professional, IT pros who are skilled in software development and operations. DevOps as the most in-demand skill, and DevOps career opportunities are thriving worldwide.
DevOps engineer responsibilities may include:
Deploying updates and fixes
Writing scripts and automation using various programming languages, such as Python, Java, and Ruby
Performing root-cause analysis of production errors
Developing automation scripts
Performing technical investigations
Developing and implementing solutions for technical issues
Earn a Master's Degree
If you want to become a Master in DevOps Engineers and want to earn a master's degree. A DevOps Master program such as the online master's in software development program at DevOpsSchool.com and we'll provide MDE certification authorized by DevOpsCertification.co can prepare you to become top-notch DevOps Engineers. If you are working in IT professional, an online master's program is a best way to improve your career and your education.
Why DevOpsCertification.Co is award wining IT Certifications?
There are many relevant Master of DevOps Engineering (MDE) Training courses and other resources to assist you with acquiring additional knowledge and skills to prepare for certification. Please review the exam guide for information about the competencies assessed on the certification exam. Participant will be awarded with the certificate on the basis of projects, assignments and evaluation test which they will get within and after the training duration. Master of DevOps Engineering Training and Certification helps you build and validate your Programming skills in the IT technology. Our content is built by DevOpsCertification.co IT experts at MDE and updated regularly to keep pace with development and operations updates, so you can be sure you're learning the latest and keeping your life cycle of application development skills and security tech.
Latest posts by Amit Kumar
(see all)