scmuser created the topic: Maven failed to resolve repo1.maven.org Inbo
I installed Maven 2.2.1 on Ubuntu 8.04. When I first tried to run mvn it
didn't work.
I have a direct connection to internet and I do not have firewall policies
which prohibit
internet access from any program (such as java.exe, as I found in one post)
Looking at the stack-trace it seems like the root of all evil is:
Caused by: java.net.UnknownHostException: repo1.maven.org
I tried to resolve it manually
akshay@lap7:~$ dig repo1.maven.org.
; <<>> DiG 9.4.2-P2.1 <<>> repo1.maven.org.
;; global options: printcmd
;; Got answer:
;; ->>HEADER<<- opcode: QUERY, status: NOERROR, id: 2732 ;; flags: qr rd ra; QUERY: 1, ANSWER: 1, AUTHORITY: 0, ADDITIONAL: 0 ;; QUESTION SECTION: ;repo1.maven.org. IN A ;; ANSWER SECTION: repo1.maven.org. 66 IN A 38.97.124.18 ;; Query time: 36 msec ;; SERVER: 192.168.1.1#53(192.168.1.1) ;; WHEN: Fri Jun 18 19:01:52 2010 ;; MSG SIZE rcvd: 49 Please suggest what is wrong with my setup. I've attached the output of mvn here. Thanks in advance. + Error stacktraces are turned on. Apache Maven 2.2.1 (r801777; 2009-08-07 00:46:01+0530) Java version: 1.6.0_03 Java home: /opt/jdk1.6.0_03/jre Default locale: en_IN, platform encoding: UTF-8 OS name: "linux" version: "2.6.24-27-generic" arch: "i386" Family: "unix" [DEBUG] Building Maven user-level plugin registry from: '/home/akshay/.m2/plugin-registry.xml' [DEBUG] Building Maven global-level plugin registry from: '/home/akshay/opt/apache-maven-2.2.1/conf/plugin-registry.xml' [INFO] Scanning for projects... [INFO] Searching repository for plugin with prefix: 'archetype'. [DEBUG] Loading plugin prefixes from group: org.apache.maven.plugins [INFO] org.apache.maven.plugins: checking for updates from central [DEBUG] Using Wagon implementation lightweight from default mapping for protocol http [DEBUG] Checking for pre-existing User-Agent configuration. [DEBUG] Adding User-Agent configuration. [DEBUG] Connecting to repository: 'central' with url: ' repo1.maven.org/maven2 '. [DEBUG] Using Wagon implementation lightweight from default mapping for protocol http [WARNING] repository metadata for: 'org.apache.maven.plugins' could not be retrieved from repository: central due to an error: Error transferring file: repo1.maven.org [DEBUG] Exception org.apache.maven.wagon.TransferFailedException: Error transferring file: repo1.maven.org at org.apache.maven.wagon.providers.http.LightweightHttpWagon.fillInputData(LightweightHttpWagon.java:143) at org.apache.maven.wagon.StreamWagon.getInputStream(StreamWagon.java:116) at org.apache.maven.wagon.StreamWagon.getIfNewer(StreamWagon.java:88) at org.apache.maven.wagon.StreamWagon.get(StreamWagon.java:61) at org.apache.maven.artifact.manager.DefaultWagonManager.getRemoteFile(DefaultWagonManager.java:546) at org.apache.maven.artifact.manager.DefaultWagonManager.getArtifactMetadata(DefaultWagonManager.java:443) at org.apache.maven.artifact.repository.metadata.DefaultRepositoryMetadataManager.resolve(DefaultRepositoryMetadataManager.java:97) at org.apache.maven.plugin.DefaultPluginMappingManager.loadPluginMappings(DefaultPluginMappingManager.java:103) at org.apache.maven.plugin.DefaultPluginMappingManager.loadPluginMappings(DefaultPluginMappingManager.java:87) at org.apache.maven.plugin.DefaultPluginMappingManager.getByPrefix(DefaultPluginMappingManager.java:61) at org.apache.maven.plugin.DefaultPluginManager.getPluginDefinitionForPrefix(DefaultPluginManager.java:159) at org.apache.maven.lifecycle.DefaultLifecycleExecutor.getMojoDescriptor(DefaultLifecycleExecutor.java:1801) at org.apache.maven.lifecycle.DefaultLifecycleExecutor.segmentTaskListByAggregationNeeds(DefaultLifecycleExecutor.java:462) at org.apache.maven.lifecycle.DefaultLifecycleExecutor.execute(DefaultLifecycleExecutor.java:175) at org.apache.maven.DefaultMaven.doExecute(DefaultMaven.java:328) at org.apache.maven.DefaultMaven.execute(DefaultMaven.java:138) at org.apache.maven.cli.MavenCli.main(MavenCli.java:362) at org.apache.maven.cli.compat.CompatibleMain.main(CompatibleMain.java:60) at sun.reflect.NativeMethodAccessorImpl.invoke0(Native Method) at sun.reflect.NativeMethodAccessorImpl.invoke(NativeMethodAccessorImpl.java:39) at sun.reflect.DelegatingMethodAccessorImpl.invoke(DelegatingMethodAccessorImpl.java:25) at java.lang.reflect.Method.invoke(Method.java:597) at org.codehaus.classworlds.Launcher.launchEnhanced(Launcher.java:315) at org.codehaus.classworlds.Launcher.launch(Launcher.java:255) at org.codehaus.classworlds.Launcher.mainWithExitCode(Launcher.java:430) at org.codehaus.classworlds.Launcher.main(Launcher.java:375) Caused by: java.net.UnknownHostException: repo1.maven.org at java.net.PlainSocketImpl.connect(PlainSocketImpl.java:177) at java.net.Socket.connect(Socket.java:519) at java.net.Socket.connect(Socket.java:469) at sun.net.NetworkClient.doConnect(NetworkClient.java:157) at sun.net.www.http.HttpClient.openServer(HttpClient.java:394) at sun.net.www.http.HttpClient.openServer(HttpClient.java:529) at sun.net. www.http.HttpClient .(HttpClient.java:233)
at sun.net.www.http.HttpClient.New(HttpClient.java:306)
at sun.net.www.http.HttpClient.New(HttpClient.java:323)
at
sun.net.www.protocol.http.HttpURLConnection.getNewHttpClient(HttpURLConnection.java:788)
at
sun.net.www.protocol.http.HttpURLConnection.plainConnect(HttpURLConnection.java:729)
at
sun.net.www.protocol.http.HttpURLConnection.connect(HttpURLConnection.java:654)
at
sun.net.www.protocol.http.HttpURLConnection.getInputStream(HttpURLConnection.java:977)
at
java.net.HttpURLConnection.getResponseCode(HttpURLConnection.java:373)
at
org.apache.maven.wagon.providers.http.LightweightHttpWagon.fillInputData(LightweightHttpWagon.java:115)
… 25 more
[INFO] Repository 'central' will be blacklisted
[DEBUG] Loading plugin prefixes from group: org.codehaus.mojo
[DEBUG] Skipping blacklisted repository central
[DEBUG] Skipping blacklisted repository central
[DEBUG] maven-archetype-plugin: using locally installed snapshot
[DEBUG] Artifact not found – using stub model: Unable to determine the
latest version
org.apache.maven.plugins:maven-archetype-plugin:pom:LATEST
[DEBUG] Using defaults for missing POM
org.apache.maven.plugins:maven-archetype-plugin:pom:LATEST
[DEBUG] maven-archetype-plugin: using locally installed snapshot
[DEBUG] Artifact not found – using stub model: Unable to determine the
release version
org.apache.maven.plugins:maven-archetype-plugin:pom:RELEASE
[DEBUG] Using defaults for missing POM
org.apache.maven.plugins:maven-archetype-plugin:pom:RELEASE
[INFO]
[ERROR] BUILD ERROR
[INFO]
[INFO] The plugin 'org.apache.maven.plugins:maven-archetype-plugin' does not
exist or no valid version could be found
[INFO]
[DEBUG] Trace
org.apache.maven.lifecycle.LifecycleExecutionException: The plugin
'org.apache.maven.plugins:maven-archetype-plugin' does not exist or no valid
version could be found
at
org.apache.maven.lifecycle.DefaultLifecycleExecutor.verifyPlugin(DefaultLifecycleExecutor.java:1569)
at
org.apache.maven.lifecycle.DefaultLifecycleExecutor.getMojoDescriptor(DefaultLifecycleExecutor.java:1851)
at
org.apache.maven.lifecycle.DefaultLifecycleExecutor.segmentTaskListByAggregationNeeds(DefaultLifecycleExecutor.java:462)
at
org.apache.maven.lifecycle.DefaultLifecycleExecutor.execute(DefaultLifecycleExecutor.java:175)
at org.apache.maven.DefaultMaven.doExecute(DefaultMaven.java:328)
at org.apache.maven.DefaultMaven.execute(DefaultMaven.java:138)
at org.apache.maven.cli.MavenCli.main(MavenCli.java:362)
at
org.apache.maven.cli.compat.CompatibleMain.main(CompatibleMain.java:60)
at sun.reflect.NativeMethodAccessorImpl.invoke0(Native Method)
at
sun.reflect.NativeMethodAccessorImpl.invoke(NativeMethodAccessorImpl.java:39)
at
sun.reflect.DelegatingMethodAccessorImpl.invoke(DelegatingMethodAccessorImpl.java:25)
at java.lang.reflect.Method.invoke(Method.java:597)
at org.codehaus.classworlds.Launcher.launchEnhanced(Launcher.java:315)
at org.codehaus.classworlds.Launcher.launch(Launcher.java:255)
at org.codehaus.classworlds.Launcher.mainWithExitCode(Launcher.java:430)
at org.codehaus.classworlds.Launcher.main(Launcher.java:375)
Caused by: org.apache.maven.plugin.version.PluginVersionNotFoundException:
The plugin 'org.apache.maven.plugins:maven-archetype-plugin' does not exist
or no valid version could be found
at
org.apache.maven.plugin.version.DefaultPluginVersionManager.resolvePluginVersion(DefaultPluginVersionManager.java:229)
at
org.apache.maven.plugin.version.DefaultPluginVersionManager.resolvePluginVersion(DefaultPluginVersionManager.java:91)
at
org.apache.maven.plugin.DefaultPluginManager.verifyPlugin(DefaultPluginManager.java:179)
at
org.apache.maven.plugin.DefaultPluginManager.loadPluginDescriptor(DefaultPluginManager.java:1642)
at
org.apache.maven.lifecycle.DefaultLifecycleExecutor.verifyPlugin(DefaultLifecycleExecutor.java:1540)
… 15 more
[INFO]
[INFO] Total time: 1 second
[INFO] Finished at: Fri Jun 18 15:43:35 GMT+05:30 2010
[INFO] Final Memory: 1M/4M
[INFO]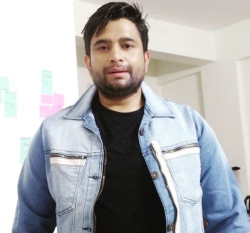 Latest posts by Rajesh Kumar
(see all)