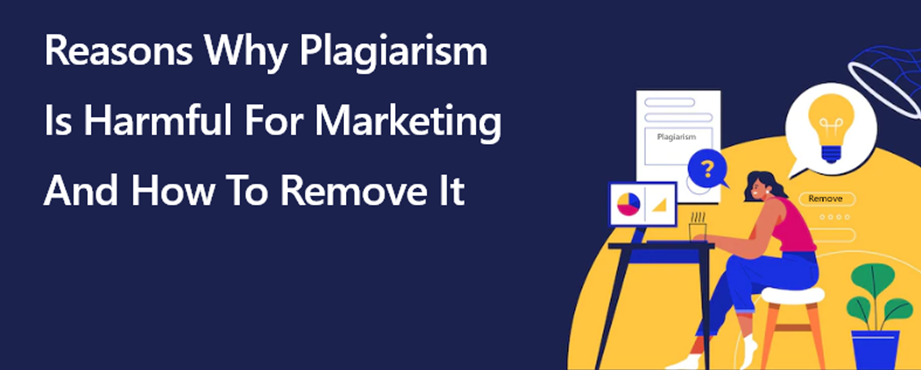 Plagiarism is a concerning issue in content marketing that leads to a loss of reputation, time, and effort. Nobody wants to commit plagiarism deliberately. But when it comes to the similarity of information and services, the chances of committing plagiarism increase drastically.
In the world of digital marketing, plagiarism is dealt with strict penalties. The most harmful effect of plagiarism is on the rankings of your website.
Plagiarized content is unacceptable by search engines like Google. It will immediately lower the ranking or penalize a website containing plagiarized content. The only way to save yourself from such a penalty is by checking and removing plagiarism before publication.
But that is not the only reason to avoid plagiarism in marketing content. In this article, we will state a range of reasons that can harm your marketing strategy. We will also share how to check and remove plagiarism by following a few easy methods.
How does Plagiarism Affect Digital Marketing?
Below we have featured the effects of digital marketing which are caused due to plagiarism. These effects are related to any written content published online.
● Lowers the Ranking
Plagiarized content can lead to lower rankings since you copy content from other websites already in the ranking. Due to lower rankings, your website may receive little to no traffic, equivalent to not having a website.
It is clearly stated in Google's policy that if your webpage content lacks originality, you will not be able to rank against other competitors.
Therefore, before publishing the website online, make sure you run a plagiarism check to ensure your site is similar to any pre-published content.
A plagiarism check can help you to find plagiarized content. Moreover, it also provides you with a summary of resources or links that have published content similar to your piece of writing.
● Imposes Penalization
Similar to the concept of lower ranking, penalization could happen as a worst-case scenario of violating the search engine's policy. Penalization is not like lowering on the 7th or 8th page of SERPs. If your site lacks originality, the search engine will not display your site in its search result.
The penalization is implemented strictly by the world's most widely used search engine Google. This way, your SEO efforts would go all in vain, including promotion via off-page SEO and keyword optimization, site hosting, and everything. It is like ruining your online reputation from the search engine's perspective.
● Copyright Infringement
Copyright infringement goes beyond the penalizations or de-ranking of your site. Duplicating copyright-protected content can land you in trouble of paying hefty fines or jail time, especially if you are doing it without crediting the content owner. However, it depends on the copyright terms if you can borrow content even by giving credit to the original author.
Many web content publishers and marketers are not familiar with the reserved rights of online content creators, which can bring expensive consequences for them. Facing a lawsuit and hiring lawyers can cost you a lot of time and money, which is not suitable for business.
● Loss of Audience
Losing the trust of your audience or customer might take a long time to recover. The audience appreciates the innovation, legitimacy, and uniqueness of a business.
If the audience happens to find the same type of content on multiple platforms, they might start digging and end up realizing which online business is legit and which is copying the other.
If your audience is not confident in the content of your marketing content, it might ruin your reputation as a brand in that customer's community. By plagiarizing, you are losing customers and leaving a bad reputation for those who have not even encountered your business.
How to check and remove plagiarism from marketing content?
Now that we have learned how harmful plagiarism can be for the online marketing domain let us talk about a few simple steps to remove plagiarism from your content.
Before you can resolve a problem, the first step should involve identifying the problem. In our case, finding the plagiarized sections from the content is essential, which can save a lot of time and effort while we remove them.
To check the originality of marketing content, you can take assistance from online plagiarism-detecting tools. This will help you to make a quick plagiarism check of your content to ensure its uniqueness before using it for marketing purposes.
A plagiarism detector compares the given content with all resources available online and tells the percentages of plagiarized and unique text. Relying on an online tool to check the content uniqueness is much more efficient as it is impossible to compare each sentence with online published content manually.
By performing a plagiarism check, you can get a detailed report in the form of highlighted sections and sentences. You can summarize these highlighted sections to remove plagiarism from them only instead of completely writing the entire webpage content.
If your content contains any traces of plagiarism, then take assistance from online plagiarism-removing tools. A plagiarism remover allows you to remove plagiarism from your content without deviating from the original meaning of the context.
It replaces a few words with suitable synonyms and restructures plagiarized sentences to remove plagiarism. The noticeable thing about these online tools is that they don't ruin the content quality and provide a new readable version of your original content within seconds.
There are a handful of free & paid paraphrasers available online that can help you to make your content unique.
In this way, you can use 100% unique and plagiarism-free content for any marketing purpose without any hassle.
Conclusion
Plagiarism can make things challenging for marketers and bloggers. It is not a recommended practice in any marketing. It is very harmful to online marketing since search engines have set the ranking conditions based on the uniqueness of content. Therefore, marketers must check and remove plagiarism before publishing the marketing copy online.
This article featured several reasons why plagiarism is harmful to marketing purposes. We briefly discussed how we could remove plagiarism by following two simple steps. We hope this article guided you well on the consequences of plagiarism and what you can do to remove it.