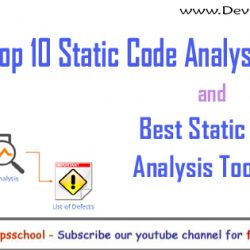 Software security is a very important concern for todays Software market and for that you need to do code analysis in the development lifecycle. Now we can not imagine ourselves to sit back and do manual reading each line of codes and find issues and bugs. Those days of manual review in the software development lifecycle to find the flaws in the codes are over now.
Now the mindsets has changed and developing quality & secure code from the beginning is on rise. This is the time of automation and developers & programmers are now shifting towards the adoption of tools which auto detects the flaws as soon as possible in the software development lifecycle.
As the process shifting towards the automation, static code analysis (SCA) has become an important part of creating quality code. Now the question here is, What is Static Code Analysis?
Static Code Analysis is a technique which quickly and automatically scan the code line by line to find security flaws and issues that might be missed in the development process before the software or application is released. It functions by reviewing the code without actually executing the code.
Read more »

0 – Manual compilation, no unit tests, manual testing by QA Before we all recoil in horror it's worth recalling the pure horror of how things used to be with…
Read more »

What is Code Coverage Code Coverage is an important measurement in Software Quality Engineering. While Software testing ensures correctness of the applications, a metric is required to track the What…
Read more »

Hybrid testing definition. testing. A combination of top-down testing with bottom-up testing of prioritized or available components According to Wiki: Hybrid testing is what most frameworks evolve into over time and multiple projects….
Read more »

Hi, in preparation for the release of Apache Maven 3.0, the Maven team is seeking your help to discover regressions since Maven 2.x. Everybody interested in taking a preview of…
Read more »

Introduction of RFT(Rational Functional Testing) Functional Tester is available in two integrated development environments and two scripting languages. Functional Tester, Java™ Scripting uses the Java language and the IBM® Rational®…
Read more »