What are Cloud-Based Analytics Tools?
Cloud-based analytics tools are software applications or platforms that provide data analytics capabilities through cloud computing infrastructure. These tools leverage the scalability, flexibility, and accessibility of cloud computing to process and analyze large volumes of data from various sources.
Here is a list of 10 popular cloud-based analytics tools:
Clear Analytics
Tableau Online
Looker
IBM Watson Analytics
SAP Analytics Cloud
Oracle Analytics Cloud
Salesforce Einstein Analytics
ThoughtSpot
Sisense
MicroStrategy
1. Clear Analytics
Clear Analytics is a self-service data consolidation tool, Business Intelligence, and Reporting tool all in one. Clear Analytics goals are not only to make those data available across the enterprise but also to provide a range of business information analytics and data visualizations. Clear Analytics empowers proficient Excel users to take advantage of that tool's powerful BI capacities on a much larger data set through centralized storage of and access to their business's spreadsheets. Spreadsheets are centralized, and access to them is managed in line with clear business rules.
2. Tableau Online
Tableau Online is a hosted version of Tableau Server. Tableau Online makes business intelligence faster and easier than ever before. Publish dashboards with Tableau Desktop and share them with colleagues, partners, or customers. Tableau Online makes business intelligence faster and easier than ever before. Publish dashboards with Tableau Desktop and share them with colleagues, partners or customers. Tableau Online is your analytics platform fully hosted in the cloud. Publish dashboards and share your discoveries with anyone. Invite colleagues or customers to explore hidden opportunities with interactive visualizations and accurate data.
3. Looker
Looker is a web-based business intelligence platform that brings people and data together. Looker puts actionable data in the hands of the people who need it most, through a unique data description language called LookML. LookML is an easy-to-use modeling language for encapsulating business logic, defining important metrics once, and then reusing them throughout the model. Using LookML, analysts can create and curate custom data experiences so any employee can explore and utilize the data that's most relevant to them.
4. IBM Watson Analytics
IBM offers an expansive range of BI and analytic capabilities under two distinct product lines. The Cognos Analytics platform is an integrated self-service solution that allows users to access data to create dashboards and reports. IBM Watson Analytics offers a machine learning-enabled user experience that includes automated pattern detection, support for natural language query and generation, and embedded advanced analytics capabilities. IBM's BI software can be deployed both on-prem or as a hosted solution via the IBM Cloud.
5. SAP Analytics Cloud
SAP offers a broad range of BI and analytics tools in both enterprise and business-user-driven editions. The company's flagship BI portfolio is delivered via on-prem (BusinessObjects Enterprise), and cloud (BusinessObjects Cloud) deployments atop the SAP HANA Cloud. SAP also offers a suite of traditional BI capabilities for dashboards and reporting. The vendor's data discovery tools are housed in the BusinessObjects solution, while additional functionality, including self-service visualization, are available through the SAP Lumira tool set.
6. Oracle Analytics Cloud
Oracle offers a broad range of BI and analytics tools that can be deployed on-prem or in the Oracle Cloud. The company provides traditional BI capabilities inside its Business Intelligence 12c solution. Oracle Data Visualization provides more advanced features and allows users to automatically visualize data as drag-and-drop attributes, charts, and graphs. The tool also enables users to save snapshots of an analytical moment in time via story points.
7. Salesforce Einstein Analytics
The Salesforce Einstein Analytics platform is available in a number of flavors based on role, industry and included features. The product's automated data discovery capabilities enable users to answer questions based on transparent and understandable AI models. Users can also tailor analytics to their use case and enhance insights with precise recommendations and specific guidance. Einstein lets you create advanced experiences using customizable templates, third-party apps, or custom-built dashboards as well.
8. ThoughtSpot
ThoughtSpot offers search-driven analytics for enterprises. The company allows users to search and analyze data, ask questions, get instant charts, analyze company data, build reports, share data, and offer dashboards. It serves the communication, retail, financial services, healthcare and life science, and manufacturing sectors. ThoughtSpot allows non-technical individuals to conduct a self-service data analysis search. ThoughtSpot's relational search engine can analyze information from any data source, including point-of-sale data, data warehouses, and social media sites. Search-Driven Analytics allows for analyzing data and creating reports and dashboards in seconds.
9. Sisense
Sisense makes it easy for organizations to reveal business insight from complex data in any size or format. The product allows users to combine data and uncover insights in a single interface without scripting, coding, or assistance from IT. Sisense is sold as a single-stack solution with a back end for preparing and modeling data. It also features expansive analytical capabilities, and a front-end for dashboarding and visualization. Sisense is most appropriate for organizations that want to analyze large amounts of data from multiple sources.
10. MicroStrategy
Description: MicroStrategy merges self-service data preparation and visual data discovery in an enterprise BI and analytics platform. MicroStrategy provides out-of-the-box gateways and native drivers that connect to any enterprise resource, including databases, mobile device management (MDM) systems, enterprise directories, cloud applications, and physical access control systems. Its embedded analytics tool allows MicroStrategy to be embedded in other web pages and applications such as portals, CRM tools, chatbots, and even voice assistants like Alexa.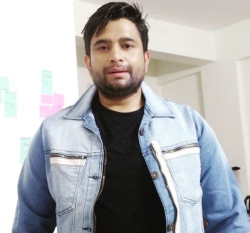 Latest posts by Rajesh Kumar
(see all)