Here is a list of 10 popular social media analytics tools:
Hootsuite
Tailwind
Meltwater
Social Studio
Brand24
Rival IQ
Iconosquare
NetBase
Socialbakers
Google Analytics
1. Hootsuite
Hootsuite is an enterprise social media management tool that makes finding, scheduling, managing, and reporting on social media content easier. With Hootsuite, you are able to manage social media post scheduling, social media post-automation, and reporting. It currently supports major social media platforms on the globe. I have never used Hootsuite but it has amazing reviews.
2. Tailwind
Pinterest and Instagram, while important, aren't the first two platforms marketers focus on when digging deep to uncover insights about audiences. This is where Tailwind comes to the rescue. It's dedicated to helping brands analyze their social media efforts on these picture-first platforms. And its feature set is rather impressive. On Pinterest, you can track followers and engagement trends, repins and comments at profile board and individual pin level, analyse virality and fan engagement levels, and access historical data to see progress over time.
3. Meltwater
Meltwater is an enterprise social media monitoring and business intelligence tool. Launched in 2001, Meltwater has metamorphosed into one of the best social media monitoring/tracking tools.
One of the reasons I rate Meltwater very highly is because it incorporates business intelligence and analytics.
4. Social Studio
Salesforce is famous for acquiring businesses that add value to its CRM solution. And today, with the extent to which social media has grown to influence the sales process, the roll-in of Radian6 makes for a smart strategic move. Social Studio integrates with Salesforce offering users the chance to publish content, manage conversations, listen to and gather intelligence on social media. As you'd imagine, it comes with some hard-hitting features that focus on the impact of social on sales. You can get feedback on service and sales campaigns, and tie it all back to social media accounts.
5. Brand24
Liked other social media listening tools, Brand24 doesn't disappoint. In fact, it packs a solid punch when it comes to identifying opportunities to strengthen social strategy. It does this with features like alerts for discussions around important terms, sentiment analysis of mentions that include your brand and product names, influence scores that inform who you should partner with to reach a larger audience, and more.
Altogether, these features, make it possible to cut through the noise and zero-in on the right data and metrics, and how to devise a stronger social media plan.
6. Rival IQ
Rival IQ is a social media analytics tool that can help businesses track their success across a number of channels—YouTube included. With features like competitor analysis, basic social analytics, social listening, reporting and social media audits, Rival IQ is a great option for businesses with a widespread online presence. It can also be a huge help for agencies working with multiple clients.
7. Iconosquare
This is a useful social media analytics tool for Instagram and Facebook. You can get detailed reports on your Instagram and Facebook accounts' performance. It also allows you to analyse which content performed well and which didn't. And, you can link multiple profiles to the same dashboard, so you if you have more than one brand profiles, you can manage them all from a single platform. The best part is that you can measure your performance and benchmark it against other industry players. So, you will know exactly where you stand in your niche.
8. NetBase
NetBase is one of the advanced social media analytics tools and what makes it better than other is its powerful social listening tool that monitors, segments, and analyzes conversations across social media in order to measure brand sentiment, the effectiveness of social campaigns, and to fuel content creation for target audiences.
9. Socialbakers
Socialbakers is another analytics with great offerings. Socialbakers give you access to unbelievable insight but I think the best of them is identifying the right time to get the best engagement and conversion for a certain type of social content. With Socialbakers, you will always publish the right content at the right time.
Socialbakers is built to improve on the performance of your social media accounts.
10. Google Analytics
While Google Analytics does not provide insight and analytics into the performance of your posts and engagements on social media platforms, however, it has a dedicated tool (Home->Acquisition->Social) for measuring website traffic from social media pages. With the social tool, you are able to see your best performing social media platform by measuring website traffic, bounce rate, average time on page, page flow and exit page for each of your social traffic source.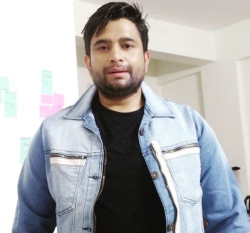 Latest posts by Rajesh Kumar
(see all)