What is Data Visualization?
Graphical representation of any information or data is known as Data Visualization. This helps in segregating the data in an efficient manner by using various types of visuals such as graphs, maps, charts, maps, and visualization tools. In addition to this, with the help of a data visualization tool, the data can be presented in a very unique and understandable manner so that people who are not from a technical background can understand everything easily.
What are Data Visualization Tools?
Data Visualization Tools are software platforms that provide information in a visual format such as a graph, chart, etc to make it easily understandable and usable. Data Visualization tools are so popular as they allow analysts and statisticians to create visual data models easily according to their specifications by conveniently providing an interface, database connections, and Machine Learning tools all in one place!
Here is a list of 10 popular data visualization tools:
Tableau
Microsoft Power BI
QlikView
Google Data Studio
D3.js
Plotly
IBM Cognos Analytics
Looker
Highcharts
FusionCharts
1. Tableau
Tableau is a data visualization tool that can be used by data analysts, scientists, statisticians, etc. to visualize the data and get a clear opinion based on the data analysis. Tableau is very famous as it can take in data and produce the required data visualization output in a very short time. And it can do this while providing the highest level of security with a guarantee to handle security issues as soon as they arise or are found by users.
Tableau also allows its users to prepare, clean, and format their data and then create data visualizations to obtain actionable insights that can be shared with other users. Tableau is available for individual data analysts or at scale for business teams and organizations. It provides a 14-day free trial followed by the paid version.
Top Features
Ask Data: A tool that can answer basic questions about your data
Explain Data: An AI tool that explains why your dataset has outliers (outliers are data points that are abnormally different from other data points)
Tableau Prep: A self-service data preparation tool that can create visualizations according to your instructions
2. Microsoft Power BI
Microsoft Power BI is a Data Visualization platform focused on creating a data-driven business intelligence culture in all companies today. To fulfill this, it offers self-service analytics tools that can be used to analyze, aggregate, and share data in a meaningful fashion.
Microsoft Power BI offers hundreds of data visualizations to its customers along with built-in Artificial Intelligence capabilities and Excel integration facilities. And all this is very pocket friendly at a $9.99 monthly price per user for the Microsoft Power BI Pro. It also provides you with multiple support systems such as FAQs, forums, and also live chat support with the staff.
Top Features
Microsoft AI: An artificial intelligence (AI) program that can prepare and analyze data automatically
Fully customizable dashboards
Real-time visualizations
3. QlikView
QlikView tool is a business intelligence tool mainly focusing on business users in organizations, and users can easily analyze their data and use the analytics and enterprise reporting capabilities of QlikView to support decision-making. QlikView also provides a personal edition so that individual users can enjoy its powerful features of it. You can simply type in the keywords you want to search within the dataset, and QlikView can help you find unexpected information and data associations.
4. Google Data Studio
If you need a tool that is more powerful than Google Charts, but still free and integrated fully with Google's suite of products, then Google Data Studio is a solid option. Most people use Google Data Studio to create more advanced dashboards with their Google Analytics and Google Ads data. However, you can sync data from dozens of sources, including Google Sheets, as well as build fully customizable dashboards.
5. D3.js
With Data-Driven Document, you can use any browser to bind data to a DOM in a document, allowing you to manipulate documents from anywhere. Transforming data involves selecting selections of nodes and manipulating them individually. You can easily change and alter node attributes, register event listeners, change nodes, alter HTML or text content, and access the document's underlying DOM by working with functions of data (styles, attributes, and other properties). You can associate operations (updates, additions, and deletions) with nodes to improve performance. You can build new functions using the function factory, as well as using the graphical primitives included. Geographic coordinates can be retrieved using a function as opposed to a constant. Properties can be reused by having data bound to the documents.
6. Plotly
An open-source data visualization tool, Plotly offers full integration with analytics-centric programming languages like Matlab, Python, and R, which enables complex visualizations. Widely used for collaborative work, disseminating, modifying, creating, and sharing interactive, graphical data, Plotly supports both on-premise installation and cloud deployment.
7. IBM Cognos Analytics
IBM Cognos Analytics is an Artificial Intelligence-based business intelligence platform that supports data analytics among other things. You can visualize as well as analyze your data and share actionable insights with anyone in your organization. Even if you have limited or no knowledge about data analytics, you can use IBM Cognos Analytics easily as it interprets the data for you and presents you with actionable insights in plain language.
You can also share your data with multiple users if you want on the cloud and share visuals over email or Slack. You can also import data from various sources like spreadsheets, cloud, CSV files, or on-premises databases and combine related data sources into a single data module.
8. Looker
Looker is a data visualization tool that can go in-depth into the data and analyze it to obtain useful insights. It provides real-time dashboards of the data for more in-depth analysis so that businesses can make instant decisions based on the data visualizations obtained. Looker also provides connections with Redshift, Snowflake, and BigQuery, as well as more than 50 SQL-supported dialects so you can connect to multiple databases without any issues.
Looker data visualizations can be shared with anyone using any particular tool. Also, you can export these files in any format immediately. It also provides customer support wherein you can ask any question and it shall be answered. A price quote can be obtained by submitting a form.
9. Highcharts
Deployed by seventy-two of the world's top hundred companies, the Highcharts tool is perfect for visualization of streaming big data analytics. Running on Javascript API and offering integration with jQuery, Highcharts provides support for cross-browser functionalities that facilitates easy access to interactive visualizations.
10. FusionCharts
FusionCharts is a popular Google Charts alternative. FusionCharts allows you to create visualizations to embed into web pages. Over 28,000 businesses worldwide currently use it — including tech giants like Google, Apple, and IBM.
Top Features
Integrations: Works with JavaScript frameworks like Angular, Ember, React, and jQuery
Compatibility: Works with server-side programming languages Java, PHP, Ruby on Rails, and Django
Live data dashboard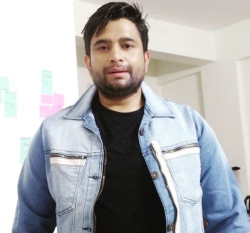 Latest posts by Rajesh Kumar
(see all)