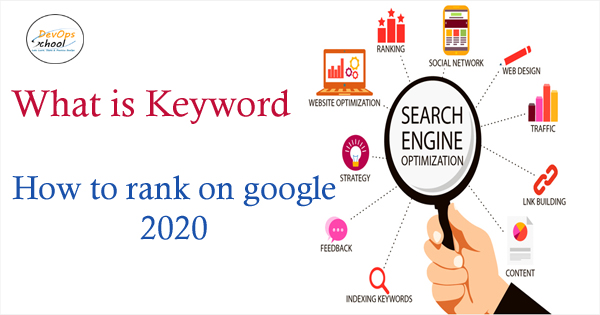 What is a keyword?
Keyword is process of finding and analyzing actual search terms that people enter into google and another search engines. Keyword helps to describes the content on your page or post as like, what are you searching for its help to make possible for people to find your site via search engines. keywords is one of the first and most important steps in any search engine optimization initiative. Keywords and SEO are directly connected when it comes to running a winning search marketing campaign.Select the right keywords – For SEO you have to select right keyword related on your website.
The first step in search engine optimization is to determine what you're actually optimizing for. This means identifying terms people are searching for, also known as "keywords," that you want your website to rank for in search engines like Google. The first step to consider is how many people are actually searching for a given keyword. The more people there are searching for a keyword, the bigger the potential audience you stand to reach. Conversely, if no one is searching for a keyword, there is no audience available to find your content through search.
Optimize a dedicated page-
In the SEO process you should to optimize keyword on your website per page. You need to ensure that those keywords are placed on key areas on your website as like page title, page URL, Headlines and image with alt tags in your page content. Its help to identify the search engine like google when the keyword you are optimizing for is searched by a user that your web page is relevant to that search, because the keyword has been placed in key areas throughout your website.
Submit the page to Google–
If you want to get more visitors on your website. First step go to Google Search Console URL Crawler and submit your domain then its automatically crawl your website on the Google. Google adds new sites to their index, and updates existing ones, every time they crawl the web. When you Getting listed on Google and the other popular search engines is one of the most effective ways of directing free (or more accurately unpaid), targeted traffic to your website.
Build backlinks to boost ranking–
Building backlinks helps you improve your search engine ranking. With a higher ranking in search engines, your website can see a higher traffic on your web-page. Getting a back-link from an external website is like getting a vote for your site. The more votes you have, the higher your site will rank in search engine results. When your web-page have quality, relevant backlinks from other authoritative sources, it helps search engines recognize your website as authoritative and relevant to the topic you rank for too.
Get traffic to that page–
When your website rank on the Google you gets lots of traffic. It involves things like search engine optimization, setting up a blog, social media marketing and so on and so forth. The other way is paid. Everyone knows that paid ads can drive traffic to a website, but it can also get costly.
How to rank on the Google in Easy way
Latest posts by Amit Kumar
(see all)