Programmers have a ton of great tools that they can use to make their jobs and work more effective and efficient. These include multi-use tools such as VScode and many others that serve a variety of different purposes. However, one of the most important things for PHP developers .
Top five Code Editors for PHP programming
Table of Contents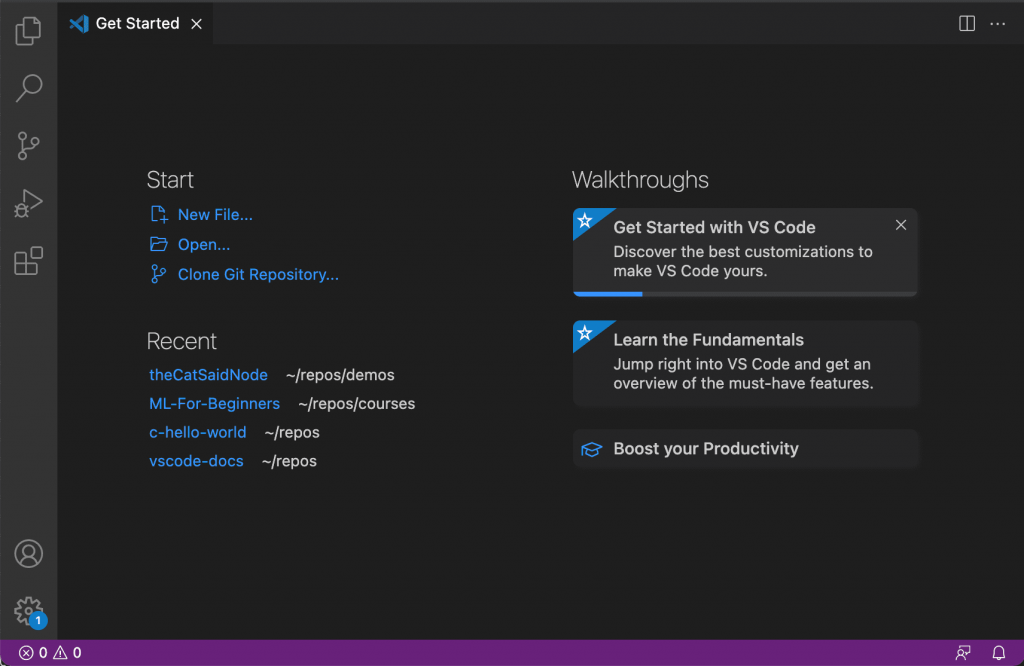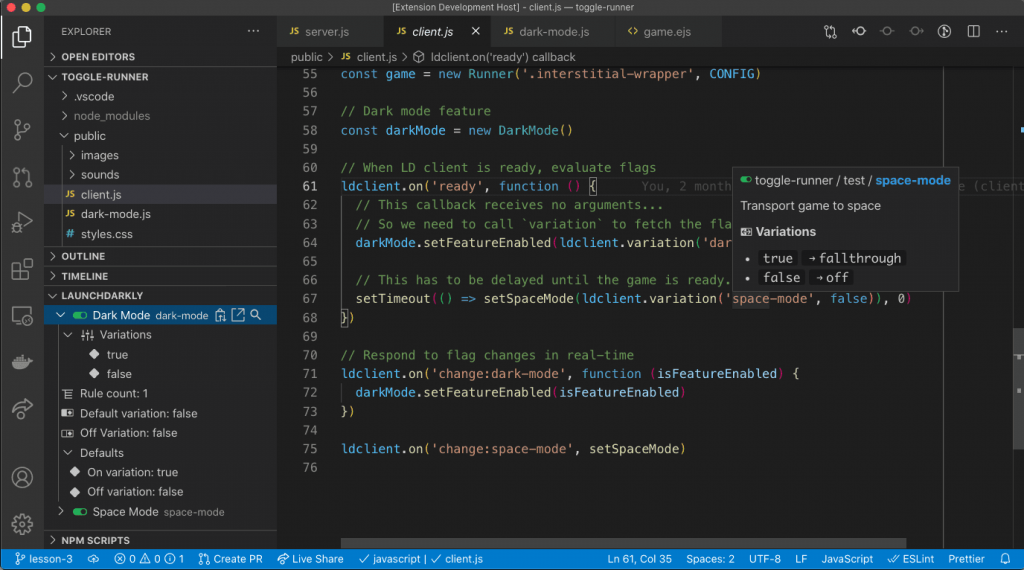 History of Visual Studio Code
Visual Studio Code was first announced on April 29, 2015, by Microsoft at the 2015.
On November 18, 2015, the source of Visual Studio Code was released under the MIT License, and made available on GitHub. Extension support was also announced. On April 14, 2016, Visual Studio Code graduated from the public preview stage and was released to the Web. Microsoft has released most of Visual Studio Code's source code on GitHub under the permissive MIT License, while the releases by Microsoft are proprietary freeware.
What is Visual Studio Code
Visual Studio Code is a Structured code editor with support for development operations like debugging, task running, and version control. It aims to provide just the tools a developer needs for a quick code-build-debug cycle and leaves more complex workflows to fuller featured IDEs, such as Visual Studio IDE
Visual Studio Code is a source-code editor that can be used with a variety of programming languages, including PHP, java, JavaScript, Go, Node.js, Python and C++. It is based on the Electron framework, which is used to develop Node.js Web applications that run on the Blink layout engine.
An orange version of the Visual Studio Code logo for the insiders version of Visual Studio Code
Visual Studio Code Insiders logo
Instead of a project system, it allows users to open one or more directories, which can then be saved in workspaces for future reuse. This allows it to operate as a language-agnostic code editor for any language. It supports a number of programming languages and a set of features that differs per
language. Unwanted files and folders can be excluded from the project tree via the settings. Many Visual Studio Code features are not exposed through menus or the user interface but can be accessed via the command palette.
Features
Visual Studio Code includes multiple extensions for FTP, allowing the software to be used as a free alternative for web development. Code can be synced between the editor and the server, without downloading any extra software.
VScode support for hundreds of languages, VS Code helps you be instantly productive with syntax highlighting, bracket-matching, auto-indentation, box-selection, snippets, and more. Intuitive keyboard shortcuts, easy customization and community-contributed keyboard shortcut mappings let you navigate your code with ease.
The Visual Studio project files are MSBuild files. You can compile them at the command line using MSBuild and integrate the build command in your build scripts or in a CI system
Alternative of Visual Studio Code
Eclipse
IntelliJ IDEA
WebStorm
PyCharm
Sublime Text
SonarQube
Tutorials and Guide for Visual Studio Code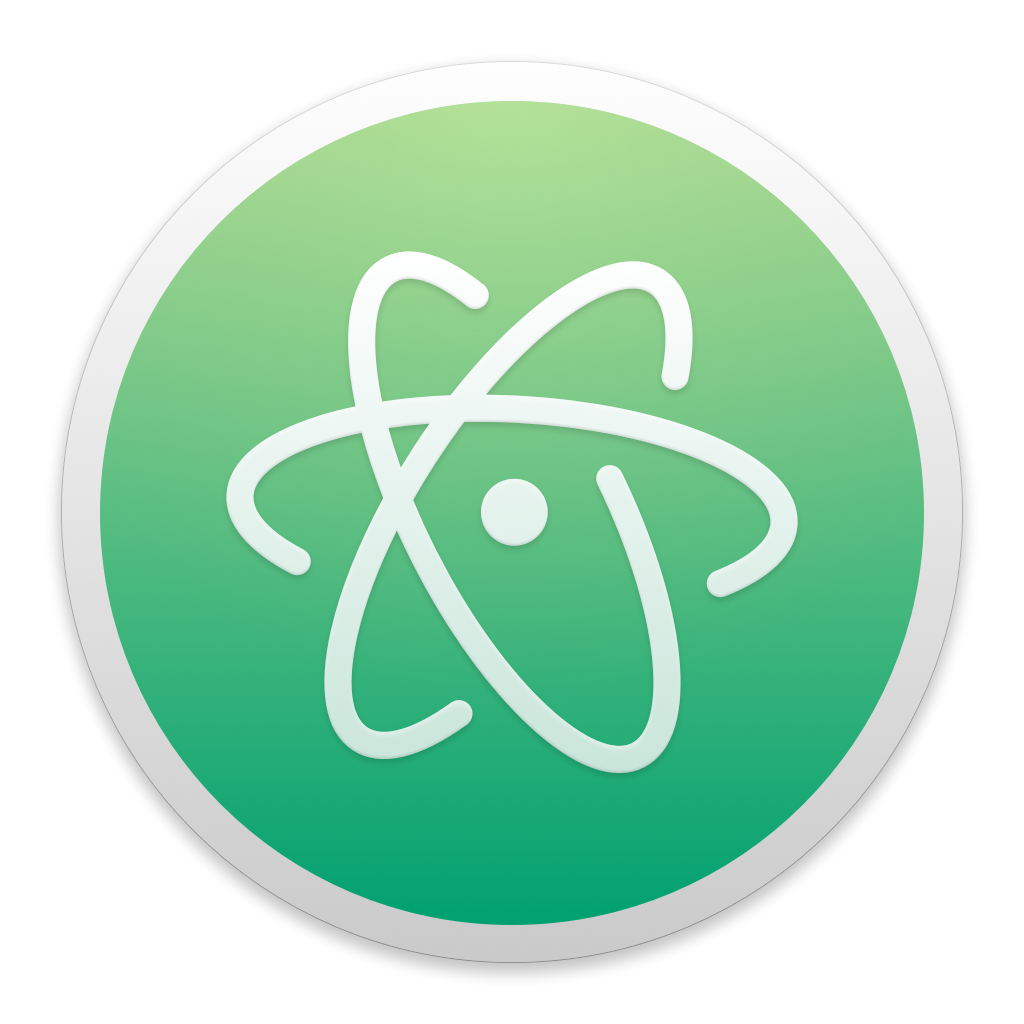 Atom is a free and open-source text and source code editor for macOS, Linux, and Microsoft Windows with support for plug-ins written in JavaScript, and embedded Git Control. Developed by GitHub, Atom is a desktop application built using web technologies.[9] Most of the extending packages have free software licenses and are community-built and maintained. Atom is based on Electron (formerly known as Atom Shell),a framework that enables cross-platform desktop applications using Chromium and Node.js.Atom was initially written in CoffeeScript and Less, but much of it has been converted to JavaScript.
HISTORY
Atom was developed by GitHub as a text editor. Facebook then developed the Nuclide and Atom IDE projects to turn Atom into an integrated development environment (IDE), but development stopped in December 2018.
Advantages
Image result for atom text editor advantages and disadvantages
Atom does not only allow users to create and use a theme of their own. It also enables the users to tweak the look as well as the feel of their User-Interface with CSS/Less, making the text editor look. Moreover, they can add major features with JavaScript and HTML.
Tutorials and Guide for Atom
Sublime Text bills itself as a "sophisticated text editor for code, markup, and prose." Originally released over a decade ago in January 2008, Sublime Text is now in its fourth major version and supports Mac, Windows, and Linux.
"Goto Anything," quick navigation to files, symbols, or lines
"Command palette" uses adaptive matching for quick keyboard invocation of arbitrary commands
Simultaneous editing: simultaneously make the same interactive changes to multiple selected areas
Python-based plugin API
Project-specific preferences
Extensive customizability via JSON settings files, including project-specific and platform-specific settings
Cross-platform (Windows, macOS, and Linux) and Supportive Plugins for cross-platform
Compatible with many language grammars from TextMate
History
Sublime Text 2.0.2 was released on 8 July 2013. Changes from the first version of the software as promoted by Skinner on the official Sublime blog include Retina display support and "Quick Skip Next" functionality.
Advantages
It is capable of opening and editing multiple files at a time, making it an ideal text editor for large projects. Also, Sublime has a wonderful navigation feature called "GoTo" that permits users to access any element of their code at a moment's notice
Tutorials for Sublime Text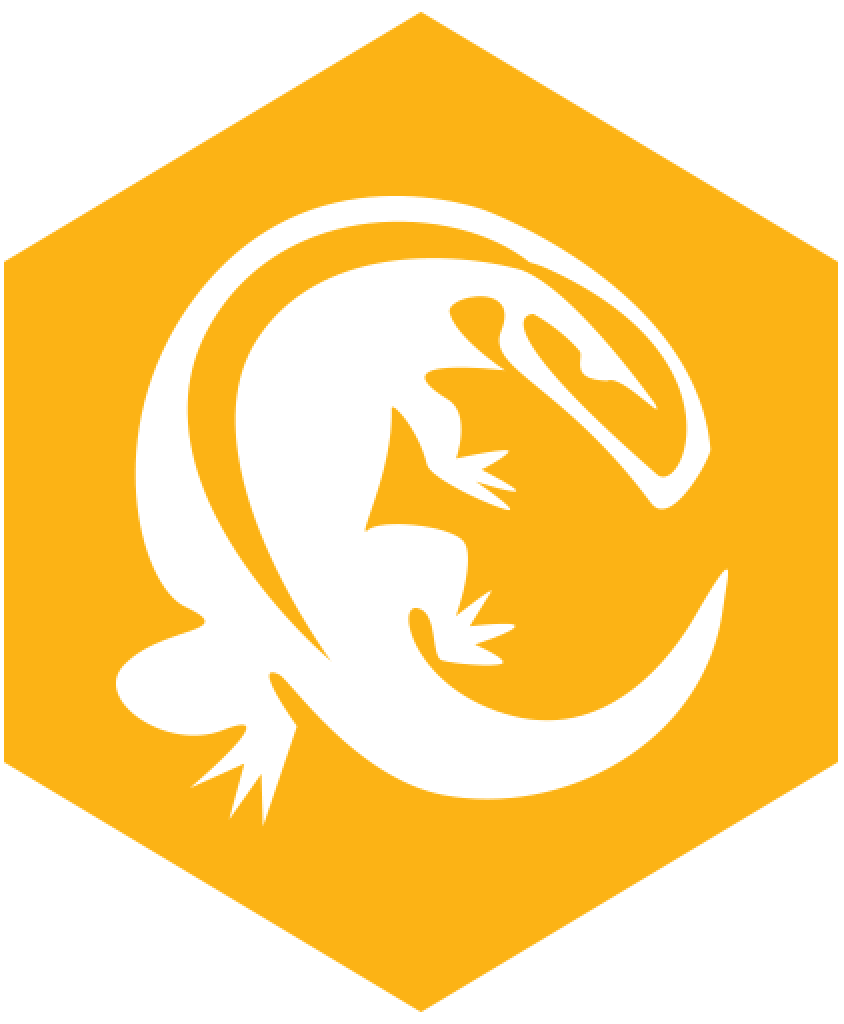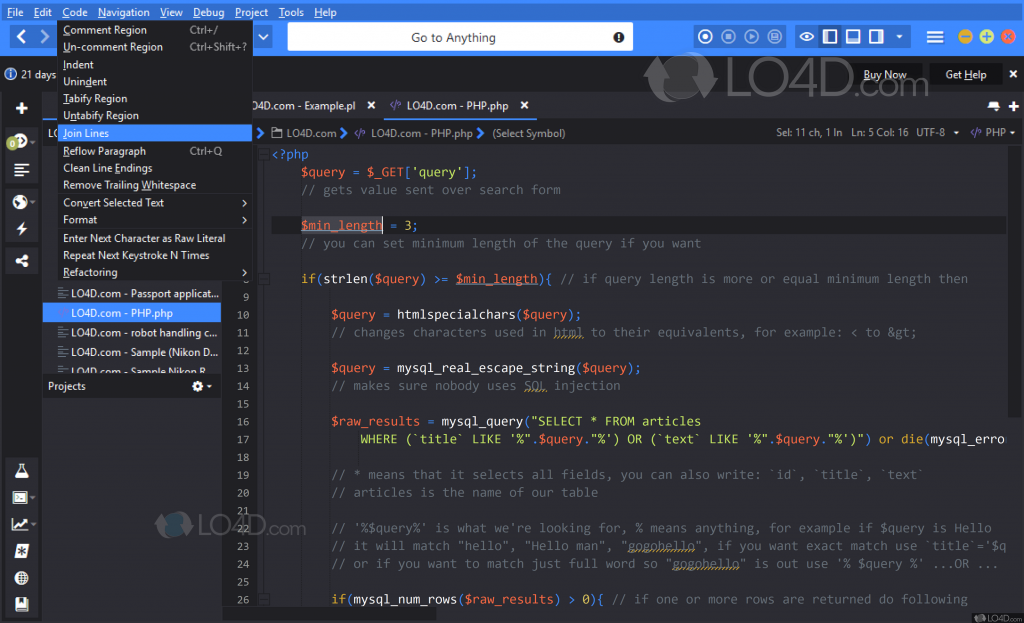 It is a free and open source text editor for dynamic programming languages. It was introduced in January 2007 to complement ActiveState's commercial Komodo IDE. As of version 4.3, Komodo Edit is built a top the Open Komodo project.
Features
It is a free and fast HTML editor for numerous platforms such as macOS X, Windows, and Linux. It supports multiple languages such as HTML5, PHP, Perl, Ruby on Rails, Python, CSS3, JavaScript. It offers syntax highlight and code coloring options.
Key Features:
It has Skins & Icon Sets.
It supports Auto-Complete & Calltips.
It allows Multiple Selections.
It has a nice Toolbox.
Very nice and useful Projects & Places Manager.
It is a Multi-Language Editor.
It has a Minimap.
It allow you to change Track.
History
Komodo Edit 4.0 was originally a freeware version of Komodo IDE 4.0, released in 2007-02-14.
On 2008-03-05, ActiveState Software Inc. announced Komodo Edit 4.3 to be open-sourced software, licensed under Mozilla Public License (MPL), GNU General Public License (GPL), and GNU Lesser Public License (LGPL).
Advantages
It is the leading free multi-language code editor (Php,Python, Perl, Ruby, HTML/CSS, Javascript and more) for programming and web development. However, Komodo IDE provides more features such as debugging and unit testing, and is now free for everyone!
Tutorials for Sublime Text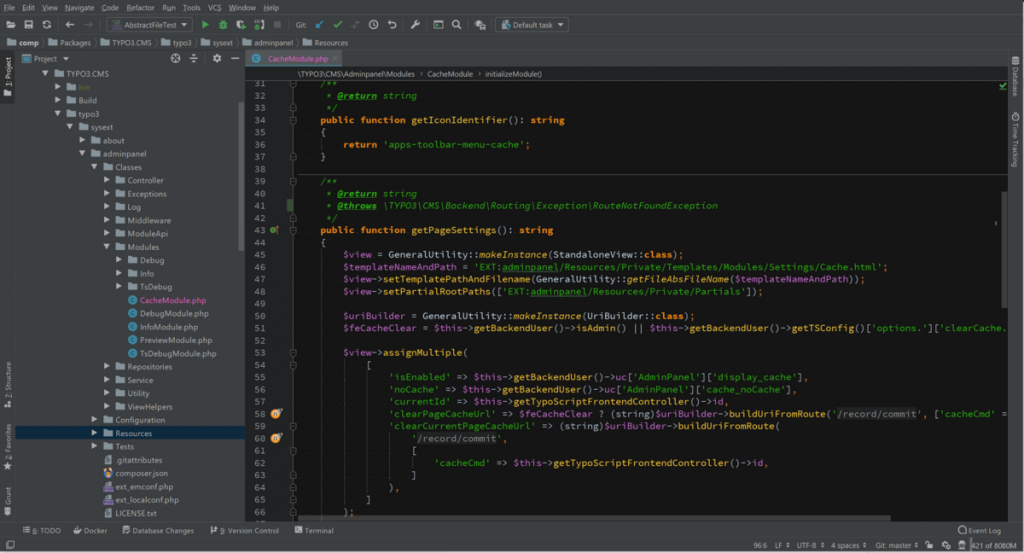 PhpStorm provides an editor for PHP, HTML and JavaScript with on-the-fly code analysis, error prevention and automated refactorings for PHP and JavaScript code. PhpStorm's code completion supports PHP 5.3, 5.4, 5.5, 5.6, 7.0, 7.1, 7.2, 7.3, 7.4, 8.0 and 8.1[3] (modern and legacy projects), including generators, coroutines, the finally keyword, list in foreach, namespaces, closures, traits and short array syntax. It includes a full-fledged SQL editor with editable query result.
features
The IDE provides code completion suggestions based on @property, @method and @var annotations
Code autocompletion finalizes classes, methods, variable names, and PHP keywords, plus commonly used names for fields and variables depending on their type.
PHP 5.3, 5.4, 5.5, 5.6, 7.0, 7.1, 7.2, 7.3, 7.4, 8.0, 8.1 support, including generators, coroutines, the finally keyword, list in foreach, using empty() on the result of function calls and other expressions, traits, closures, class member access on instantiation, short array syntax, array dereferencing on function call, binary literals, expressions in static calls, it supports return types and scalar type hints and constant visibility, etc. It can be used for both modern and legacy PHP-based projects
PHP Code Sniffer (phpcs) that checks for code smells on the fly.
PHAR support
Alternatives to PhpStorm
Eclipse.
NetBeans.
Aptana Studio.
Zend Studio.
Komodo IDE.
Codelobster.
Selenium IDE.
AWS Cloud9.
Tutorials for Phpstorm
Best Courses and Insitute for learning 
If you want certification course for such top course. So please visit "devopsschool.com". You will find more certification courses here.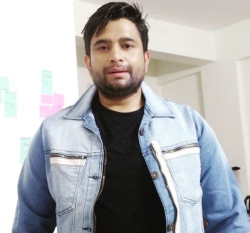 Latest posts by Rajesh Kumar
(see all)