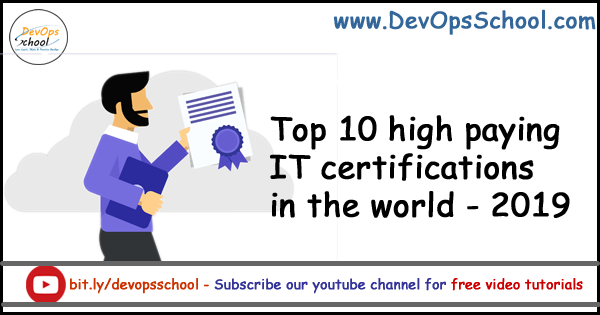 Certification always play a crucial role for professionals not only in IT but in every profession these days.
If you are a fresher and just started your first job than don't wait for the right time, plan your career path and get certifications accordingly. If you are an experienced guy and working in the industry from a long time and still if you don't have the certification path with you than make it today.
Certification is the best way to quickly establish your credibility and value in the job market, and also allowing companies to more quickly hire high-quality teams to support their growth. Certification provide assurance to the recruiters that the professional whom we are going to hire have the skills, knowledge, and competency to perform the responsibilities what we will provide them after hiring.
In this article we are going to provide you the list of "Top 10 high paying IT certifications in the world in 2019". These certifications will definitely provide you an edge to your professional career and it will raise the opportunities of your selection.
1.DevOps Certified Professional: – DevOps is one of the most demanding and highest paying job of the IT industry in the year 2019. But, there is no any officially recognized certification available for DevOps. The reason behind it because DevOps is not developed by any organization, it is a practice and way of working in collaboration where multiple automation tools used by professionals. Therefore one can do certification on popular DevOps tools like Docker, Kubernetes, Jenkins, Ansible and many more. However various intitules provides Course completion certification on DevOps.
Median salary – $137,000
2.AWS Solution Architect: – After revolutionizing the IT industry by AWS cloud services, demands of AWS professionals increasing day by day. This IT certification conducted by Amazon Web Services itself which evaluates professional's ability of designing and managing applications on the Amazon Web Services (AWS) platform.
Median salary – $132,840
3.Google Certified Professional Cloud Architect: – The demand for cloud skills is increasing day by day, and mastering Google's tools for a secure, scalable and reliable solution will be important for the future of an IT professional and for organizations. This certification allows IT professionals to certify as cloud architects on the Google Cloud Platform (GCP). Clearing this certification ensures that the attendee have the ability to design, develop, and manage cloud architecture using GCP technologies.
Median salary – $139,529

4.Project Management Professional (PMP):- One of the certification which always manage to get the position under top 10 from several years. The reason is obvious, we all know that for successful delivery of projects, proper management is crucial. Here comes the Certification part which is conducted by Project Management Institute (PMI®) which will evaluate a participant in these parameters: initiating, planning, executing, monitoring and controlling, and closing of project. Interesting part here is, to appear for the certification exam one must have 4,500 hours of prior project management experience.
Median salary – $135,798
5.AWS Certified Developer – Associate:- Once again the Amazon Web Services(AWS) certification for Developers in the list. AWS Certified Developer certification evaluates participant's technical understanding in developing and maintaining applications on the AWS. This certification tests efficiency on how you are using AWS software development kits (SDKs) to interact with services from within applications and write code that optimizes AWS application performance.
Median salary – $130,369
6.ITIL Expert:- From last 30 years Information Technology Infrastructure Library (ITIL) has become extensively utilized IT management framework in the world. Any IT professional who are looking to build up their profession in IT Service Management ought to consider an ITIL certification. After getting the certification in ITIL, you can provide overall guidance to business establishment in executing the best IT service management best practices alongside utilizing IT as an instrument for its development or change.
Median salary – $120,566
7.Certified Ethical Hacker (CEH):- Security is one of most important and challenging concern for any organizations these days. To conquer the challenges Organizations always hire expert ethical hackers to test the network security, find faults, exploit vulnerabilities and weakness of the system and see if they can use the weaknesses to penetrate or break into the system, the same way a black hat hacker would. Certified Ethical Hacker (CEH) certification can be possess by attending the International Council of E-Commerce Consultants (EC-Council) certification exam. IT security is a fast-growing domain and ethical hacking certifications can open many doors for professionals in field.
Median salary – $116,306
8.Certified Data Management Professional: – Data is playing a very important roles these days while making your business strategies. Data management and analysis help organizations to make informed decisions in all processes related to business. In this age the value of analyzing data and its forecasts and insights are invaluable for companies. This is the reason there is a huge demand of data experts. Certification like ICCP's Certified Big Data Professional, Hadoop, HDInsight certification can help you to bag the high paying jobs this year.
9.Networking: – If you are in networking then you can opt for different-different level of certifications available from several vendors who provides certification for entry-level networking, help desk technicians, infrastructure installers, junior network technicians, Internetwork Expert, Network Professional, and Network Analyst. The main vendors who provide certification to networking professionals are Cisco, CompTIA & WireShark. These certification validates individual's capability to manage, design, and troubleshoot various wireless and wired networks.
Median salary – $107,143
10.Certified ScrumMaster (CSM):- A scrum professional is someone who leads a team of professionals who are working on a project, do several meetings, discuss and track the progress of the project and make sure that team members are performing at their highest level of productivity to achieve the desired goal. An IT professional who wants to build his career as a Scrum professional can go for the "Certified ScrumMaster certification" which is manage by Scrum Alliance.
Median salary – $135,441
This article is written with the help of this research report:- https://www.globalknowledge.com/us-en/resources/resource-library/articles/top-paying-certifications/#11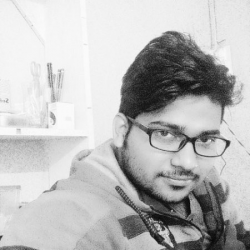 Latest posts by Mantosh Singh
(see all)