In today's age, massive digitization and disruptive technologies have penetrated nearly every aspect of human lives.
With the ever-changing macroeconomic conditions that rapidly alter the strategic moves of corporates, it is no wonder that companies are actively reevaluating their existing employees' training systems. In fact, they are investing pre-emptively in more effective training and workshop methods to achieve workforce development.
Generally, IT Companies use a mix of internal training, e-learning modules, and external trainers for their employee training needs.
With rapidly changing technology and skills that are required for the success of an organization, companies are no longer able to meet their training needs through internal training and are having to look beyond for credible alternatives. This is the reason the corporate training market has been growing at a rapid rate with companies realizing the importance of keeping their employees ahead of the curve.
Choosing which is the best corporate training and consulting company is for your employees' skill up-gradation requirements and for your organizations is a tedious task, and when it comes to corporate training, only a few can get it right. This list of top corporate IT Training and Consulting Companies is based on a thorough analysis of the capabilities, experience, and expertise of IT training providers, we have ranked training companies based on all these parameters.
DevOpsSchool.com
Cotocus.com
scmGalaxy.com
DevopsConsulting.in
Edstellar
RPS Consulting
Palmeto
NIIT
Excelsoft
SpringPeople
MyTectra.com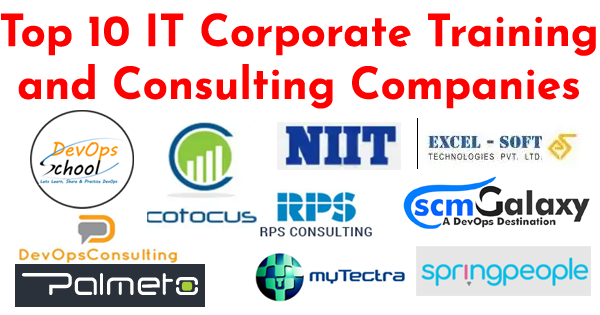 DevOpsSchool
DevOpsSchool.com:- DevOpsSchool is an established corporate training and consulting provider of new technologies to enterprises across India and the globe. DevOpsSchool has been assisting its clients to plan and seamlessly execute their employee training initiatives for the past 6+ years. The value is a combo of its strategic partnerships, experienced subject matter experts, highly adaptable delivery methodologies, all focused on client needs. DevOpsSchool offers a wide portfolio of Learning, Coaching, and Consulting solutions to suit your budget and your organizations' specific requirement. Their courses and certifications programs are widely acknowledged within the Software community for quality and up-to-date information.
They always focus and aim to upgrade and set key skills that are result-oriented and bring organizational excellence by all means. It provides tailor-made lab-based in-house training programs, open house batches, webinars, and consulting solutions with the latest industrial & technological trends in today's competitive business landscape.
Delivery Methods:-
Virtual Instructor-led training (VILT)
Onsite Training
Self-Paced Training
Corporate Training Partners:- https://www.devopsschool.com/clients/
Ratings:- 5/5
Cotocus
Cotocus.com:- There are a lot of companies that provide corporate training in India. But there are few which delivers the actual great training, one of such companies is Cotocus. They design and deliver customized corporate training and solutions keeping their client's industry, organizational culture, and the Return on Investment in mind. Cotocus consultants, facilitators, and coaches have a rich corporate experience of more than 18 years in multi-national level IT companies.
In the sphere of software development, COTOCUS has taken rapid strides in empowering Professionals with the required skillsets to meet the challenges of the current age IT Industry. Their CORPorate training programmers are based on sound engineering principles and methodology, standards requirements, and best industrial practices.
Delivery Methods:-
Virtual Instructor-led training (VILT)
Onsite Training
Self-Paced Training
Corporate Training Partners:- https://www.cotocus.com/clients/index.html
Ratings:- 4.9/5
scmGalaxy
scmGalaxy.com:- scmGalaxy is one of the leading Corporate Training and Consulting organization not only in India but we can say globally who are serving in this domain for more than 10 years with quality training, consulting and outsourcing services. scmGalaxy is the largest community of DevOps, Build and Release and Software configuration management (scm) professionals who are well qualified and experienced from top different MNC's working together and sharing their knowledge and experience with Organizations, Enterprises and Startups.
Delivery Methods:-
Virtual Instructor-led training (VILT)
Onsite Training
Self-Paced Training
Corporate Training Partners:- https://www.scmgalaxy.com/clients/
Ratings:- 4.5/5
DevOps consulting
DevOpsConsulting:- DevOps consulting is one of the most popular DevOps and related technologies consulting firms that are helping organizations to remove the challenges while implementing DevOps in their work culture. They can help you with strategy, proper planning, and the right architecture of processes, tools and expert guidance. Their expertise are not limited to DevOps Planning and Architecting, they are team of skilled, market-proven consulting specialists who can help in technical Debt Reduction, Cloud Migration, Continuous Integration, Continuous Delivery and Continuous Deployment.
Delivery Methods:-
Virtual Instructor-led training (VILT)
Onsite Training
Self-Paced Training
Corporate Training Partners:- http://www.devopsconsulting.in/clients.html
Ratings:- 4.2/5
Edstellar
Edstellar: Edstellar is a strategic corporate training partner to organizations worldwide offering end-to-end solutions to address their upskilling needs. The company boasts of an innovative training management system that is designed to empower organizations to take care of all their training needs. Organizations can effortlessly plan, schedule, and oversee training activities, monitor progress and performance, and gauge the profound impact of training on employees' skills and knowledge.
Delivery Methods:
Virtual Instructor-led training (VILT)
Onsite Training
In-person Training
Ratings: 4.9 / 5
RPS Consulting:- RPS Consulting specializes in providing great technical training on all popular IT certifications. Founded almost 15 yrs back RPS consulting is one of the leading organisations in the IT skills development and technology-enabled learning solutions. With over 50+ in-house trainers and specialists in over 200 industry verticals, RPS consulting has skilled more than 2.5 lakhs people across India. It is no surprise that RPS consulting is one of the leading training companies in India.
Ratings:- 4.2/ 5
Palmeto:- Established in the year 2008, Palmeto is one of the best corporate training providers offering high-end, emerging solutions and services across various IT sectors. They are well known in the IT domain who helps organizations workforce to transform their performance with their comprehensive range of technical training courses, which covers all the leading technologies delivered by experts. They have a client base of all shapes and sizes, small businesses to global enterprises.
Ratings:- 4.3/5
NIIT:- NIIT was founded in 1981 to help the nascent IT industry overcome its human resource challenges now becoming one of the leading Skills and Talent Development corporations globally. Operating in over 30 countries, it offers training and development services to Individuals, Enterprises, and Institutions.
Ratings:- 4.5/5
Excelsoft:- Excelsoft helps organizations and companies of diverse industry base of School Education, Higher Education, Vocational Education, Corporate, Government, Defence and Educational Publishers to develop unique technology-based solutions in the learning, assessments, and training management space and educational programs to improve productivity by enhancing their skills and knowledge. Founded in 2000, Excelsoft has helped hundreds of companies and thousands of learners till date to unlock collective knowledge and developed skills relevant to the industry's requirements.
Ratings:- 4.3/5
SpringPeople:- Established in 2009 Springpeople is one of the biggest enterprise IT training provider for high-end and emerging technologies, methodologies and products currently. They have partnered with various organizations who created the technology like SpringSource, Elasticsearch, Typesafe, EMC, VMware and MuleSoft, which makes them authentic to provide the certified training to Corporates and IT Professionals.
Ratings:- 4.5/5
MyTectra.com:- myTectra is also in this list they are conitnuously growing and offers technology and business courses to professionals and companies across the globe. They are helping organizations to build the workforce competencies that connect the dots between individual role and organization goal. They not always focus on the delivery of the training but also the end results of the clients and align themselves with the CLients goals. This makes them one of the best Corporate training company of the current days.
Ratings:- 4.1/5
As we are slowly shifting towards a knowledge economy, organizations' high-quality outcomes and service highly dependent upon how well the employees are trained and developed to handle the ever-increasing competition in the Corporate world. Thus, skill upgrading and corporate training and consulting will always remain a significant necessity for any organization. I hope this list will help you to choose the best IT corporate training and consulting firm. If you thinking about any new addition – please comment and we'll definitely evaluate and list here.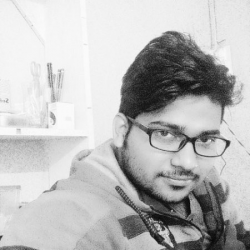 Latest posts by Mantosh Singh
(see all)