What is Google My Business Website?
If you are a business owner but not a technical person but wants to have a website and build by yourself without spending a single penny then "Google My Business Website" is the option for you.
According to research millions of small businesses (60% of small businesses globally) don't yet have a website. So, for them Google has an option in their Google My Business (GMB) listing which allows to build a simple, striking website in just a few minutes.
It's easy, and you can create and edit your website from your computer or even from your phone and most importantly, it will also be optimized for desktop, laptop, and mobile devices.
What are the Features of Google My Business Website
OR
Why we should create a Google My Business Website?
Belongs to Google – First thing it belongs to Google. As a search engine "Google" always try to serve the best possible results to the users. And for that they always looks for new ways to improve the search results according to the users search keywords and as a search engine they are giving you a direct opportunity to get your content optimized and listed with the world's most popular and preferable search engine.
It's free – Getting "Google My Business" website is absolutely free and as business owner if you do not have a website this feature gives you an opportunity to establish your business online and put more information about your products and services.
Can be managed from your phone – One can create, edit and manage Google My Business Website from their phone through their Application which can be downloaded from the playstore.
Mobile optimized – These days people use to search on Mobile instead of laptop or desktop and if you are owning a website then it must be mobile-optimized or friendly. Google My Business has inbuilt feature which makes your website looks great on all devices including mobile as well without you having to change any code.
Get automatic updated – Google My Business websites pulls information from your Google My Business (GMB) listing. So whenever you update your Google My Business account with contact information, operational hours or location or etc.. your GMB website will automatically get updated with the new information which your details will be always up-to-date.
Boost local search – Studies are showing that 97% of buyers are using search to locate local businesses and 41% of persons take advantage of local searches to find businesses every single week. The majority of peoples are using Google as a search engine and they served with its Google My Business Platform when any one do local searches near them, which ultimately making it the number one local search site as well. Your GMB website simply complements your local listing and features the same attractive sections to customers to engage with your brand.
Custom domain – After making a website the domain URL you will get like devopsschool.business.site which would be less memorable and obviously lack the ranking potential of a .com, .biz or .net site. Google My Business website is absolutely free service to use and there are no costs to design or future costs for hosting the website. But, if you want custom domain like as www.devopsschool.com, you will have to buy a domain through Google domains at a minimal cost and it's worth the cost.
Run Ads – Through "Google My Business Website" you can easily place ads to get more traffic. You can use Google AdWords to get more customers and engage them to your site and drive customer actions.
How to Build a Website with Google My Business
Step 1. First you need to create and verify your Google My Business listing.
Step 2. Login to your "Google My Business" account and in the left side dashboard your will get "WEBSITE" option.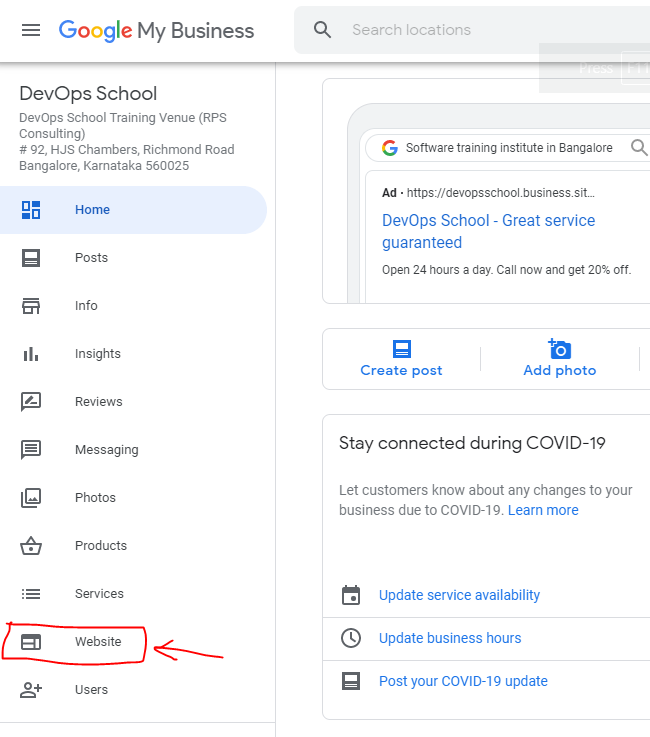 Step 3. Once you will click on website it will automatically pull available data from your listing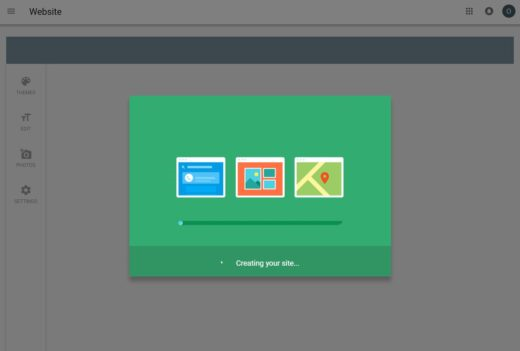 Step 4. Now you can pick any theme if you want to change the current one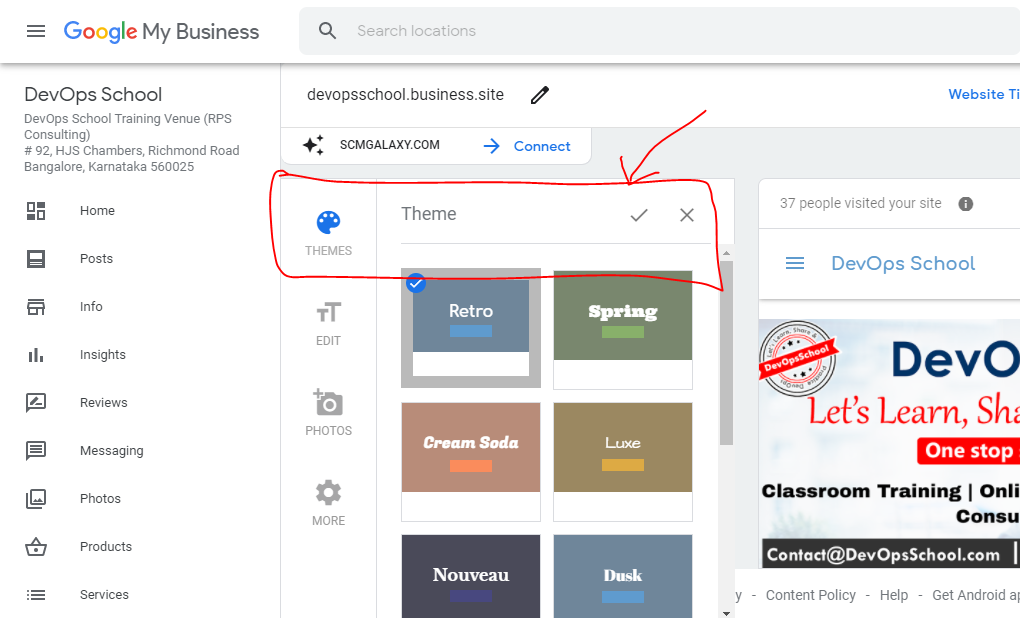 Step 5. After picking up the theme, click on "Edit" and feed all the details according to your business or services
Step 6. Now click on "Photos" and upload pictures in the gallery which you want to showcase in your website
Step 7. Now click on "More" option and make sure you're happy and done with the details. Now you can publish your website.
Step 8. Now you will get congratulations pop-up along with your by default URL followed by yourbusinessname.business.site and buy domain option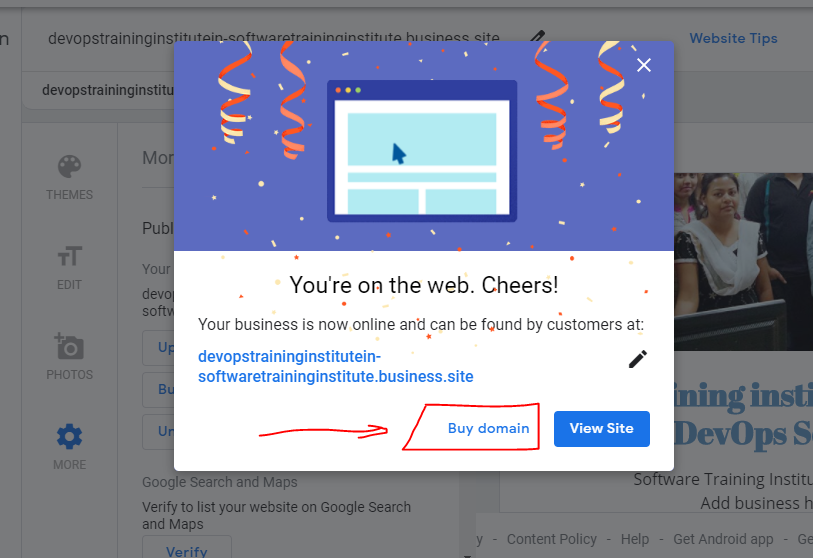 Step 9. You can follow this step if you want to buy a custom domain name. After clicking on Buy Domain button, you will get a pop-up like this, you can simply follow the process if you want to purchase the available name.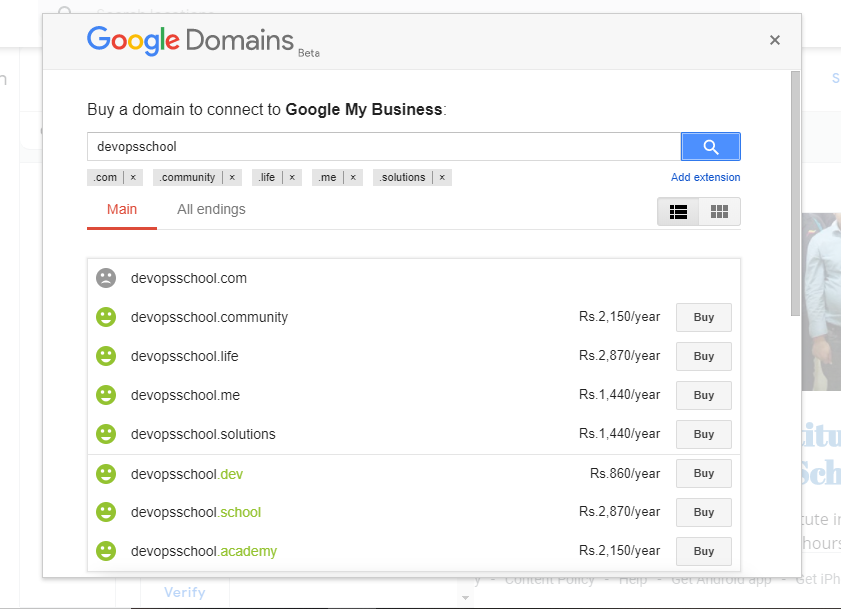 Drawbacks of Google My Business Website
You will get only one page site and there is no option available to add multiple pages
Site get updated automatically whenever you change your info on your Google My Business listing which includes Posts, services, photos, testimonials and general business information. From one point of view it's a good thing but if you want to fix all the things in your website for a quite long time then this feature will be a roadblock.
Due to any reasons if your GMB listing gets suspended, the site may be taken down as well.
GMB website doesn't allow for structured data markup, alt text for images, custom page titles or meta descriptions. You cannot add social sharing buttons and cannot add additional call-to-action buttons.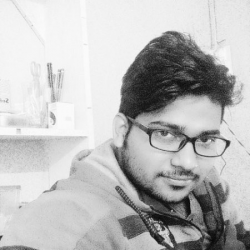 Latest posts by Mantosh Singh
(see all)