Do you know that about 88 per-cent consumers in-store shopping behavior is significantly influenced by online research before they make a purchase, even when the purchase is made explicitly at a local business?
Consumer behavior is evolving and online research is becoming more common in many categories. And if you want to garner this valuable search traffic and direct them right to your website or store, you may want to get your business listed on Google My Business. In this tutorial, we'll be listing some ideas below which can improve your sales using Google my Business.
What is Google My Business?
Google My Business is a free easy-to-use tool that helps businesses to manage their online presence across Google Search and Maps. It has made it easier for businesses to interact with old and new customers and tell them the story of what makes their business distinct from others. It helps business attract new customers and share information about what makes them special. Google My Business (commonly known as GMB, and formerly known as Google Local and Google Places) is a business listing on Google, not unlike listings on online business directories. It's also a core element of local SEO.
Advantages of Google My Business:
It is free tool.
Encourage and interact with reviewers.
Provide crucial information about your business, like your hours, phone number, and more.
Make it easy for your clients to get directions to your location.
Promote company events and news.
Add photos of your business.
Increased visibility in search.
Better shopping experience for buyers.
More traffic to your website, social channels, and front door.
For users, as well as companies, Google My Business is an invaluable resource.
Now let's discuss some ways and ideas to improve Sales using Google My Business. Take a moment to discuss some of the biggest ones…
1 Setup and maintain Your Google My Business Page
Google My Business allows searchers to easily find information about your business on search, maps, and Google+. It gives you control to present your business in best possible way and it's free as well as easy to use tool.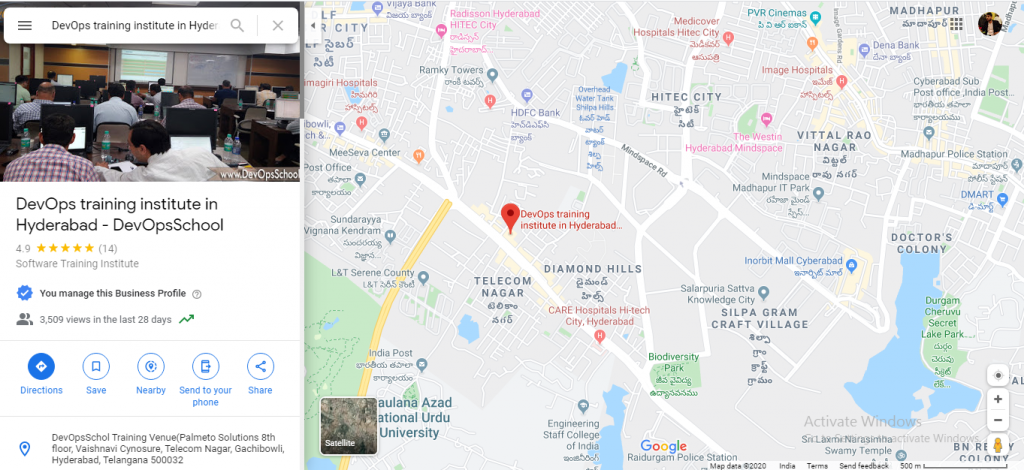 The above image is how GMB would display the search result above other results in the form of snippet listing related to location.
For example, "DevOps Training in Hyderabad" or "DevOps Training near me". This involves the name of your business + location or location detected by Google.
Many companies just claim their Google My Business listing, fill in the required information, and then forget about it. And, there are some sales-specific features Google has created you can utilize to generate more engagement and interest from a search query of your business which can lead to more sales opportunity for your team.
2. Maintain Consistent Name, Address and Phone number
After you have created a Google My Business Listing and local references, next up in the local SEO strategies is to make sure you have maintained consistent information about your business throughout these listings. You need to ensure and maintain the same information on every local listing, your site and each and every place where your local site is mentioned – make them all the same as your GMB listing. Having consistent name, address and phone number ensures that your business is reliable and credible enough in Google's eye. But here one thing is to be noted that Google is just a machine so you need the information to be 100% exactly matched.
3.Increasing Your Search Visibility with Posts
Google Posts can promote events in advance or as they are happening. Google Posts are like mini-ads or social posts that appear in your Google My Business listing.These posts are useful for businesses to post updates, such as new promotional offers, upcoming seasonal sales, same-day flash sales, or even a new product launch.
For example:A store has a flash sale or one-day-only promotion. A Google Post can prompt customers to know about daily specials or in-store promotions.
For business that have a very visual process, Google Posts are another way to share photos.
Images are really important and can help entice a searcher to stop and engage with your Post, so be sure to use eye-catching images that has high resolution that can seen clearly on mobile and desktop devices.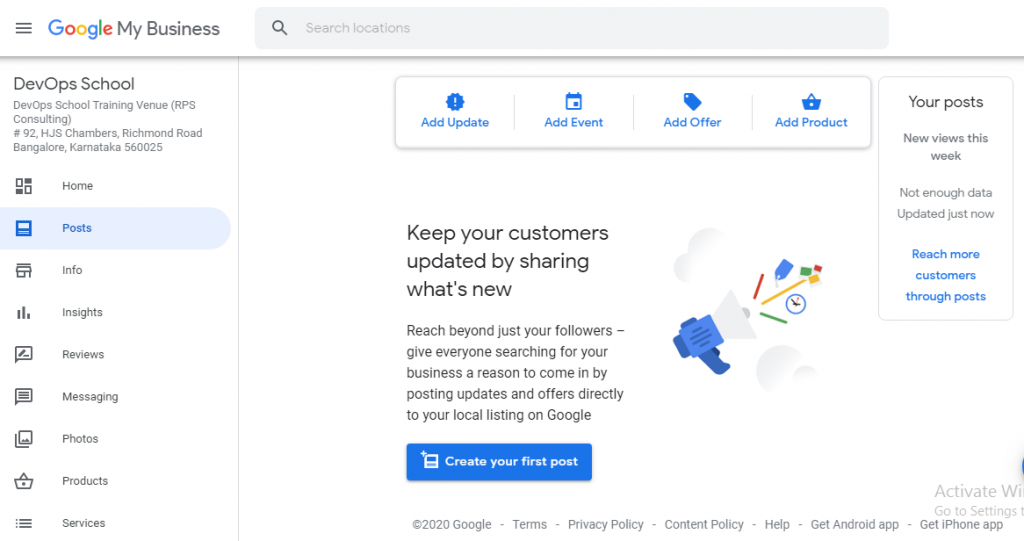 Typically a Post can be up to 300 characters and will last for seven days before it disappears from your Google My Business listing, so plan accordingly when posting.
4.Respond to reviews (all of them)
Why reviews are essential? Well, It's a straightforward equation — Good reviews = sales = increase in revenue.
The reviews on your GMB page can be a deciding factor in whether or not a buyer engages with your brand. Unlike other listing sites,
GMB actively encourages user reviews. Don't let reviews scare you, instead use them as a tool to generate sales.When making a purchase people look to others for their opinions and we do it often. And we do it because we want to learn from the experiences of those who purchased before us. Check out some of these statistics about Local Consumer Review.
90% of the customer see reviews before going to make an online purchase.
So always respond to your reviews. Positive reviews give good impression of your business and they are easy to respond. But what about inevitable one-star rating and bitter reviews? Many business shy away from them and that is not good for anybody. Least of all but you need to respond to those reviews.
Below image is good example, how to tackle such reviews.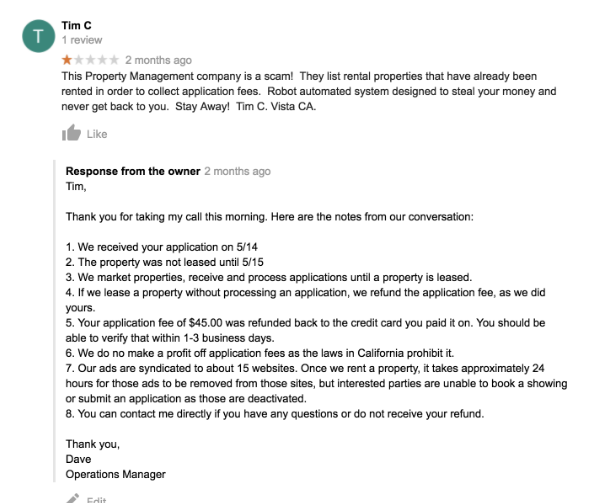 5.Optimize your Business Description
Google announced that business owner could include their own business Description, or snippet, to their Google My Business listing in early 2018. Adding this granted business to tell their to tell prospective customers their story and what makes their business unique.
To add your business description, log in to Google My Business, click on the "Info" button on the menu bar, and then you'll see that one of the new sections is labeled "Add business description." Click on the pencil icon next to that field, and a menu will come up letting you enter a brief description of your business.
Here is a screen shot: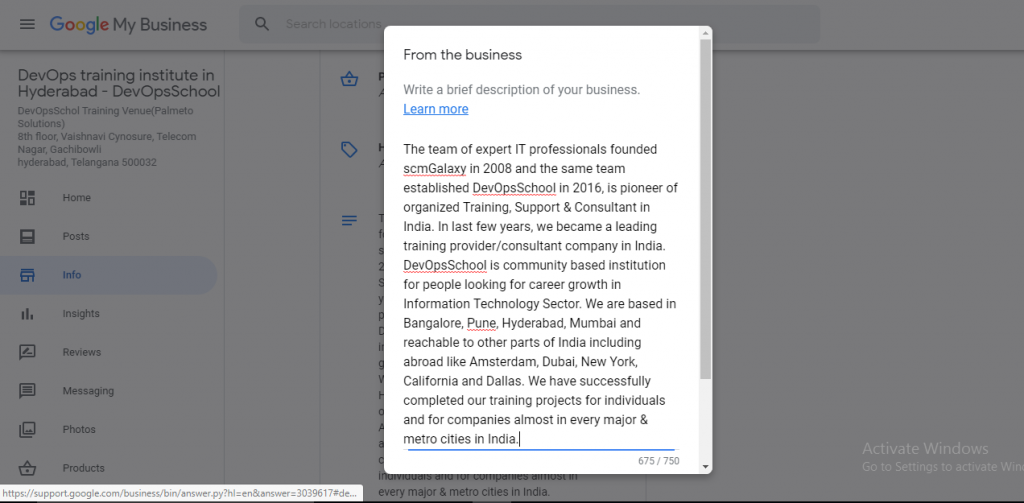 Google now allow 750 characters, but only the first 250 show up before being cut off Read more separator to describe your product services and value to the customer.
So, put your most important information and keywords towards the beginning of your Description.
And like anything else Google roll out guidelines for optimizing the description to make sure that you are not spamming or being misleading.
6.Upload better images and videos.
The online research is all about information and more visual appeal grabs the people's attention. Photos and videos help business listings performance more than most business owners and marketers probably expect. Here is the fact straight from Google.
Businesses with photos receive 42% more requests for driving directions to their location from users on Google, and 35% more clicks through to their websites than businesses that don't have photos. Adding photos of your business is a great way to humanize your brand and let your customers get a "behind-the-scenes" look at what your company is all about.
The ability to add photos to your GMB listing has been there for a while but adding videos is a relatively new feature that Google introduced. Instead of being afraid, get excited! You can now add video about your company that will grab people's attention on the most popular place people go to search and find information: Google! Try to upload short videos say 30-sec video is fine as you don't want to overdo it. ( Keeping in mind that people have short attention span and they normally avoid longer duration video)
Here is an example of just some of GMB images.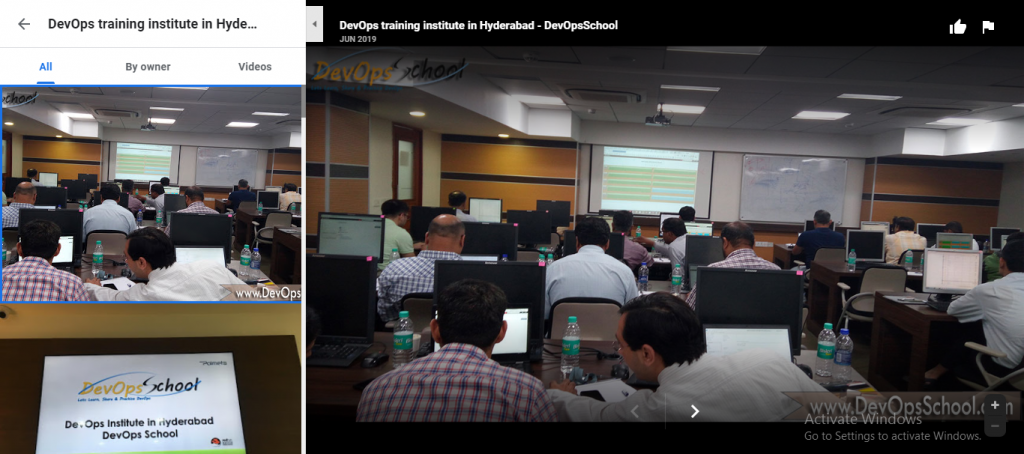 7.Don't neglect Questions & Answers:-
Question & Answers is a great feature for Google local search but it is often underrated but delivers the largest boost for local SEO is the Questions & Answers feature on your Google My Business listing.
Essentially, this is a FAQ page for your company that either you or your customers can answer. The Google My Business Questions & Answers feature is the perfect opportunity to hear directly from "the customer" and you can respond to them. The more information a searcher has on your business, the more likely they are to act and engage with your business.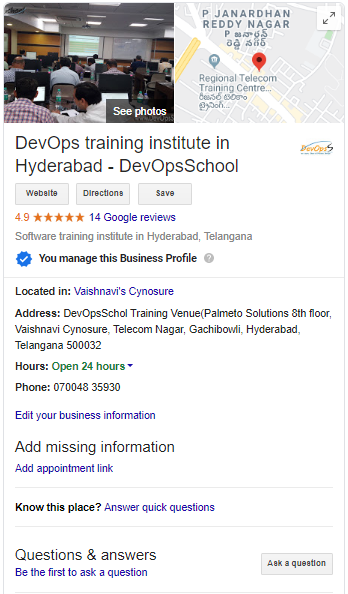 This Q&A section is an excellent way for brands to gain insights into what your potential customers want to know about your business. But often brands tend to overlook these queries and fail to respond in a timely manner.
8.Messaging
Did you know that your customers — and potential customers — can send you text messages? This is a great way to connect directly with people interested in what you have to offer, and a great way to engage with people looking at your GMB listing. The main benefit of using messaging tools is allowing customers to get an instant response to the questions they need answered before deciding whether to engage in a sales conversation.
To get started with Messaging, log in to your GMB dashboard and click on "Messaging":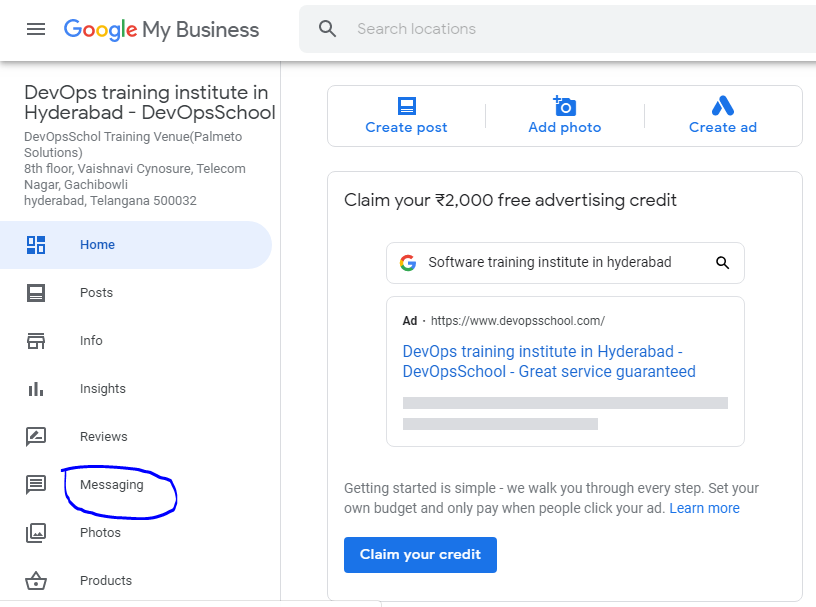 9.Add short name
This is a new feature added by Google back in June 2019, that allows your posts to get found in Google search as well as Google maps. This is a short or custom name, designed to make it easier for local search users to find your business. Google requires your short name to be something either associated with your business name or the name that customers commonly use to refer to your business.
"When you share your short name, customers can enter the short name URL in the browser's address bar, like "g.page/[yourcustomname]", to go directly to your Business Profile… We recommend including your location to make the short name more distinct. For example, you can use your business name with your location, like your city or neighborhood. Keep your short name simple so that you can easily promote it, and customers can remember it. If you have a short name, you'll get a short URL to request reviews from your customers."
This new feature increases the potential for "local engagement" which also increases the likelihood of transactions.
10. Add your social media profiles to your Google My Business profile
One of the key takeaways in optimizing a GMB profile is ensuring it is as complete and up-to-date as possible. And to had all the search visibility benefits you need to make sure that your profile information is accurate and complete and often updated.
In some knowledge panel search results, social media profiles will appear alongside local business information. Google explains,
And to make sure that your social media link appears Google says you must be consistent, verified and use structured data and make sure that the business name used on your social media profile is the same as that on your Google My Business profile.
In order to maximize this opportunity, it's vital that your social media profiles are updated often, their messages and comments monitored regularly and your community engaged with.
One extra tip.
Google is continuously refining its tools and features therefore you'll need to be proactive about updating your profile and making any needed changes when new developments are rolled out. Monitoring your GMB performance is also important and can be done using GMB Insights. This will give you a good idea on the impact of your actions and how much traffic and visibility your efforts are generating.
Conclusion
Google My Business packs plenty of benefits in for local business owners – with a promise of greater local search visibility, more reviews, and enhanced information for local consumers if you know how to optimize it.
While some actions, such as filling out your profile with opening hours and choosing a category need only be done once, others, such as uploading recent images and publishing Posts, need to occur on a regular basis if you truly want to unlock the power of GMB.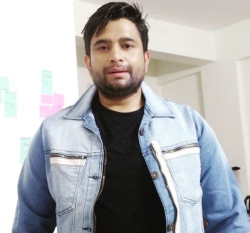 Latest posts by Rajesh Kumar
(see all)