20 Google My Business Daily/Weekly and Monthly Routines to follow for Rankings
One Time Activity:- Complete your business information
Business name
Select your business category
Business location
Add your logo
Service Area
Business hours
Link to website
Add all the services which you offered
Add all your products which you sale
Brief description of your business
Add images
Turn messaging option on – with that option customers can message you from your Business Profile on Google Search and Maps
Create your one page website – using website tab – it's completely free
Add users – Here you can add users to manage your Google My Business account
———————————————————————————————————–
Daily Activity:-
Create your post (Push any post/blogs/images – for ideas click here – https://www.devopsschool.com/blog/22-google-my-business-post-ideas/)
Respond to Google My Business reviews (all of them – one daily)
———————————————————————————————————–
Weekly Activity:-
Add EVENTS of your planned batches
Add Offers for your all training programs
Add Courses/Training/Certification Programs (add call-to-action – Enroll Now/Reserve your seat/Get Offer/Sign Up/Learn More)
Create one video upload it (With this option you can upload videos up to 30 seconds long to your listing. Just make sure they are 720p quality or higher and less than 100 MB in size.)
Reviews are the lifeblood of local search – share your GMB review FORM with your customers (Template;-https://www.scmgalaxy.com/tutorials/customer-review-email-template/)
Add a custom FAQ to your GMB listing
———————————————————————————————————–
Monthly Activity:-
Check out for fake/spammers listings (Ex – Srishtechnologies | Devops | ServiceNow| Aws Training In Hyd) in the Map pack and if they are showing above yours listing then – go to their listing and modify yourself using suggest an edit and remove their keywords and check after 20 min – if its still showing then report their listing using "Business redressal complaint form"
Watch analytics
======================================================================
What is Google My Business (GMB)?
Google my business (GMB) is a free service by Google itself which gives you a platform to showcase and promote your business on Google searches and maps.
Business Profiles on Google Searches looks like this: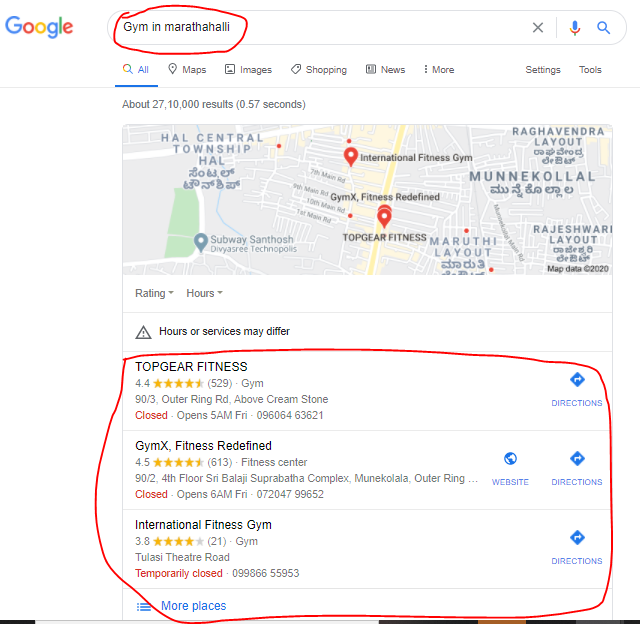 Business Profiles on Google Maps looks like this:
Why Google my business is important?
Engage with consumers:- Google My Business account gives you a platform to connect with your customers quickly and easily, post updates on regular basis about your business and see how customers are interacting with your business on Google.
Highlight your business:- Google My Business is one of the most powerful ways to highlight your business through online visibility.
Gain insights:- Google my business listings gives an "Insights" option where you check all analytics like how visible your brand is, who your target customers are, and how they're engaging with your business.
Perform local SEO:- We can say Google My Business listings are the backbone of Google's entire Local Search directory and simply setting up your Google My Business page which is free can be enough to get you featured in a search results for local searches.
What are the benefits of Google my business?
Show Up in Google Maps Searches:- When people try to searches local services, Google Maps quickly populate dozens of red markers, each markers indicates a local business near that search location that meets the search criteria. By simply having a Google My Business listing your services will start to pop up for the searcher as a potential option.
Show Up In Google's Local 3-Pack:- The Local Pack is the section in Google search results pages that displays businesses relevant to the searcher's geographical location. With Google My Business listing, one can greatly increase chances of making it onto this highly sought after and beneficial list. The best part this listing is, it not only show users where your business or service is located on Google Maps, but also show up in the search results BEFORE organic results. Refer below image to understand it.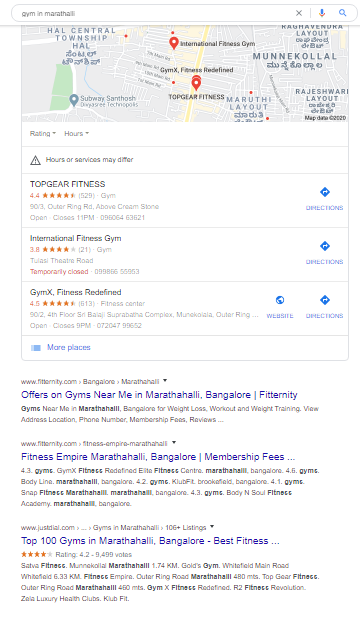 Earn Trust From Customers:- Google always try to give searchers a best possible options and trustworthy environment that users can rely on. Peoples always wants to confirm that whatever purchase or services they are going to take is trustworthy and as a service provider or business owner by simply having a GMB listing you can help your potential customers to trust in your brand and services by showing that you have an actual location in that area.
Star Ratings Boost Your Appeal:- Ratings always influence buyers decision. Google My Business gives options to rate and leave feedback about the business which others can see. Having this in place if you are offering a quality service and products and if your customers are getting good experience over the period of time you can collect more reviews and a higher overall rating which would ultimately helpful when there are competitors near you and you need to gain a competitive edge.
Increase Traffic and Sales:- Having a GMB listing and getting a place in local searches, Google reports shows that businesses are 70% more likely to attract location visits from browsing potentials. An even more impressive figure revealed that customers who find a brand through their Google My Business listing are up to 50% more likely to make a purchase.
Learn More About Your Business:- GMB listing provides you a valuable analytics through their insights option. This option will help you to check how your business and offerings are performing in a year , what things and ways are working or not. With customers behaviors trend and learnings you can modify and improve marketing strategy and your performance.
Rank Higher in Results:- Google always try to serve the best possible results to the users and feeding up the accurate information about your business and offerings and maintaining quality ratings are the best ways to feed help Google Rank Higher your business in Results.
Increase Engagement:- GMB profiles provide you good opportunities for engagement. While setting up an account it asks for various details like phone number, opening-closing hrs, website address, and various other details, through their potential customers can access your website or call you in one tap or click. Even more beneficial is the ability to book an appointment directly through your listing.
Free Google Advertising:- Google My Business listing is a great way of fast and free advertising on Google. It absolutely free and costs nothing to create, claim, and verify your listing. It takes very minimal effort to optimize your GMB profile than to get a solid paid search campaign up and running. You will get results more quickly than with building up your organic search results through website over time.
Stand Out from Competitors:- Google My Business listings displays the all the essential information your potential customers need in order to engage with your business. Through a small description of your business and with some other details gives you an great opportunity to stand out from your competitors in a consumer's initial scan through search results on the world's most trusted and used search engine.
List of few Popular Google Business
---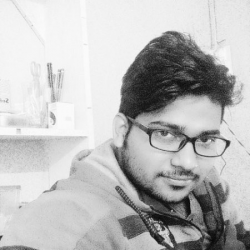 Latest posts by Mantosh Singh
(see all)