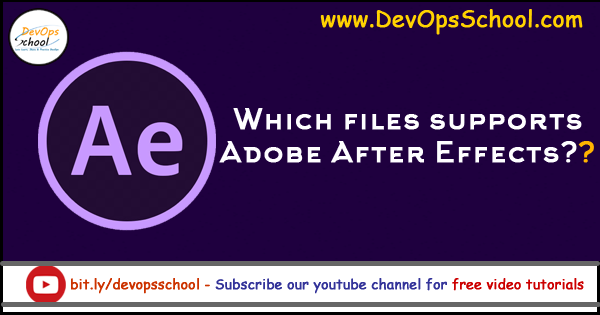 Adobe After Effects imports some file formats and can export them to other formats. It also has codecs that can be helpful in expanding this listing. A codec must be present in the computer to import a QuickTime or AVI file. It mainly supports three files.
Video
Audio
Image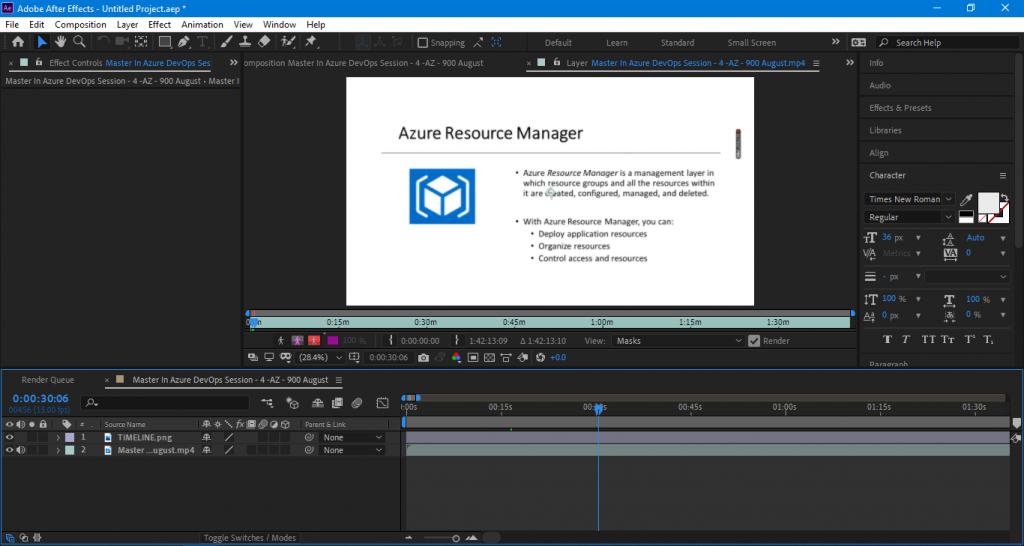 1. Video
Video files can be imported and exported in this format:-
? Animated GIF (GIF)
? 3GPP (3GP, 3G2, AMC)
? DV
? Open Media Framework (OMF)
? QuickTime (MOV)
? Video for Windows (AVI).
? MPEG-4 (MP4, M4V)
This format contains some video files that are imported only:-
? Adobe Flash Player (SWF)
? Adobe Flash Video (FLV, F4V)
? AVCHD (M2TS)
? Media eXchange Format (MXF)
? MPEG-1 (MPG, MPE, MPA, MPV, MOD)
? MPEG-2 (MPG, M2P, M2V, M2A, M2T)
? Windows Media (WMV, WMA)
? XDCAM HD/XDCAM EX (MXF, MP4)
2. Audio
Audio files can be imported and exported in this format: –
? Advanced Audio Coding (AAC, M4A)
? Audio Interchange File Format (AIF, AIFF)
? MP3 (MP3, MPEG, MPA, MPA, MPE)
? Waveform (WAV).
3. Image
In this, image extensions can be imported and exported. Note: You can import files of any static image format into it as a sequence.
? Adobe Photoshop (PSD)
? Cineon (CIN, DPX)
? IFF (IFF, TDI)
? JPEG (JPG, JPE)
? OpenEXR (EXR)
? Portable Network Graphics (PNG)
? Radiance (HDR, RGBE, XYZE)
? SGI (SGI, BW, RGB)
? Targa (TGA, VDA, ICB, VST)
? TIFF (TIF).
Some images files can only be imported into After Effects:-
? Adobe Illustrator (AI, EPS, PS)
? Adobe PDF (PDF)
? Bitmap (BMP, RLE, DIB)
? Camera raw (TIF, CRW, NEF, RAF, ORF, MRW, DCR, MOS, RAW, PEF, SRF, DNG, X3F, CR2, ERF)
? CompuServe GIF (GIF)
? Discreet RLA/RPF
? ElectricImage (IMG, EI)
? Encapsulated PostScript (EPS)
? Maya Camera Data (MA)
? PCX.
From where to Download Adobe After Effect?
Link:- https://getintopc.com/softwares/video-editing/adobe-after-effects-cc-2020-free-download-1650461/
AFTER EFFECTS BASICS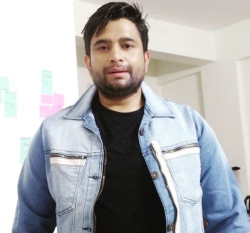 Latest posts by Rajesh Kumar
(see all)