Finding Skilledfull DevOps Trainer is one of most difficult jobs whereas most of the skilled ful DevOps Engineer is being hired by Top Startups and Top Software Company in the world! Usually organizationn ask for automation, continuous delivery, and DevOps practices. But without addressing the underlying problems of right DevOps skill, we make poor use of tools, or apply them to the wrong problems, which ultimately codifies and automates failure. Most of the challenges aren't in poor tools,
but in systemic challenges and quality of DevOps practices. Addressing these issues is a key component of organisational success.
DevOps is a new trending word in IT industry these days. So for those who heard it for the first time and don't know much about it, they can find dozens of definitions, of course on Google but in simple words we can say "DevOps is more of a culture than anything else". DevOps is the transformational strategy you should adopt. It's eliminating the chunkiness of the traditional relationship between development and operations. It will ask companies to increase the speed up of applications delivery without sacrificing the quality the customers expect. DevOps Improves developers makers strength, Implements automation and creates a feedback from Ops to Dev. DevOps is a big change it requires mindset and it send the changes across the enterprise but it can be done. Simply means developers and operations teams working together to innovate faster. The Individual and organizations have successes by implementing DevOps and seen huge improvement in their productivity and quality.
DevOpsTrainer.in is the portal to list the Best DevOps Trainers worldwide for each country. We follow very strict process of evaluating the Trainers which is listed on our porta
But before going further keep some points in your mind, qualities a DevOps trainers should have:-
Experience of DevOps and the Industry: – You should find DevOps Instructor that has successfully embraced a DevOps culture on a large scale and also has experience in industry.
Guidance of Process and Best DevOps Practices:- You need a specialist to guide you, to share dos and don'ts and to give rules and best practices so you comprehend when not to compromise.
Personal Abilities:- Trainer ought to be patience, flexibility, empathy, ability to nurture others, creativity, commitment to the work and also the ability to be a team player
Simplifying Ability:- Illustrate complex concepts you must draw comparisons to a variety of easily recognizable elements.
Create an Environment :- A experienced trainer is attuned to his or her own energy level and that of the class
Motivational Skills:- In order to create as many organic learning moments as possible a trainer has to encourage participants to learn themselves.
Command of the Subject:- An expert DevOps trainer should have excellent understanding of the subject of the training
Communication skills :- A qualified DevOps trainer must have good communication skills for effective delivery
Above mentioned skills are must to have in a DevOps trainer so that you can learn and implement it in a right way.
Now the question arises here where you can find Experienced DevOps trainers, consultant and mentors in you cities? Because this is a real challenge these days to find qualified DevOps trainers for Individual and Corporate training. So, I did some research to find and I stopped my search on scmGalaxy & DevOpsTrainer. These two are great portal where you can find qualified and experienced DevOps trainers across the world in many cities like Bangalore, Pune, Hyderabad, Noida, London, Amsterdam, Singapore, San Francisco and many other cities in the world.
Reference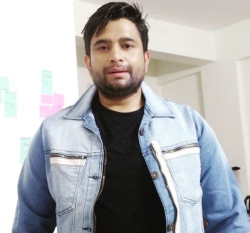 Latest posts by Rajesh Kumar
(see all)