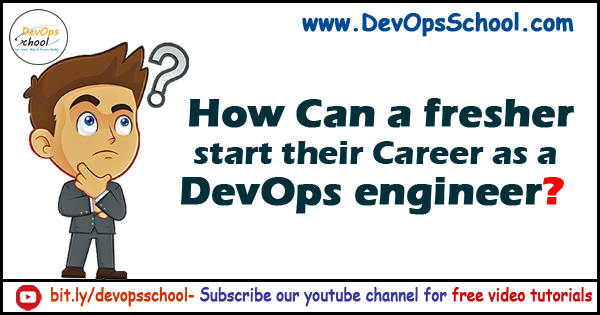 This is one of the most commonly asked question these days by IT freshers or college graduates that "A fresher can start their Career as DevOps engineer or not?".
So before directly getting into the answer let us see some important aspects about "DevOps".
First of all let's understand, What is DevOps?
In a simple language we can say,

"DevOps is a cultural shift and a new way of working in collaboration or you can say teamwork to build a better-quality software more quickly with more reliability. "
So, now as fresher Where to Begin?
To understand this you have to realise what are the skill set required for the DevOps engineer job. To understand this put yourself in both position Developer & as a Operation guy.
This cultural shift has replaced the traditional software development process and now different skill-sets professionals like developers, testers and operations peoples can work together as a team by having communication and by using automation tools that help to implement its many techniques and approaches.
You have to understand this that what a Developer is executing when they Code, develop, test or deploy the process. You don't need go in depth of development or programming, you just have to be aware with the process.
Now, be familiar with System Administration and Operations works. The IT industry existed and ran successfully long time before this cultural shift was in the picture. And big credit goes to positions named Sys-Admins and Ops guys. Even prior the beginning of DevOps these professionals had abilities in building automated tasks by using Scripts to automate deployment, builds and monitoring the server and applications.
I know that the above mentioned things looks pretty exhaustive. But, As a DevOps engineer you have to understand the aspects of both development and operations things involved.
We can say that just having formal college education or degree qualification as a fresher is not sufficient for candidate to bag DevOps job in the current market. We all can understand that there is gap between education and acquiring the practical skills amongst engineering graduates are there which left a very few of them fit for even general positions.
If as a fresher you really wants to hire as an DevOps engineer than apart from your college degrees join some DevOps Learning Programs that run by expert mentors for proper and practical guidance. These kind of DevOps programs can help you to prepare for all the learning curves and can effectively understand your work culture before getting into the work floor.
Here I am not telling you that a fresher cannot do a DevOps engineering. But, path is not going to be easy at all. You have to do plenty of preparation, research, study and work hard to be recognized as DevOps engineer. So prepare yourself, go for some good DevOps Engineering courses and then apply for jobs, definitely it will give you an edge in your CV and interviews.
Tech transformation or transition is not a new thing for IT industry. Whenever these kind of new things will come, it will automatically raise the demand for candidates with that trending skills. Anyone who is a quick learner can gain the expertise and take a lead and this will definitely build his/her bright IT career. So if someone is skilled or dedicated enough, modern IT jobs are always within reach of freshers, and DevOps is no exception to this.
So, now we are end of this discussion and I would say, yes as a fresher you can start your career as DevOps engineer but hard work and continuous learning is the key to get a job and grow your career.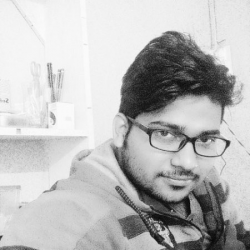 Latest posts by Mantosh Singh
(see all)