Many small companies want to make a good client base and association with corporates for business. And why not, landing large corporate clients can give a huge boost to a small business's revenues and even a few decent projects can keep your business very healthy for a long time.
"Just because your business is small, it doesn't mean your clients have to be small too."
Before moving ahead let's first understand the selling to corporates and individuals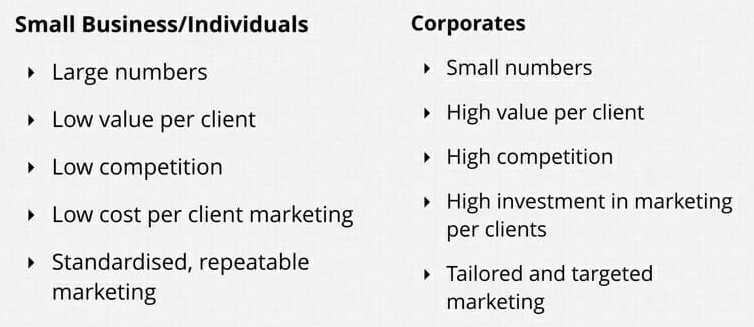 Here we are going to provide top 10 ways to start approaching the corporates for business:-
Target for "first 10" or "first 25":- Learn which organisations to target for maximum impact, based on your service or product, draw up lists of potential corporate clients you'll try to win.
Do your research:- Determine where your targeted client congregate to network and services or product they use to build their businesses. Find out what they're good at and what their weaknesses. You'll be able to recognise and plan how to approach your clients as a result of this.
Check their website.
Try to find their 'Career Centre' in their website and look for ideas.
3. Design products and services:- Design products or services around the technology they use and what would these clients appreciate? Build products or offer your services that will complement what they have already in place. Work with what they have in place to open corporate doors faster.
4. Show Your Credibility:- They always use to work with other huge corporations and well-established service suppliers. If you're approaching a new client, you'll need to answer the following questions:
Why should they choose as your new supplier?
How do they know you'll be professional and able to handle the businees with them?
Your proposal should explain why they should choose your small business. You should be able to make them realize that you are professional enough to handle the business with some following tips:
Provide a summary that focus on how your products or services benefit the client. Make it simple and concise as this serves your "cover letter". Keep in mind that several individuals will screen your proposal.
Make a detailed description of your solution. Include the cost of your solution or suggestions.
Provide your terms and conditions. Also, set an expiration date of your proposal.
If possible, show large companies who you are connected with as this may also be an opportunity for them.
Find out what they don't want to do. People hire outside of their organization because they don't have the expertise, the time or desire. All three work in your favour – find out those things and tap onto that and you'll embed your small business.
5. Highlight your team:- Trust and trustworthiness are important factors in the decision-making process for larger enterprise. As a result, you should highlight your team's experience as well as success stories from clients in the same vertical.
6. Find the Right People to Contact:- Starting with your first targeted 10 organizations, research who the right people to contact within those organizations are.
The next step should be in your research is to determine who to contact within the company you've targeting currently. On some companies' websites, at least the senior employees' information you would be able to find. Look through some of the company's articles or press releases to see who is mentioned. Working your way through LinkedIn, check if you can find anyone who knows someone at the company through your existing connections. Use Twitter and other social media to do a search.
Then look for ways to introduce yourself. Social media provides easier opportunities but try for in-person meetings.
7. Submit a Business Proposal:- To actually win the business, you'll need to put together a super-professional proposal. Large firms frequently follow specific protocols and may require approval from numerous people within the company, so you'll need a winning proposal that can be shared.
8. Use "We" and "Us" in all correspondence:- It's a basic strategy with a significant impact. Big corporations seek low-risk collaborations, so they tend to lean toward big companies for their supplies, but they also reach out to niche companies if they really want what you have. Let's have a "we" conversation. Using pronouns like "we" and "us" throughout your email and discussions is an easy technique to appear larger quickly. Emphasize that you have a team behind you – even if it's just you – so that as your company grows, you can hire supporting staffs and keep working on expanding it.
9. Get private testimonials from other corporates:- How do you attract corporate clients when they don't have time to check out your website? Request testimonials from other corporate clients and present everywhere it's possible to show them. Add these testimonials on proposals that you send to your client contacts via email. This way they will definitely get noticed and as you'll be using closed channels. You can include full names, titles, and a detailed description of how you helped these other clients.
10. Do Excellent work:- All of these above suggestions are useless if you don't follow through with excellent work. Ensure quality to gain the first advantage. To keep your business clients happy at all times, communicate frequently and honestly.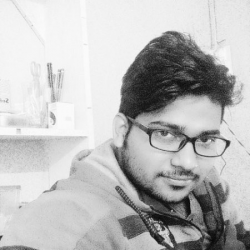 Latest posts by Mantosh Singh
(see all)