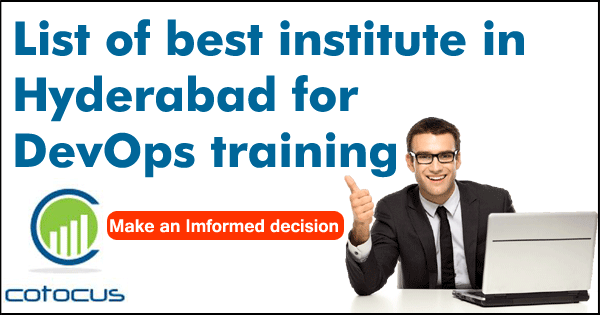 As Hyderabad is one of the most popular IT city in India and in the world now. Therefore a large number of IT professionals from every corner of the world specially from India comes Hyderabad to make there Career in IT/Software industry. This is a kind of industry which demands upgrade not only in software versions but in human brain as well. These days DevOps is one of the most trending skills which is in demand not only in Large enterprises but in medium & small scale organizations as well. This is the reason professional who works in ITs, they want to upgrade themselves with this trending culture as soon as possible. But, when they wants to upgrade themselves they find one of the most common problem that which is the best DevOps training institute in Hyderabad to choose to upgrade skills.
Searching for the best DevOps training institute in Hyderabad is really a difficult task since this city has already been packed with a large number of institutions and you will see the new institute open here every day.
Therefore while finding DevOps training institute in Hyderabad, do not get caught in lucrative offers and advertisements offer by them.
I would like to share some tips here through which you can choose or select a best institute in Hyderabad for DevOps Training.
Trainer or Faculty: While choosing DevOps institute, the most important thing you need to consider is the Trainer or Faculty of the institute. Whether the instructor is experienced or a newbie who just work in some organizations for few years and started lecturing on DevOps.
Ex Participants Review/Feedback: Participants feedback or review is one of the best way to evaluate quality of any DevOps training institute. No one can give you a better idea about the service or product who already used it. Therefore going through the reviews is must while choosing the institute.
Course Features: This is also one of the most important point which you need to consider in your mind while choosing the DevOps training institute. Course content, learning materials, session access, course duration, support, and all other factors also makes it worth to join or not.
In our opinion combination of all these factors makes an Institute best to join and enhance DevOps skills.
Now, let's see some of the best DevOps training institute in Hyderabad. I have made this list after doing well research on the above mentioned factors.
scmGalaxy – scmGalaxy is one of the best DevOps training institute which is run by the community of expert SCM, Build & Release and DevOps professionals. This institute has a very good reputation for delivering quality DevOps training and consulting to Corporates, Teams or Individuals in online & classroom mode worldwide. They conduct DevOps classroom workshops in Hyderabad, Bangalore, Pune, Mumbai and in Gurgaon regularly.
DevOpsSchool – DevOps school is also run by community of experts worldwide. The best thing that makes it a best institute to learn DevOps because of their free DevOps tutorials. They believe in sharing that clearly shows when you will visit their website. Lot of free tutorials is updated there where even a newbie can understand and practice DevOps culture. Even after that you think you need professional guidance for DevOps than you can join their online or Classroom sessions in Hyderabad.
DevOpsConsulting – DevOps Consulting is also a best DevOps training institute in Hyderabad. This consulting firm is dedicated to DevOps only. They have best and experienced industry experts who provide consulting services and training to Corporates, teams & individuals. Along with Hyderabad they also run various DevOps classroom training and workshops for individuals in cities like Bangalore, Pune, Gurgaon, Amsterdam, London, Bangkok, Texas, Singapore and in various other cities worldwide.
In my opinion these are some of the best DevOps training institutes in Hyderabad. But, if you think that there are various other institutes from which you had a good experience or bad experience than you can share your opinions in the comment section below so that the participants who are looking for DevOps training can make an informed decision based on our review.
Note: Please don't spam the comment section by promoting your institutes randomly.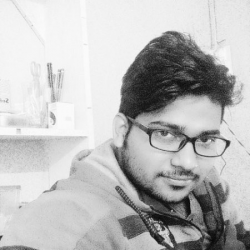 Latest posts by Mantosh Singh
(see all)