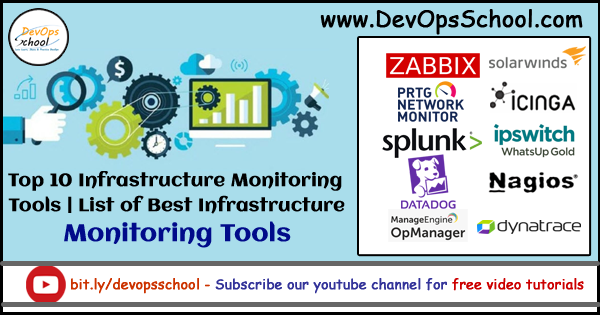 Introduction
As a network grows, finding and ensuring the Best IT Infrastructure Monitoring Tools and Software for your Business is critical in today's complex and ever-growing eco-system of technology.
In fact, these tools are utilize to ensure that networks never slow down or stop functioning when critical business and production applications need to be online.
Generally speaking, Opting for an appropriate monitoring solution for your business is not as easy as it seems.
Computers, servers, switches, routers, and virtual machines are just some of the diverse infrastructure that comprises a modern network, these tools help you stay on top of your devices' performance, allow you to add or remove devices, ensure constant availability and send alerts when something is likely to go wrong.
What Is Infrastructure Monitoring?
Infrastructure Monitoring involves diagnosing performance and monitoring network infrastructure for vulnerabilities. Infrastructure monitoring tools monitor the health status, availability, and performance of devices throughout the network.
With so many key players and moving parts to monitor, automation is key. Automated infrastructure monitoring allows for rapid response. Using an infrastructure monitoring tool is important because attempting to stay on top of network events manually would be next to impossible. A network administrator could not realistically keep track of all physical and virtual resources.
Why Is Infrastructure Monitoring Important?
There are a number of key reasons why having total visibility over the IT infrastructure is important for business.
Full Control Over IT Resources
Informed Decision Making
Increased Productivity and Enhanced Service Availability
Recognize Security Threats
Fix IT Performance Issues Quickly
Avoid Network Outages
What to monitor?
IT Infrastructure Monitoring is the centralized monitoring of the performance and availability of key hardware and software resources required to provision applications and includes:
Private, Hybrid, and Public Cloud Resources
Operational software (i.e. Active Directory, DHCP, Hardware health, etc.)
How to Monitor?
The whole idea behind effective IT infrastructure monitoring is to proactively detect problem symptoms before users are affected.
Collection and Evaluation – What type of IT Infrastructure data is collected/evaluated and how often?
Alerting and Automation- How are IT and their constituents notified when performance and availability are compromised?
Dash-boarding – How is the health of the IT Infrastructure visualized?
Reporting – How are performance and availability metrics quantified over time?
Here in this article we are going to make it easy for you when it comes to monitoring solutions. Let's take a look at the top-rated infrastructure monitoring tools and see what works for you!
1.Zabbix
Zabbix is an open source monitoring tool. This network monitoring tool focuses on monitoring and trending functionality. This software is widely used for monitoring servers and network hardware. This tool can forecast future behavior based on historical data.
Features:
Easy measurement of network performance & health
Flexible and extendable data gathering
Various metric collection methods and protocols
Configuration changes
2. SolarWinds Network Performance Monitor
This tool automatically discovers network devices and deploys within an hour. With the help of this tool, you can customize the web-based performance dashboards, charts, and views.
Features:
Multi-vendor network monitoring
Complete network Insights for better visibility
NetPath and PerfStack for easy troubleshooting
Smarter scalability for large environments
3. Incinga
It is open source infrastructure and service monitoring tool. Icinga alters and reports the health of your IT environment. All alert dependencies will be displayed in the dashboard and sent via email, SMS or mobile messaging apps.
Features:
Monitoring of Services
Supports both direct monitoring and SNMP monitoring
Allows clustering and Zone Monitoring
Configuration & Templates
4. Paessler PRTG
PRTG network monitoring software is known for its advanced infrastructure management capabilities. The tool monitors IT infrastructure using technologies like SNMP, WMI, Sniffing, REST APIS, SQL and others.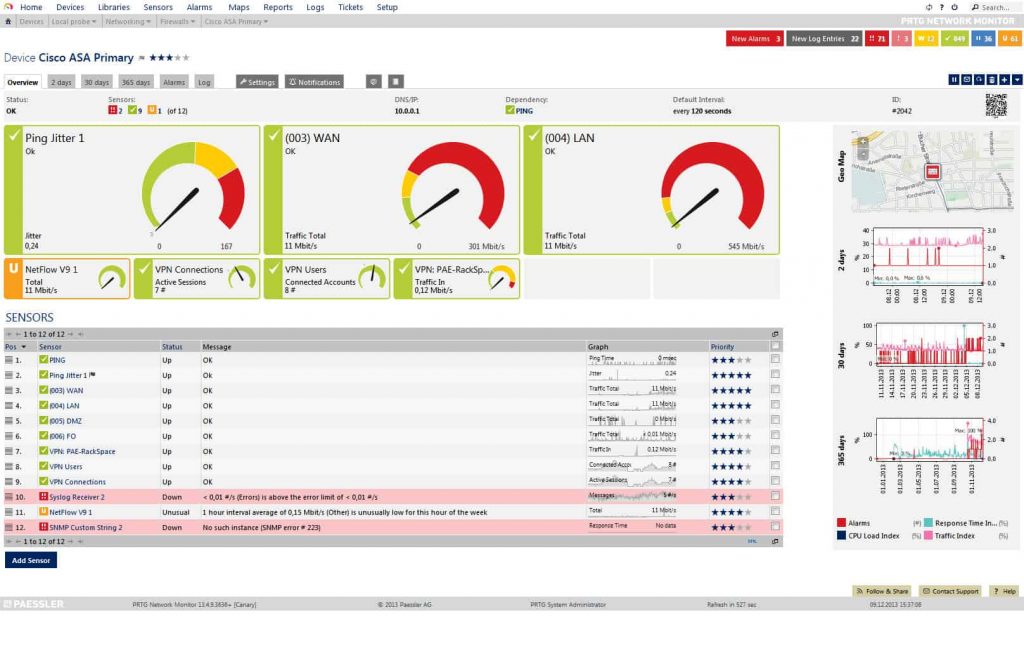 Features:
PRTG can scan network segments by pinging defined IP ranges
Helps you to create web pages with up-to-date monitoring data in the desired design
Easy and flexible alerting
Multiple User Interfaces
Alerts you when it sees warnings or unusual metrics in your network.
5. Splunk
Splunk is a monitoring tool which allows you to simplify and modernize IT to increase uptime and a competitive edge. It will enable you to get seamless monitoring and troubleshooting.
Features:
Prevent Business Outages
Make Informed Decisions
Real-time and Predictive Insights
Visibility for IT and the Business
Resolve Issues Quickly
6. WhatsUp Gold
WhatsUp Gold shortly known as (WUG) is a network monitoring software. The dashboards are user-friendly and visually attractive. It can be customized to display IT infrastructure and alerts to fit your needs.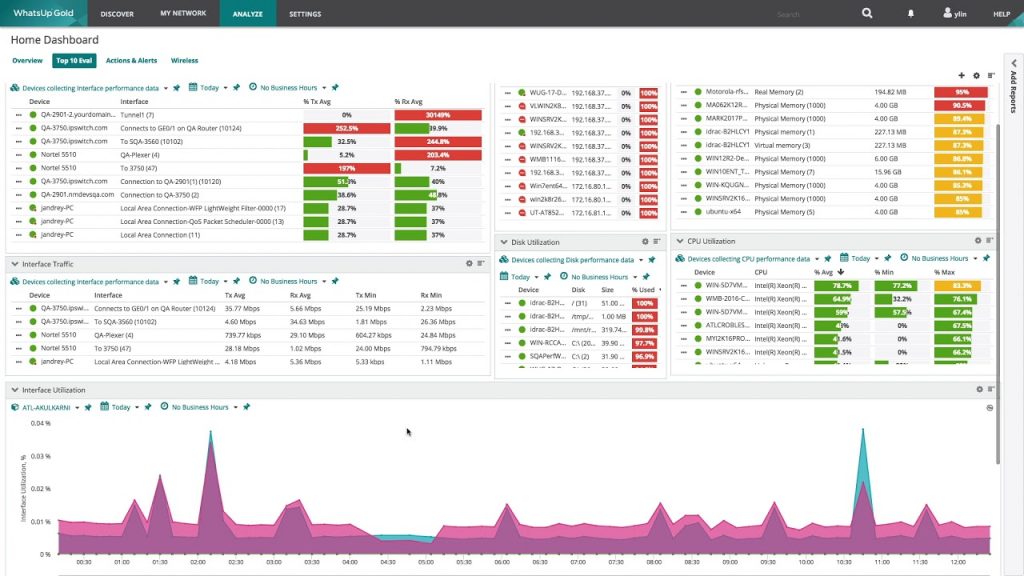 Features:
Automatically find and Map Your Entire Network
Continuously monitors your network's Health with Customizable Alerts.
Reporting and Dashboards
Discovery & Network Mapping
Cloud Monitoring
7. Datadog
Datadog is a monitoring tool which is built for hybrid cloud environments. Datadog helps you to analyze the performance of network, apps, and services. It allows you to create custom graphs, meters, and alerts.
Features:
Allows you to check across systems, apps, and services
Get full visibility into your applications.
Analyze and explore log data in the context
Build real-time interactive dashboards
Fash alerts on critical issues.
8. ManageEngine OpManager

It is an integrated network management solution that offers efficient and hassle-free network management. It empowers network/IT admins to simultaneously perform multiple operations such as Network performance monitoring, VM management, Bandwidth analysis, Configuration management, Firewall management, Storage Monitoring, IP Address Management (IPAM) and Switch Port management (SPM).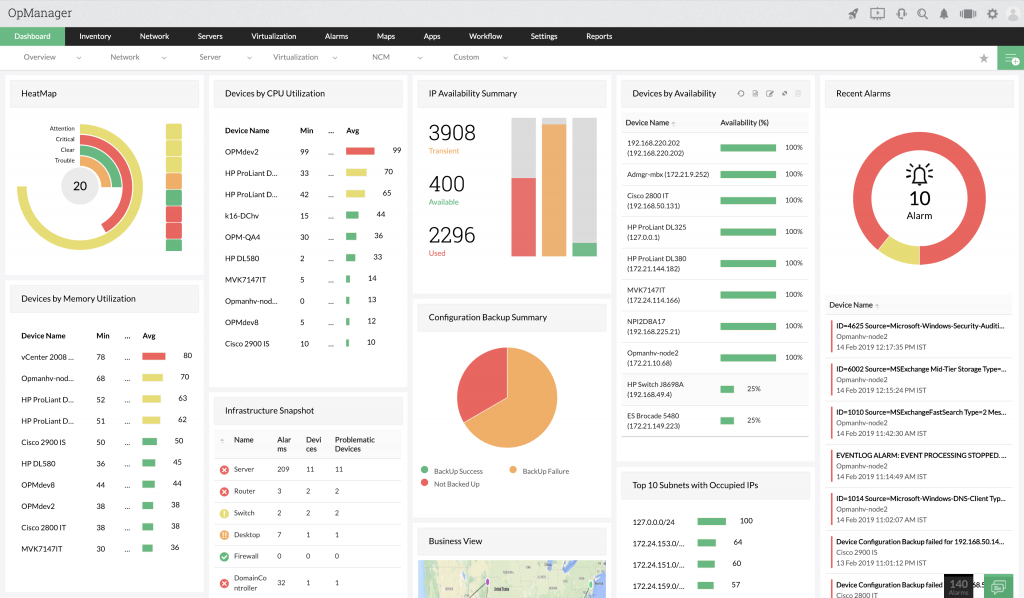 Features:
Highly custom, intuitive dashboards for network overview.
Workflows to automate Level-1 IT tasks
Intelligent device discovery and monitoring using 9000+ device templates
Realtime threshold violation alerts via SMS, e-mail, Slack, and more
Contextual integrations for all-in-one IT infrastructure monitoring
9. Dynatrace
Dynatrace system monitoring tool allows you to auto-discover and baseline your entire IT ecosystem in the very less time. It allows you to monitor and manage application performance and cloud infrastructure.
Features:
Network Solutions for monitoring for business, operations, and development
Offers Industry-leading monitoring capabilities
Optimize customer experience
Deliver high performing applications
Monitor cloud-native application
10. Nagios
It is a network monitoring tool allows organizations to identify and resolve IT infrastructure problems before they affect critical business processes.
Features:
Comprehensive Dashboard
Allows you to keep track of specific subsets of network flow information
Complete Insights on network traffic, bandwidth, and overall network health
Receive alerts when the abnormal activity takes place
Advanced user options allow IT teams to work together efficiently.
Reference
Conclusion:
Depending on your needs, every tool on this list has something to offer. Whether you're looking for the sculpt ability of an open-source tool or the simplicity of a proprietary tool, there are plenty of options available to you.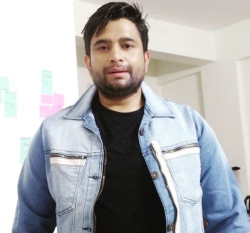 Latest posts by Rajesh Kumar
(see all)