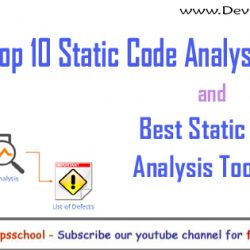 Software security is a very important concern for todays Software market and for that you need to do code analysis in the development lifecycle. Now we can not imagine ourselves to sit back and do manual reading each line of codes and find issues and bugs. Those days of manual review in the software development lifecycle to find the flaws in the codes are over now.
Now the mindsets has changed and developing quality & secure code from the beginning is on rise. This is the time of automation and developers & programmers are now shifting towards the adoption of tools which auto detects the flaws as soon as possible in the software development lifecycle.
As the process shifting towards the automation, static code analysis (SCA) has become an important part of creating quality code. Now the question here is, What is Static Code Analysis?
Static Code Analysis is a technique which quickly and automatically scan the code line by line to find security flaws and issues that might be missed in the development process before the software or application is released. It functions by reviewing the code without actually executing the code.
Read more »

IT Management Software | Top 5 IT Management Tools Servicenow BMC Remedy Jira Salesforce Sharepoint
Read more »
Open Source Scanning Software Palamida openlogic Blackduck fisheye
Read more »
Cloud Based cloudforge Assembla github bitbucket beanstalk Gitlab Some of them can be hosted behind the firewall as well in your company premises. Gerrit Gitlab Github
Read more »
Some of the perforce commands which is not commonly used but useful. p4 annotate – Print file lines along with their revisions. e.g p4 annotate file.c How to ignore files/folder…
Read more »

Overview EMMA is a tool for measuring coverage of Java software. Such a tool is essential for detecting dead code and verifying which parts of your application are actually exercised…
Read more »
An issue tracking system (also called trouble ticket system or incident ticket system) is a computer software package that manages and maintains lists of issues, as needed by an organization….
Read more »

What is an apache ant? Apache Ant is a Java-based build tool. In theory, it is kind of like Make, but without Make's wrinkles. Why another build tool when there…
Read more »

PerforceDFiles Use: This tool can be used to add thousands of files and directory in perforce server on single click which is having different-different hierarchy Prerequisite: Java should install and…
Read more »