This is the age of startups and no new business or existing businesses can imagine their complete existence without having a web presence. With the majority of buying now taking place online, the marketing landscape has shifted dramatically, and a well-designed and maintained website is now one of the most successful and long-lasting ways to contact potential clients.
When a potential customer is looking for your product or service, the first thing they'll likely do is a web search, and if your website is relatively straightforward to locate and use, you'll considerably enhance your chances of making a sale. But to have web presence the fist thing which you need is the Domain name or website name. From a marketing standpoint, you can also create a lasting brand image with the right domain name.
But, coming up with a domain name isn't easy. So many domains are registered every day and have been for the last 20 years that all the generic and predictable domain names are already registered a long time ago or maybe your preferred name is already taken. So, you will have two options, either find something unique, memorable, name that is available also or buy a premium one.
But don't let this discourage you. If you can't think of a domain name or your preferred name is already taken, we've put together a comprehensive list of Top 11 Best Domain Name Generators & Website Name Suggestions that would have been hard to brainstorm on your own and to help you find that memorable domain name.
| | | |
| --- | --- | --- |
| Site name | Alexa ranking | DevOpsSchool's Rating |
| godaddy | 97 | 5/5 |
| shopify | 200 | 4.9/5 |
| namecheap | 512 | 4.8/5 |
| Google domains | 3157 | 4.6/5 |
| businessnamegenerator | 4745 | 4.7/5 |
| zyro | 6685 | 4.5/5 |
| namelix | 6953 | 5/5 |
| instantdomainsearch | 9317 | 4.5/5 |
| howtostartanllc | 9659 | 4.3/5 |
| leandomainsearch | 15514 | 4.2/5 |
| domainwheel | 26882 | 4.3/5 |
Best Domain Name Generators – Comparision
1. GoDaddy
Currently, GoDaddy is the largest domain name registrar globally, therefore there is no surprise that they provide one of the best domain name generator tool.
Simply enter some words that define your business or idea, and GoDaddy will automatically generate a selection of domain names based on those words, using various domain name prefixes and suffixes.
2. Shopify
This platform is established by Shopify, one of the most well-known and profitable e-commerce platforms on the internet. Your term is either added or prepended onto another word in the proposed domains, which are quite simple in scope. Overall, this is a straightforward and easy-to-use tool that makes sound recommendations.
Features
You only see 10 options at a time, which makes it less overwhelming.
Nice structure to the names: most popular, other extensions, and alternatives.
3. NameCheap
NameCheap allows you to search and filter results in a variety of ways, giving you complete control over the domain name ideas you generate. The Beast mode function provides you with everything you could possibly want from a domain name search. Enter a few keywords, select a pricing range, Select Transform Options to create variations, and select the top-level domain extensions you'd like to view. The top-level domain selections are considerably more extensive, allowing you to select domain extensions based on industry sectors such as business, technology, and marketing. You have a lot of power over how your search results are shaped.
Features:-
The tool has a modern feel and is very easy to use.
Beast Mode helps with multiple filters to narrow your search.
It allows you to add suffixes and prefixes to get alternative suggestions for already registered or expensive domains.
4. Google domains
Google Domains may be a lesser-known product of the tech giant, but it's one that shouldn't be overlooked. One of the best platform to search and register a domain name. For the most popular domain extensions, Google Domains offers straightforward, competitive pricing. It can be expensive for some extensions, such as.io, but it's comparable to or less expensive than the competition for others, such as.com and.org. It has a great layout and includes useful features like free privacy protection, Google DNS, automatic Google Search Console verification, and powerful two-factor authentication.
Features:-
easy to connect to other Google services
well-designed interface
It offers a well-designed interface
free privacy protection, Google DNS, automatic Google Search Console verification, and strong two-factor authentication.
NO HIDDEN FEES DURING CHECKOU
5. businessnamegenerator
6. Namelix
Not only do you get domain name suggestions from Namelix, but you also get those ideas presented alongside with logo. This is a unique feature that is ideal if you are on a tight budget and attempting to establish your brand. This platform generates short, brandable domain name ideas using Artificial Intelligence (AI). You can use rhyming, misspellings, and other techniques to include keywords. In my opinion, their AI-based technology is excellent. It contains a lot of suggestions that can be fine-tuned.
Features:-
You can include multiple keywords without crashing the search. You can also include terms to exclude.
The UI is incredible.
Suggestions comes with example logo
Easily find domain name ideas.
7. Instant Domain Search
Instant Domain Search, as the name implies, is a lightning-fast, near-instantaneous search tool. As soon as you start typing, it begins to display results. As you type, it also tries to offer you alternative variations and combinations. This tool might help you come up with some unique domain names. It doesn't just prepend or add a term; it also suggests domains that contain related words. If you're looking for a unique domain name to use with the new domain extensions, this is a useful tool.
Features:-
Unique suggestions
Keyword-based suggestions
Huge list of extensions to filter by
Option to search for similar available social media handles
8. How to start an llc
"Howtostartanllc" is an instant domain research tool. This domain finder tool allows you to start your search by entering chossing your your city with few keywords or your brand name, and it will unlock and display perfect results of domain ideas using a variety of combinations.
Features:-
The recommendations are diverse and organised into many styles.
Overall, it's a simple tool with very limited things, but it handles things differently than the others.
The grouping of suggestions into types is good, and it appears like there are a lot more useful suggestions as a result.
9. Domainwheel
Another great domain name generator is Domain Wheel, which allows you to come up with creative domain names. Domain Wheel is an AI-powered tool that improves your search by suggesting term combinations, synonyms, and related phrases. DomainWheel distinguishes itself from all other AI-based domain name generators by producing better and more intelligent outcomes. Many domain name generators generate a large amount of junks. But if you want to harness the power of real AI to find a usable domain name – DomainWheel really shows its AI-powered search generates far better results. It combines a domain search with random ideas, names that sound similar to your search, rhymes with your search, and other random suggestions.
Feature:-
An excellent algorithm that picks up related topics.
Good creative suggestions: "sounds like", "rhymes with", random but related suggestions.
Users have the ability to select the extensions they'd like to include in the search.
Results are returned quickly.
Only returns domains that are available for purchase.
Works as a domain name finder as well.
10. Nameboy
Nameboy is a quite powerful domain name generator. Just enter your keyword, and it will produce a lot of interesting ideas for your domain name and appears to be a little more sophisticated with it's differing word groups. Just provide the tool with your primary keyword, followed by a secondary keyword which you would like to merge into one domain name and it will combines words, with prefixes – suffixes, and it will fetch great results. You can also opt to allow hyphens or even request to generate rhyming domain names.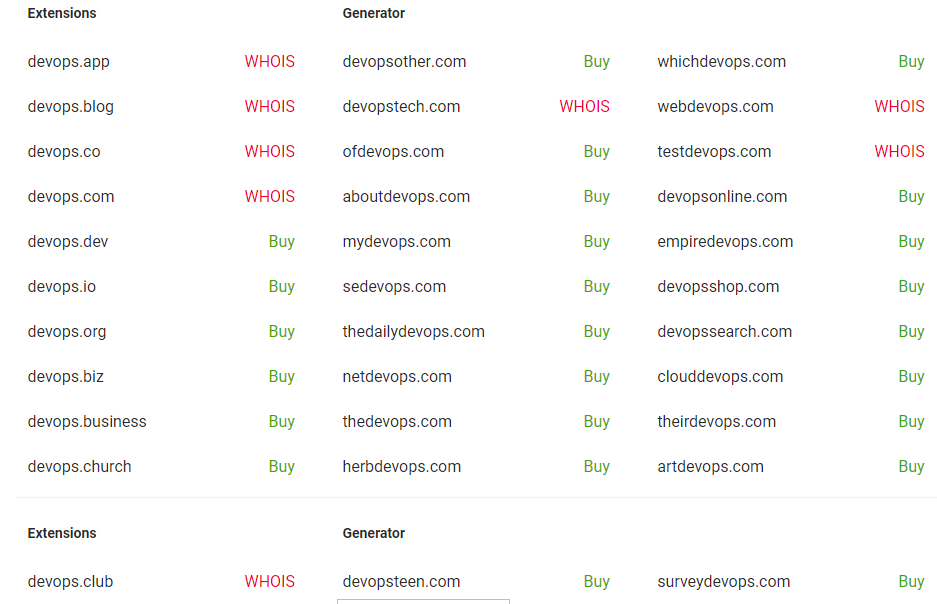 Features:-
You can add hyphens.
It shows chaorts that helps to easily determine the extensions that are taken and which ones are still available for purchase
The tool shows a list of domain names that are accessible for resale.
11. Panabee
Panabee is one of the greatest domain name generators I've come across to generate random domain ideas. To generate recommendations, it mashes up the letters/syllables of your keywords or adds letters. Every word you type in generates a distinct list of related terms. You'll be able to experiment with different combinations to create something unique. Panabee also offers a diverse range of country-specific domains. The tool explains how they came up with each of the suggestions, and you end up with some completely random, but sensible suggestions. In general, the suggestions are a little more "out there" than those provided by other tools. An additional feature of panabee that it searches on Tumblr, Facebook, Instagram, and Twitter for social media too for usernames.
Features:-
Allows feature to save a trip to the thesaurus and see words suggestion according to your idea.
Panabee helps you to search the Google Play and Apple for checking domain name availability.
It allows you to check availability on the most popular social media sites like Facebook, Twitter, Instagram, etc.
Some Tips To Find Domain Names:-
Anyone should be able to recall it effortlessly.
Should be fluent and not something that most people have trouble pronouncing.
It must be unrelated to any other business in your space and must be distinct.
It should be simple to brand.
Should assist your target audience in recognising your brand and connecting with your entire business concept.
Should be related to your business then that is very good for long-term success.
Try to make it with search keywords
Have we missed something? If so, include it below in the comment section. We would do some research, we'll make another post and include it there. Thank you for reading. If you found it useful, share it with your friends!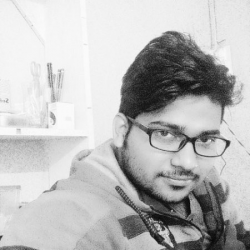 Latest posts by Mantosh Singh
(see all)