msiexpert created the topic: Installer UI in InstallAnywhere
Installer UI
The Installer UI task includes the following subtasks:
?? Look & Feel
?? Billboards
Look & Feel
The Look and Feel subtask contains three tabs which enable developers to
configure the look and feel of the installer. These tabs allow developers to customize
many graphic elements and progress panels within the installer. Within these three
tabs are different Preview buttons which display the look and feel of the installer with
the current settings.
General UI Settings
Use the General UI Settings tab to set general look and feel settings for the
installer. Select one or more supported UI modes and the preferred GUI mode (AWT
or Swing). Swing offers the ability to have a background image, such as a company
logo, to be displayed in the installer. This specific background image can also be
defined using this tab. You can also choose the startup splash screen image.
To have progress panels show the progress of the installer, select Additions to GUI
Installer Panels. If Additions to GUI Installer Panels is not selected, the
Installer Panel Additions and Install Progress Panel tabs are disabled.
The Installer Frame UI Settings section allows you to customize the colors, style,
and size of the installer panels. Click Default to restore the default size for panels
(600 pixels width and 400 pixels height). If you enter a custom size, click Preview to
view a sample panel.
Installer Panel Additions
Use the Installer Panel Additions tab to choose installer panels in the left hand
install progress rectangle. If you choose Images as the type of addition, the other fields
on the Installer Panel Additions tab are disabled. Select the Images radio button then
click the Install Progress Panel tab.
Selecting List of Installer Steps as the type of addition enables fields that allow you
to customize labels. The buttons to the right enable developers to add or remove
labels, or change the order of the labels. Developers can edit the text string that is
displayed. The Auto Populate button adds an installer panel for every panel action
added to the Pre-Install and Post-Install tasks. Choose Icon enables developers to
alter the small square graphics that are to the left of the text labels. The default icons
are double arrows for the current step or steps to be completed and a check mark for
installation steps that have been completed.
The Installer Steps Background Image option enables developers to select a
specific image to display in the rectangle on the left hand side where installation step
labels are displayed.
Install Progress Panel
Use the Install Progress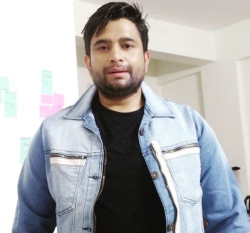 Latest posts by Rajesh Kumar
(see all)